Alumni profile - Sebolelo Gebhardt
I never thought I would live in Switzerland, learn how to speak French, or really enjoy a career as an investment professional! I made plans but I was open to deviations along the way. In the words of Joseph Campbell, "we must be willing to let go of the life we planned so as to have the life that is waiting for us."
(English and Drama BA, 2010)
Published:
Leaving South Africa for the UK to do your degree is quite a move! What was it that made you want to study in the UK and at Queen Mary in particular?
I have always had a curious spirit and I knew that I wanted to study abroad, so what better place to situate myself than London? It is the gateway to the world.
I really enjoyed English and Drama in high school, so I knew I wanted to study these subjects and Queen Mary was one of two good universities that offered them. I wanted to be in London, so Queen Mary won on this front.
What are some of your best memories of studying English and Drama at Queen Mary?
There are quite a few good ones. One was walking into a class and having a now close and lifelong friend of mine, ask me if I was South African – she heard my accent and was so excited.
Another was when one of my Drama lecturers who was South African and offered a course called 'South African Theatre and Performance', invited one of my favourite South African poets to recite one of her poems and speak to us.
I also really enjoyed the lively debates when studying courses such as 'Post-colonial Literatures in English', 'African American Women's Fiction', 'Theatre for Change', 'Madness and Theatricality', 'Gender, Race and Empire in Women's Writing', and 'Issues in Cultural Policy and Performance'. People always ask why I studied English and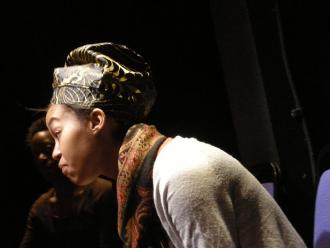 Drama and my answer is always that it combined my favourite topics into one course: theatre, literature, history, and politics. I loved being able to design a course for myself that represented my identity (South African theatre, Black women's fiction, and post-colonial studies - even madness), but also allowed me to study more traditional aspects such as a course on 'Virginia Woolf' or 'Performing Shakespeare'. This is a combination that embodied me perfectly and is what made Queen Mary stand out for me!
I also enjoyed meeting lifelong friends and having coffees at the onsite coffee shop. I used the fancy gym a few times as well… It was only built in the last year of my studies, but I made good use of it.
People always ask why I studied English and Drama and my answer is always that it combined my favourite topics into one course: theatre, literature, history and politics.
Outside of your course, you were very much involved in student life, not only being a part of the Queen Mary Bar Society, but also setting up your own society, PACE, in 2010. Can you tell us more about these societies and what attracted you to them?
I knew that I was looking towards a career in Law and, at first, with my love for public speaking, I thought the bar was where I would go. I did not end up going to the bar, but I appreciated creating a network with future peers at the Queen Mary Bar Society.
PACE was a fun project between friends - we wanted a society that would help transition students into career professionals. In our final year, we felt a lot of anxiety about our transition into the "real world." I was a VP in PACE, and my portfolio was a mixture between Performing Arts and Careers Events. On a monthly basis we hosted a workshop on different career fields such as Banking, Acting, and Law. We invited speakers from these specific fields (including alumni of the University) and
encouraged them to speak about the day-to-day activities and responsibilities of their jobs. We worked together with the University of London Careers Group, in helping students alleviate job and career stress, particularly if they happened to graduate and find themselves confused about the future. Our job was to offer students a taste of various career paths.
After Queen Mary, you did your Law conversion. What was it that attracted you to a career in Law?
Law was always one of my top three career choices, even though I considered many different paths, hence why I was involved in PACE. I had may interests and it was difficult to pick one path to pursue. I did some acting on the London stage at some well reputed theatres, I wrote and edited for an African literary magazine, I did a stint as a TV journalist at the SABC news group (the South African equivalent of the BBC), but through all these amazing career adventures, Law was what really stuck and fit my personality and interests in a way that allowed me to build a stable career and live in various countries (as I now have).
Many of my role models were also lawyers but they did not remain in the lawyer box, instead they grew beyond that: Nelson Mandela, Franklin D. Roosevelt, the Obamas, Kamala Harris and Chuka Umunna. Along the way I also found many mentors that really helped me to find my way back to Law, repeatedly. Finally, my History teacher in high school encouraged me to study Law when I interrogated her about WWII, and this planted a seed that has since blossomed.
You have worked for large Law firms, both in the UK and abroad. What have been some of your career highlights?
Interestingly, all of the Law firms I have worked for have been English Law firms, both Norton Rose Fulbright (NRF) and Herbert Smith Freehills (HSF). I really wanted to work for reputable firms with the best minds and learn as much as possible from them wherever I was in the world.
My career highlights have been meeting Baroness Scotland when she came to speak at NRF in Johannesburg, selling an African business to Coca-Cola in the London office of NRF, leading the legal side of the acquisition for a £2BN company whilst at Jacobs Holding and, of course, being promoted to general counsel for an investment company with $8BN Assets under Management.
How does the work that you do have a positive impact on others and on the world more generally?
I work for an investment company founded by Klaus Jacobs, a German entrepreneur whose family founded Jacobs coffee. Klaus Jacobs donated half of his wealth to our only beneficiary - the Jacobs Foundation. It is a rare combination to be able to do cutting-edge global deals whilst funding a foundation that works for the betterment of the youth through education around the world. I have a huge amount of respect for Klaus Jacobs - I wish I could have met him - but I am inspired by his legacy and the magnificent work that the Jacobs Foundation does, and I feel so honoured to be a part of it.
How does your job allow you to explore your passions and/or work on the things that you feel passionate about in life?
When I moved from private practice to being an in-house lawyer, I wanted to go beyond being a lawyer. Coming from an entrepreneurial family, I wanted to learn more about investing and building wealth whilst protecting myself and my investments. I loved, firstly, seeing investments through from acquisition to exit and, secondly, seeing businesses grow and the direct impact you as an individual can have on those businesses. I also learn so much from my other colleagues, particularly the investment team who have diverse backgrounds from management consultancy to investment banking – this is something I would not necessarily have had such direct exposure to in a Law firm.
I have also always been passionate about giving back. I feel so privileged to be able to make more money for a foundation that gives back to our global youth. The exposure at Jacobs Holding has also opened doors for me and I was able to become an advisory board member of a venture capital that does impact investing by starting and growing businesses in Africa – another passion of mine! Their philosophy is not just about pillaging Africa for its resources but really investing in it. They invest both in financial and human capital.
Although you did not pursue Drama as a career, you are still involved with the Arts industry through your role as a Trustee for the Daedalus Theatre Company in London. Can you tell us about the organisation, how you got involved with them and what attracted you to working with them?
I met the founder of Daedalus Theatre, Paul Burgess, during my time at Queen Mary, when he was commissioning a play about the Great Lakes region in East Africa. This ended up being quite a successful piece that we wrote, produced, and acted in, and the play got great media coverage in London. Interestingly, I played a general in the Burundi army who happened to attend the play. It was a surreal moment meeting the man in real life, especially given some of the horrendous crimes he had committed and the criticism of them in the play. Thank goodness for free press in Europe!
Paul and I stayed connected over the years, and he reached out in his network for trustee applications. I applied because what I love about Daedalus is its philosophy that theatre can go places politics cannot. Daedalus creates high quality, socially engaged, publicly accessible work that explores a wide range of contemporary issues across multiple artforms. It is committed to bringing together arts professionals and community members in innovative and meaningful ways. It is about making theatre accessible whilst exploring topics that are important to the grassroots communities. I am finally able to combine my Law career with my passion for theatre in a meaningful way through my trustee role.
What piece of advice have you received that you would pass on to our community?
"Dance to the beat of your own drum." I have always thought differently, and hence have always taken the route less travelled. It has not always been easy, but it has taken me places I never thought I would go, and I am appreciative of that. I never thought I would live in Switzerland, learn how to speak French, or really enjoy a career as an investment professional! I made plans but I was open to deviations along the way. In the words of Joseph Campbell, "we must be willing to let go of the life we planned so as to have the life that is waiting for us." Never let people's boxes define you, draw your own shapes, break boundaries and do not be afraid to be the first to do it – just make sure you aren't the last!
Finally, it's been tough for everybody over the last year or so and we've all needed things that make us happy. What has made you smile during this time?
Gratitude has kept me going! It is gratitude for the small things, such as a good coffee in the morning, or lighting my favorite candle before bed, to ski trips in the winter or lake swims in the summer. It is also the big things - I really love and miss my family and friends - just gathering with them, enjoying a good meal, dancing to old tunes, and roaring with laughter – it is what makes life great! I cannot wait to do more of this soon.
If you would like to get in touch with Sebolelo or engage her in your work, please contact Nathalie Grey at n.grey@qmul.ac.uk.