Alumni Profile - Mehdi Azmayesh
I look back on my experience at Queen Mary as one of the fondest periods of my life to date. I made friendships that will last a lifetime, I've overcome challenges that have made me a stronger person, grappled with maturing and having to make difficult decisions, and, of course, enjoyed the process of studying and obtaining my degree.
(Politics BA, 2016)
Published:
What attracted you to Queen Mary University of London and the course you studied here?
I wanted to come to Queen Mary for a number of reasons: the prospect of studying at a Russell Group university was the biggest appeal as I wanted to be at an institution where the teaching would be of the highest standard. I wanted to be at an inclusive and diverse university and east London offered that and a lot more to explore and enjoy.
How do you remember your time here at Queen Mary? Please tell us about a memorable experience at Queen Mary.
I look back on my experience at Queen Mary as one of the fondest periods of my life to date. I made friendships that will last a lifetime, I've overcome challenges that have made me a stronger person, grappled with maturing and having to make difficult decisions, and, of course, enjoyed the process of studying and obtaining my degree.
Each year presented different difficulties and successes. During my first year, I really struggled financially, to the point that I nearly dropped out of university. It was an incredibly challenging time but when I look back, I'm proud of how I came through those difficult times, sought support where I could and became stronger as a result. It was also around this time that I developed a really strong core group of friends. I have so many memories of going to Drapers and studying for final exams with them.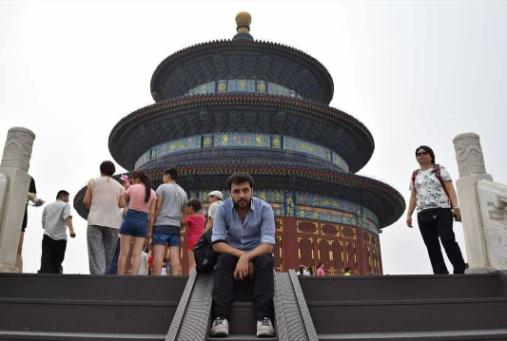 My second year was difficult as I was balancing personal issues at home which my friends helped me to deal with. However, it was at the end of my second year when I had the most impactful experience of my entire time at university, as I was offered the opportunity to travel to Sichuan, China, on a cultural immersion programme. I was a little nervous but very excited at this opportunity and I would not be exaggerating when I say it really had a profound effect on my life. I made friendships both with Queen Mary students, as well as those from Sichuan University and Michigan University. My experience in China is something I think about frequently with unequivocal happiness.
My third year was by far my favourite year; I moved home which gave me more flexibility and comfort financially. I also hit my stride academically, I was studying modules that truly excited me (such as Race & Racism, Middle Eastern Politics, and Gender Politics). My dissertation was enjoyable as I was able to command my own topic and develop an argument around it with the support of my tutor. I was also doing a lot of voluntary work with Refugees Welcome Citizens UK as well as for Labour Councillor Michael Pavey. I graduated with an upper class 2.1, a lot of voluntary experience and a whole lot of friends and memories.
What did you go on to do after graduating? Can you describe your current role and what a typical day looks like for you?
After graduating I pursued a postgraduate degree in Middle Eastern Studies at SOAS, a decision which was both good and bad. Good because I had the opportunity to explore a different institution, which had its own benefits, particularly in that specialist subject. Bad because I also struggled financially again, trying to juggle 3 jobs and a full-time postgraduate degree is not a healthy way to live. I lost a lot of weight and my academic performance suffered. I had intended to pursue a PhD (and maybe one day I still will) but after that year I had a deep desire to become financially stable. I was offered a role in financial services, after which I decided to return to the non-profit sector and that takes us to where I am now, the British Heart Foundation.
My current role is in Product Development. I work to see if we can develop new products and optimise existing products for our supporters, which in the long term can result in increased income for the charity. My role is very diverse and quite creative – each day can be different, from having calls with other charities and service providers in the sector to understanding what the landscape looks like, to conducting qualitative research, speaking to our supporters, and gathering primary data on their behaviours and motivations.
How did your time and study at Queen Mary help you decide the career path you wanted to pursue?
Queen Mary instilled in me a passion for academia and research. It was here I gained the tools and an approach to studying and gathering insights I carry to this day!
What are some of your interests outside of your work?
Outside of work I have many interests, my friends often say that I 'can't sit still' and 'must be doing something' all the time. Before the pandemic, I was an avid gig, theatre, cinema, and entertainment goer. I would go to a concert as frequently as once a week and even took a course with the Roundhouse in Music Event Production. I am also an avid snooker player, having started playing about 3 years ago and continue to play at least once a week – I also attend many of the pro calendar events. Another hobby that takes up a lot of my time is Dungeons and Dragons, a game I really got interested in just before the pandemic and has been something of a lifesaver during this time.
What do you think makes today's student experience different to yours?
As it's not been that long since I graduated, I keenly feel for the students who have lost the opportunity of a full university experience, lost the opportunity to build those meaningful relationships with peers and teachers that are incredibly important, lost the opportunity to find a spark of passion for a certain topic in class through debate and conversation, going for lunch with friends, the students' union for a drink, joining societies and clubs and exploring new interests. My little sister is at university right now and I feel terrible that she's paying such exorbitant fees and hasn't even been able to get to her campus library for the past 18 months. I hope this new year will bring more positivity for new and continuing university students.
Is there any advice you would give to current students or recent graduates?
My main advice for current students is to simply throw yourself into things, take a jump and try stuff – university is the time to experiment with your interests and passions. I joined many societies, took opportunities to study abroad, and generally wanted to try as much as I can – and these are the memories that stand out the most. Also, talk to people! University is such a unique environment, a safe space with mostly like-minded individuals – you won't get that experience again, so really milk it!
I also want to stress the importance of seeking financial aid. I received several bursaries, mostly due to being from east London, my parents not going to university and they saved my life. I vividly remember being in the financial service building (it used to be by the geography building) and waiting to speak to someone – I sat in the room and informed her of my situation, which was very dire. When she informed me that I had been entitled to several bursaries and scholarships that I had not even been aware of, I felt like crying with happiness. It was a light at the end of a challenging tunnel. I'm not sure if she realised the impact that moment had on me. I always say to students, please just go to your financial service department and talk to them, you never know if you're entitled to something and you're missing it – there's a chance that you could get support.