Alumni profile - Matthew Robertson
Matthew Robertson graduated with a degree in History and Postgrad in Management at Queen Mary. He is now a Senior Executive in Efficio Consultancy. Matthew told us about his time at Queen Mary, his career till date and why he decided to support our students during the pandemic.
Published:
What attracted you to the BA History at Queen Mary?
I went to a high school in Munich, Germany, which has an amazing education system. I didn't really know what I wanted to do when I was preparing for university but I knew I loved history. I remember waking up in the morning to watch old film reels and anything on military history. I was so glad I got to study in London and live near the Queen Mary campus because the community was so vibrant. I had an easy, short walk to campus and I got to socialise with a diverse range of people. One of my favourite modules was History in Architecture and I loved it because I'd turn up in the morning for a field trip, a bit hungover, and be surrounded by students from all walks of life and together we would admire London's fantastic architecture. I also liked the campus social life and the ability to explore one of the best and biggest cities in the world – it definitely gave me a social advantage as a student.
Was there anything that surprised you in your studies?
In my first year, I was eased into my course and the modules were quite broad. For the next two years, I had the opportunity to choose my modules and focus on my interests -I studied History in architecture, medieval history and the First World War. At the time I was dating a Jewish girl and that piqued my interest in the history of the Jewish faith as did the Jewish cemetery in the middle of campus. All of this led me to do my undergraduate dissertation in Jewish history and it was so insightful to see these little vessels of Jewish history around campus and in London. I also liked the teaching facilities during my time at Queen Mary, particularly the very modern Arts Two building that had just been opened.

Why did you decide to study MSc in Management after finishing your undergraduate degree? What did you enjoy about the programme?
In my second and third years as an undergraduate, I began to narrow down what I wanted to do. I managed to do internships in marketing, communications and public relations, as I knew that I wanted to get into a business or management-related field but I wasn't sure of my strengths in these areas. So I then pursued a postgraduate degree in Management to build my skill set. That was one of the best decisions I made because I met some fantastic people on my course, my studies were very interesting and I figured out what I wanted to do.
Can you describe your current role and what a typical day looks like for you?
After I left Queen Mary, I interviewed at various management consulting companies. It was in my last interview for a consultancy role, I was unsuccessful but I started to pitch to the employer why I wanted the job. He then went on to offer me another interview on the spot, which is when I realised I didn't want this but I wanted to go into Sales. After doing interviews for a sales role I landed a job in an American company and worked for them for four years. I now work at Efficio, a Business Management Consultancy and promote our consultancy services to clients which I enjoy very much. We're a fast-growing company and it's great to see the strides we are making all the time.
My role is to get our message in front of the head of procurement, head of supply chain, CEO and CFOs of some of the big companies out there. So if you like talking to strangers, you have a lot of energy and like making an immediate difference then you'd make a great salesperson.
In a typical working week, Mondays and Fridays are quite admin heavy for me. Monday is a planning day so I plan meetings and the week ahead. On Tuesdays, I find ways to get in front of people and approach them about our services. On Wednesdays and Thursdays, there is a lot of cold calling. Sometimes I'll be at the office or my home desk at 6:30 am, because Europe is an hour ahead, and get an hour or half an hour of cold calling in. I know cold calling is daunting but I love it, there is no better adrenal rush than convincing a stranger to take a meeting or buy something.
Outside of work, I like to do triathlons and have done around 30 already! I'm also a Toastmaster so I enjoy preparing for that in my free time.
How did your time and study at Queen Mary help you decide the career path you wanted to pursue?
My university life helped shape my career journey. The reading and research I had done as a history student help me now when I'm researching companies for work. The skills I've gained from my degree help me when building outreach pitches or even writing emails. It took me a while to build my skill set at university because I'm dyslexic but Queen Mary gave me access to technology that made my learning more manageable.
My postgraduate studies helped me build my business acumen such as learning what an annual report is, what profit and loss are etc. It gave me the foundation knowledge I needed to find out about Consultancy and Sales.
As a student, I had a great social life both on campus and in London. I enjoyed relaxing with friends and daring myself to always try something new around London and I am very much the same person today.
Please tell us about a memorable experience at Queen Mary?
I have so many memories of Queen Mary, some weird and some funny. One memory that I remember very clearly, is when I walked into a lecture in a sleeveless gym shirt to show off my arms but was promptly told by my lecturer to 'put a shirt on'. I was a course and social representative during my Masters so I was known amongst my peers and lecturers. This always helped me when seeking advice and feedback on assignments. I always appreciated how open and honest my lectures were and it was their belief in our potential that gave me a huge boost of confidence.
What made you want to support the Queen Mary Emergency COVID-19 Fund?
I felt quite concerned when I read about Queen Mary students, and students overall, struggling as a result of the pandemic. I remember my first year at university and it can be pretty hard particularly because you have to move away from home, meet new people and there is a lot of pressure to become an adult. It must be difficult for students at university now because the pandemic has created a lot of restrictions for them.
Students can't go out to make friends, explore campus or interact with people on their course. I want my donation to help ease the pressure students are feeling right now whether it's through getting a laptop or receiving the financial support they need.
How do you feel when you read about a student here that's been positively affected by your support?
It's great and I'm glad! I feel everyone part of the Queen Mary community can give a little, to support students during this tough time. It's amazing knowing I'm helping someone I've never met.
What do you think makes today's student experience different from yours?
Personally, I don't like working from home. I like speaking to my colleagues in person. I can imagine the frustration that university students are now going through because a key part of the university experience is to build personal life-long connections.
I can't imagine not being able to build those connections but having to build them virtually! A personal connection is so much stronger. I would struggle to learn virtually so I find it commendable that students are doing that now. Well done!
Is there any advice you would give to current students or recent graduates?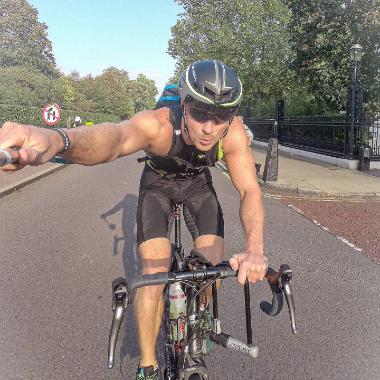 The first piece of advice I have for students is to join Toastmasters because it's one of the best investments you can ever make. To be able to improve my communication skills, public speaking and speak clearly to strangers is something I'm very proud of.
Secondly, keep your mind and body fit through exercise - try yoga, running, swimming or cycling (that's a triathlon already). Even if it's going outside and breathing in the fresh air, it's important to build your strength mentally and physically.
Last but not least, write your goals down. Whether you want to have a job, a house or retire in ten years' time, I would suggest writing down what you are working towards. I do this every day and it's helped me achieve a lot in my life.