Alumni profile - Fahmida Ashiq
Fahmida Ashiq shares her journey from working as a lawyer to being a full-time artist, receiving commissions from royal families, working with interior designers and the wider impact she aims to have on the world.
Published:
Can you describe your career path up to date and touch on your current role? I had a fairly straightforward legal career. I went to school, university, worked hard, did things by the book, I took a gap year to get some work experience to build my CV to help get a training contract. Then I did my Legal Practice Course (LPC), my training contract and worked for around four to five years as a lawyer.
I had a blank wall at home and wanted to create a peaceful space, so I thought a nice piece of Islamic art would be perfect. I couldn't find anything I liked, it was all too gaudy or old-fashioned or just not what I wanted so I decided to see if I could create what was in my mind. My husband saw it and asked where I got it from because he had never seen anything like it. After that, anyone who saw the piece asked if I could make one for them. So making art full time happened completely randomly. I started doing it on weekends as I was still working.
I started posting my artwork on Facebook and things started to move into complete unknown territory. I was asked to create a piece to auction for the Princes Trust Charity, Mosaic. This was a charity who worked with children from disadvantaged backgrounds to realise their talents and full potential. That was where my journey really started, and I realised there was a demand for this type of artwork. The response was incredible, I couldn't believe it. A few months later, I was asked again to create another piece for a charity auction. Only, this time my artwork raised thousands and thousands of pounds. I particularly remember this event as it was on a boat, and when my piece came out, everyone gasped. It was a surreal moment. I work with Swarovski crystals, so they really look amazing in good lighting.
To be honest, it was an amazing feeling to be able to help people, and support that healing process, and so I slowly edged out of Law. It was completely unplanned and before I knew it I started getting commissions – anyone from local people to royal families – and now I do it full time, and I absolutely love it.
Most of my work is Islamic art, but I do a lot of abstract art too. I work with many interior designers and help in finish off rooms or just add the "wow" factor.
What does a typical day look like for you? My typical day starts at around 5am. I will recite the dawn prayer, read Quran, meditate, write in my journal and then spend about 15 minutes organising my diary whilst having some breakfast. Then it's time to get the kids up and ready for school.
In terms of my work, a typical day involves me creating something new or working on a commission (this could be designing or painting) and then I catch up with life admin. I try to spend time doing some kind of learning or reading. Being a mum, my workday tends to end at 3pm when it's time to pick up my kids from school. After the kids are asleep though, I will sometimes work on completing any deadlines or developing new creative ideas, or I'll spend time with my husband.
Why did you study Law? Why at Queen Mary? Law was instinctive for me because I've always been one of those people that has to speak up if something's wrong - that was something that was inside from a very young age. I just really wanted to make sure there was justice in the world and that people were always treated equally, fairly and properly. It was very much a natural inclination, I wasn't forced into it in any way, in fact my parents advised me not to do it (my sister is a lawyer as well) because they said I would have no life.
Art was never an option for me because there was a common misconception that being an artist was never a "real" career choice where you could make a living.
With Law, I was just naturally drawn to it. I worked hard and qualified as a Solicitor. I am still on the role and do dip my feet in now and again.
I chose Queen Mary because it was amazing university and had a world renowned Law department. It was also an opportunity to meet people from all walks of life.
My time at Queen Mary was an amazing experience with lots of highs and lows but a great part of my journey.
What's a piece of advice you received that changed your perspective? One piece of advice I received that really stuck with me is that whatever you do you have got to have a purpose behind it. You've got to have a reason to get up in the morning and do what you're doing. This really helps when you don't "feel" like doing something, if you can go back to your purpose even the most annoying/irritating tasks get done.
My purpose is to use my art as a form of healing, and I really like to promote love and peace and I think that's really important in this day and age. Not just because of the political situation with issues like islamophobia and what's going on in the world, but also for your own personal daily challenges, it could be anything, like trying to get through a course, job, tough situation or a personal life challenge.
As well as understanding and remembering why you are doing something, I think it's important to really enjoy the process as well and be present. You might never get to the end or you might never become what you think you want to become but whatever happens you've got to give 100% and do your best in whatever you do.
I think the main thing I want people – especially students – to remember is not to put too much pressure on yourself, you are the author of your own life and you can carve out the life who you want. Making mistakes and taking the wrong path sometimes is part of actual process.
In your opinion, what are some of the most pressing issues faced by Muslim communities and what do you think needs to be done to challenge and raise awareness of such issues? It's really tough being a Muslim nowadays, I feel like you have to justify yourself and your beliefs constantly. When I was younger, it was not an issue. It's bizarre, I think the world really changed after 9/11, I didn't really experience any form of islamophobia when I was younger. There was racism, I didn't experience it myself, but I had friends and family who definitely experienced it. For me, it was just a really nice safe environment to grow up in. Now, when you go out anywhere you don't have that same sense of security. I feel really sorry for the younger generation and I think we've all got a job to do as a community.
It is heart breaking, as islamophobia is all fear-based, no single human being is the same, humans are inherently good, and it's crazy to paint an entire belief system with the same brush. There is no logic to it. I strongly believe we are all "one" - Muslim or non-Muslim. We are put on this earth to get to know one another. Our differences are one of the greatest blessings of this world.
The best thing we can do to tackle this is to speak up when something is wrong. To face fear and show people we are all the same, we just believe different things and that's ok. At the same time being unapologetically ourselves.
This is a community-wide problem which means we have to stand together and say "no" to fear through all different forms of education. This can only be done if Muslims and non-Muslims get together and realise we are all the same. This may sound simple but to a problem that's so complicated at its grass roots the answer is always "love". This applies to all similar issues like the Black Lives Matter movement. These are such sad conversations and diseases that simply shouldn't have to exist in this day and age. We are the same no matter what our beliefs, lifestyles or the colour of our skin.
For me, the real face of Islam is nothing but compassion, peace, beauty and love and I will continue to show this through my art. I hope this will in some small way serve in the contribution and healing that is so desperately needed in the world.
Do you have any role models that particularly inspire you and if so, who and why? As far as role models these are really two-fold. You have historically inspirational men and women and current inspirational role models.
There is no bigger inspiration of a perfect human then our beloved Prophet Mohammed (Peace Be Upon Him). He is leader and a beautiful example in how to deal with all of life's situations and people with utmost respect, love, peace, humility and authenticity, and really is incomparable. Also, in particular his wife Khadija who was a divorcee, a mother and a well-known businesswomen of her time.
Other historical icons include people who dared to be different without compromising who they were and led lives with a bigger purpose than just themselves; such as Gandhi, Malcom X, the list goes on.
In current times there are so many phenomenal inspirational men and women, I can't pick just one! You have movers and shakers in so many different fields and areas, you've got entrepreneurs, sportswomen, scientists, architects, rappers, singers, models, comedians, authors, medical specialists, chefs and so on. People are doing amazing things.
To name a few, you have Nadiya Hussain (Great British icon and baker), Elif Shafak (award-winning novelist), Zaha Hadid (iconic architect), Ibtihaj Muhammed (sportswoman and entrepreneur) and Malala Yousafzai. Not to forget the everyday heroes.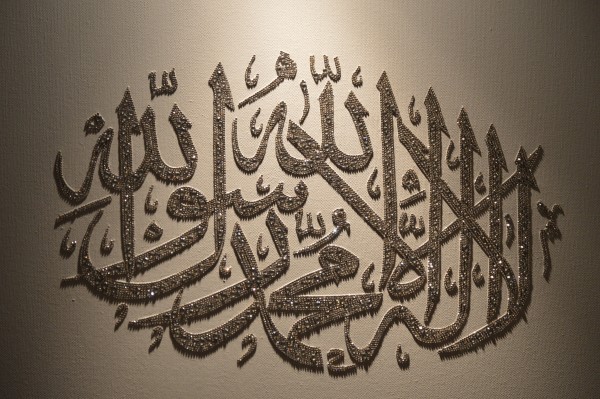 What's something that people would find surprising thing about your life as an artist? I don't feel like I work at all, I absolutely love what I do. When I was practicing Law, I felt like I was working. Every day it was a bit of a chore with a lot of pressure, I had to get it done, but I don't feel like that now.
I create art with the purpose of spreading love, peace and healing. For example, for every piece of artwork that I sell, a portion of it goes to a charity called "Charity Right". This charity provides regular meals to the forgotten people all over the world. It allows them to have the chance to develop and feel empowered to build their lives and not just worry about their next meal. This really keeps me motivated as I am supporting something bigger than just me and my family including people I've never met.
Join the Queen Mary Alumni Network
This profile was conducted by Alumni Engagement Coordinator, Hannah. If you would like to get in touch with Fahmida or engage her in your work, please contact Hannah at h.dormor@qmul.ac.uk.