Alumni profile - Anis Islam
I had always wanted to study in London and Queen Mary had the most liberal course options which explored Geography from non-western perspectives. They are also the only Russell Group university in London with a campus and they had some of the best field trip options in the country!
(Geography BA, 2018)
Published:
What attracted you to the BA in Geography at Queen Mary?
I had always wanted to study in London and Queen Mary had the most liberal course options which explored Geography from non-western perspectives. They are also the only Russell Group university in London with a campus and they had some of the best field trip options in the country!
What aspects of your degree did you find most enjoyable and was there anything that surprised you in your studies?
The module, Geographies of Health and Biomedicine, was one of the biggest surprises on the course. I never thought I'd study a course on biomedicine as part of a Geography degree, but it ended up being one of the most interesting courses I studied and is now relevant given the COVID-19 pandemic. Although hundreds have suffered - and I do not want to take anything away from that - it has been fascinating to see the theory of a pandemic that we studied in our classrooms, play out in real life.
Can you describe your career path to date and your current role? What does a typical working day look like for you?
After my degree, I did a masters in Development Studies, then got a graduate job at Metro Bank. Although I gained a lot of skills from it, I didn't enjoy the role and learnt that I'm thankfully not motivated by money. I then moved on to become a Programme Coordinator at the US-UK Fulbright Commission, which I loved, where I worked on social mobility and a US exchange programme for over 200 students. However, I moved on as I was offered a position having applied to the Civil Service Fast Stream.
I've spent the last year as a Policy Advisor at the Department for Digital, Culture, Media and Sport, working on Digital Tech Policy. My specific role is in stakeholder engagement, which means I lead engagement with some of the biggest tech companies and representative organisations in the world and communicate their concerns to government through ministers to other departments.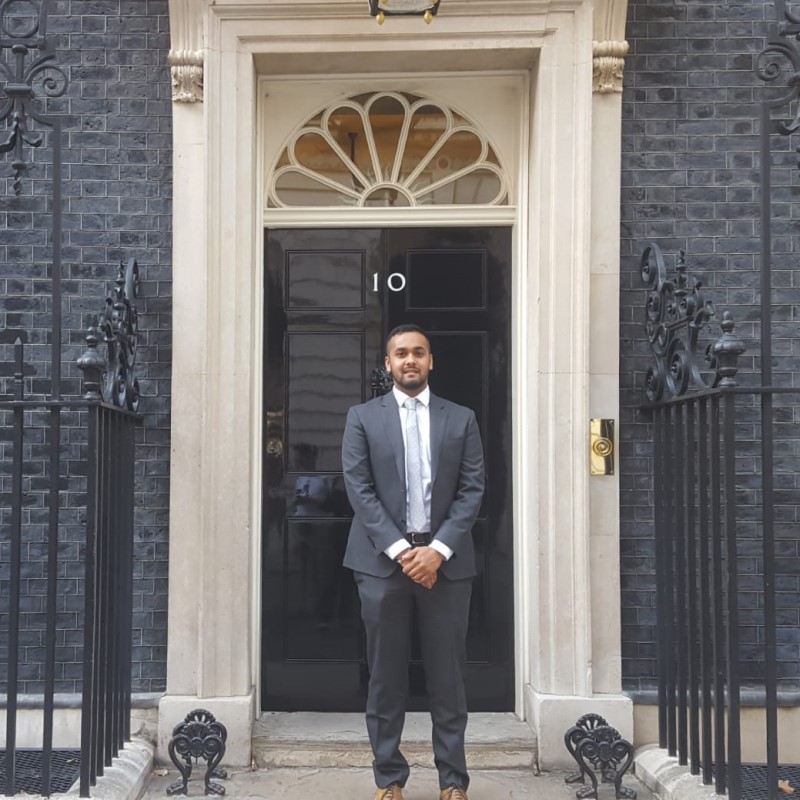 The policy work I do often varies across my team and the demands of my stakeholders, which sees my work range from COP26 and G7, to scaling up growth, tech events and policy bills. It also involves briefings galore and preparing speeches for the Secretary of State and Ministers in my department.
I've recently been promoted to Senior Policy Advisor for Cyber Security, working on policy to make the UK the greatest cyber nation, with a focus on developing youth skills. My role sees me play an intermediary role with the Department for Education and the National Cyber Security Council at GCHQ as their cyber expert. I will also be one of the leads in delivering some amazing programmes for government, including the £3 million CyberFirst programme.
How did your time and studies at Queen Mary help you decide the career path you wanted to pursue?
Some of the modules I studied really helped me to realise I wanted to work in the field of international aid/human rights/politics, so that's why I decided to complete a masters in Development Studies at SOAS. I'm currently studying for a Law conversion with the aim of doing an LLM in Human Rights Law. My hope is to work for the UN or an INGO in the future.
What was special about your time at Queen Mary? Can you give one or two examples of your most memorable moments?
Firstly, being part of Student Council - so in my first year I was the First Year Rep and in my second year, I was the Student Media Officer. I had some really great opportunities such as representing the University at NUS conferences, and sitting on the panel to recruit trustees of the University.
Secondly, the field trip to Malaysia where I got to interview migrant workers and understand their lived experiences of poverty and control of their identity that their bosses had over them. This really increased my ambition of pursuing a career in development and politics.
Do you have a favourite spot on campus? If so, where is it and why?
I pretty much lived in the Law section of the library, but I had a hidden spot in one of the corridors of the Bancroft Building which had a red sofa, a microwave and a water dispenser…It was a chill, low-key place to hang out that nobody else knew about.
You were one of 50 students selected to travel to Stockholm for QChallenge abroad. How did this opportunity come about and what did it involve?
I'm a bit of an extracurricular geek and it was just one of those programmes that popped up in my inbox and so I applied for it. I was lucky enough to be selected for both the Malaysia and Stockholm QChallenges but I decided to go for Stockholm as I had just come back from Malaysia. Going to Stockholm and exploring different projects and campaigns provided me with a great insight into local politics and how small initiatives help create this amazing city.
What are your hopes and plans for your future career?
During my time at the Civil Service, I would love to move up the ranks and work on the development side of the Foreign Commonwealth & Development Office. However, the end goal is to work for the UN or a charity on international development or in Human Rights Law.
Is there any advice you would give to prospective students who are interested in studying Geography?
Don't be afraid of all the different options available, from Environmental Science, human/physical Geography, to Geography with Business - it can be really confusing to differentiate all the options Queen Mary has. I'd say, pick the option that attracts you the most and you can always change later based on your module preferences. I myself changed from Human Geography to BA Geography in my second year.
This profile was conducted by Alumni Engagement Coordinator, Nathalie Grey. If you would like to get in touch with Anis or engage him in your work, please contact Nathalie at n.grey@qmul.ac.uk.