Alumni profile - Alistair Hatch
I look back on my time at Queen Mary very fondly. It opened my eyes to everything I wanted from an experience away from home comforts and taught me the values of being respectful, reflective, and understanding of those around me. It really did shape who I have become today.
(History BA, 2002)
Published:
Why did you choose to study History at Queen Mary?
When I was at school and was beginning to think about whether I'd like to go to university, one of my teachers put it to me simply: pick a subject that you really enjoy. After all, it was going to be a subject that I would intensely study for three years, so I had to be sure that it would be something that would hold my interest for that long.
I had always enjoyed history and learning about what had led us to where we are today, so it made sense for me to pick that subject. Once I got to Queen Mary, I picked a wide range of eras to study and then ended up focusing on Modern and Contemporary History as, to me, that really helped to explain the world we live in today.
What did you enjoy most about your degree and your time at Queen Mary in general?
My dissertation was a great culmination of the skills I learnt during my time at Queen Mary. Being allowed the freedom to deep-dive into a question that had never been asked, was very liberating and was my most enjoyable part of my degree.
Queen Mary in general gave me so many opportunities to meet people outside of my regular life. It was the refreshing change that I wanted, after growing up in sleepy Dorset.
I barely passed my first essay and if it hadn't been for a stern talking to from a lecturer to help me understand that it was now or never to really apply myself, I could very easily have fallen out of university with nothing to show for myself.
Were you involved in any extracurricular activities at Queen Mary? How did these improve your university experience?
Back in 1999 there were high-rise student halls of residence in South Woodford that had a student bar located in the grounds called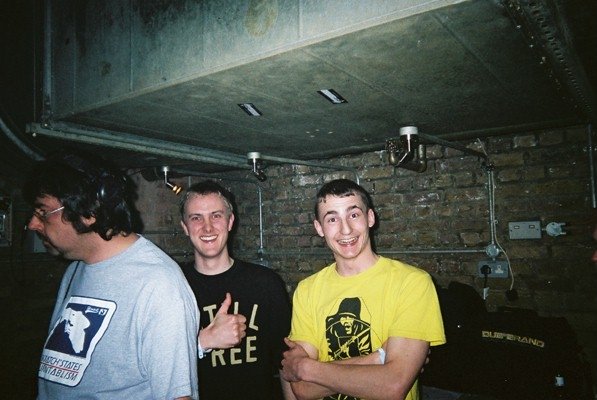 0181. At that time, I was heavily into DJing, and the bar allowed me an outlet to put on a few parties and invite other student DJs in to play. This was the catalyst towards starting a record label a few years later and then subsequently DJing up and down the country and across Europe.
How do you feel when you look back on your time at Queen Mary?
I look back on my time at Queen Mary very fondly. It opened my eyes to everything I wanted from an experience away from home comforts and taught me the values of being respectful, reflective, and understanding of those around me. It really did shape who I have become today.
To begin with, I struggled to find my place during the first term. I barely passed my first essay and if it hadn't been for a stern talking to from a lecturer to help me understand that it was now or never to really apply myself, I could very easily have fallen out of university with nothing to show for myself. Of course, it wasn't all plain sailing from there, life isn't simply a linear path of progress and there were poor decisions made along the way, but I knew what I needed to change and knuckled down.
What were your experiences like with finding work after graduation?
After graduating I, like I'm sure many others, was unsure about what to do with a History degree in the real world. Part of me wanted to make my time studying History worthwhile, so I looked at various avenues that have a direct relationship: teaching, law, and the like. But nothing seemed to really appeal to me. At the same time, I had a hobby that was beginning to take me places - music. I had started writing music and DJing and both were gaining interest, so with a few friends we decided to start a record label. At that time, I was doing whatever I could to pay the bills so I could remain in London: I worked as a labourer on building sites, and I worked as a janitor at the Royal College of Nursing, all while plugging away at the music and wondering if University had been a waste of time.
You now work in the Gaming industry. How did you first break into this area and how do you use the skills you gained through your degree now?
A chance encounter at the Royal College of Nursing led to an interview with a video game publisher and two weeks later I started as Office Junior for Acclaim Entertainment. 19 years later and I am still in the games industry and I am now the Managing Director of Northern, Eastern, and Southern Europe for Bethesda Softworks (a company recently acquired by Xbox for $7.5 billion). I regularly reflect on my History degree and think about how thankful I am for how it taught me to build a case, to source valuable references, and to be assured in what I'm presenting - all skills which I use frequently when pitching new business strategy. On top of that, Queen Mary exposed me to so many valuable experiences that would help shape the man I've become today.
As for the music? It ran its course and has left me with a lot of very happy memories.
What does your day-to-day role consist of and what do you love most about what you do?
I feel fortunate to work in a role that provides me with variety, so I could be looking over data pulled from our games to figure out what our future strategy should consist of, be leading or joining strategic meetings, providing coaching and advice to my direct reports, reading research papers and figuring out how to best apply that to our future business, maintaining relationships with business partners, helping communications flow across departments and companies, and many other ad hoc responsibilities that arise throughout a day/week/month.
This may sound corny, but the bit I love the most is working closely with the team. The pandemic has brought us closer, and I feel very privileged to work with such a great group of people.
Are you much of a gamer yourself and, if so, are there any games in the pipeline that you're particularly excited about?
I've played games most of my life. I remember at Queen Mary, my friends and I took it in turns to hire Tony Hawk's Pro Skater from the Blockbuster in South Woodford when we were in the Halls of Residence there. So much so, that it was rarely available for other people to hire! I think we probably could have bought the game outright with the money we spent on hiring it!
It's not essential to play games when you work in the industry, but I have always enjoyed playing a range of titles and am very lucky to work for a publisher that has released so many incredible games.
As for what games I'm looking forward to? Well, Bethesda titles aside, I've always been a fan of Halo, so I'm waiting to see what Halo Infinite looks like when it comes out.
You've been with Bethesda Softworks for 12 years now and have worked your way up through four different roles to get to where you are today. What do you think has been the key to your ability to continually progress?
I was brought up to remain grounded and humble and I think that has contributed a lot to where I am today. When people ask for advice, I normally share these points:
You don't have to have all the answers. Challenge yourself to recognise that there is always something to learn, no matter what position you are in.
Recognise that people take on information in different ways.
Without change, there won't be progress. Doing the same things over and over is fine for only so long.
It's ok to make mistakes along the way, just take the time to consider what you've learnt from them.
If there's an open bar, you don't need to drink all the drinks.
What are some of your career highlights so far?
Across a 19-year career there are a few highlights to pick out and depending on where I was during that time, a highlight looks very different. So, for instance, early in my career my first business trip abroad felt like a highlight (Monaco, to demo a game to French and Dutch retailers!). Whereas if you fast forward to the latter part of my career, I was proud to have helped oversee the creation of a large-scale event in a disused warehouse for 1000+ people to come and see and play our latest games.
If I were forced to pick three highlights, I'd pick the following:
The QuakeCon 2014 DOOM reveal: QuakeCon is an event that has been running in Dallas, Texas for 20+ years. It grew out of the community that loved playing the original games of Quake, DOOM and Wolfenstein. In 2014 we showed 3000 QuakeCon fans the then new DOOM game for the very first time. The reaction was incredible. I've never witnessed excitement so palpable and so genuine in all my years in the games industry.
Bethesda E3 Showcase 2015: E3 stands for the Electronic Entertainment Expo and is a long-standing event in June each year, where the industry gathers to show off their new games, consoles, and technology to the world. In 2015 we decided to host our very own Showcase and, among other titles, used it as a platform to show off Fallout 4 for the very first time. The Dolby Theatre in Los Angeles was booked for it and the reaction was so good, that we've continued to host Showcases every year since.
Reacting to the 2020/21 pandemic: Like a lot of people around the world, we began working from home once the COVID-19 pandemic took its grip. It forced us into new territory and among many things, has brought our team much closer than before. One proud moment came when we were onboarding a new member of staff and a colleague announced to them that they are joining "the best version of this team so far". It makes all the hard work and effort seem totally worthwhile when you hear genuine feedback like that.
What would your advice be to students who are unsure of the career path they want to pursue after graduation?
It's normal to feel lost after graduating. It's ok to take a moment to step back and reflect on what you've achieved and what direction you want to go next. Sometimes your future won't be completely clear, and it can take some trial and error before you discover what you want to do (and don't want to do). Most of all, I would say don't be afraid of trying careers out, you'll be in a very unique situation that won't be repeated in your lifetime, so take the opportunity to try your hand at what you think you'll like and if it doesn't work out, move on to the next opportunity.
This profile was conducted by Alumni Engagement Coordinator, Nathalie Grey. If you would like to get in touch with Alistair or engage him in your work, please contact Nathalie at n.grey@qmul.ac.uk.