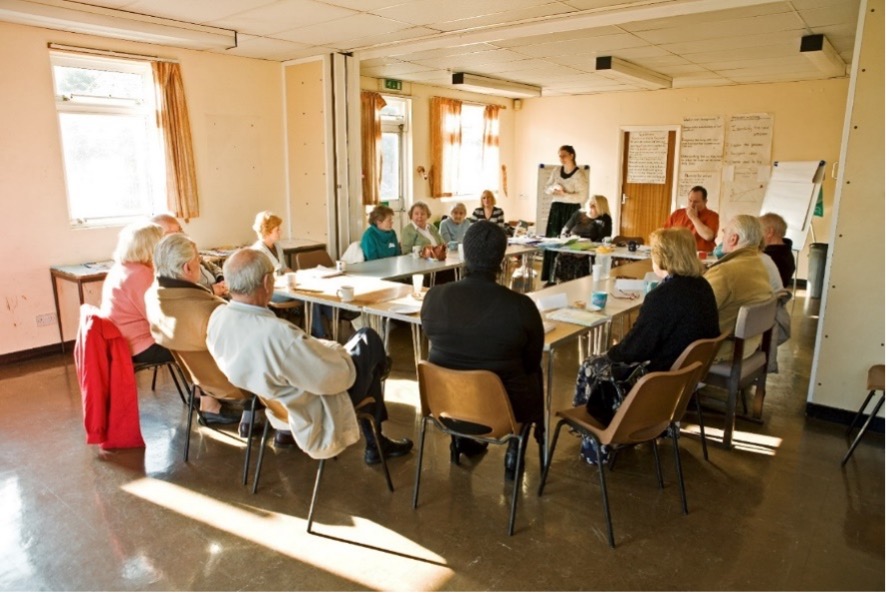 UNIT Co-LEADS Chris Griffiths
Deborah Swinglehurst, Steph Talyor
We are a multidisciplinary group of researchers and clinicians studying primary care and generalist orientations to healthcare and environmental impacts on health across general practice, secondary care and community settings. We draw on a wide range of methods and methodologies, spanning quantitative, qualitative and mixed methods approaches and incorporating epidemiology, primary empirical research and research syntheses.
Our overarching aim is to develop evidence and innovations that support better care for patients, better care delivery by professionals and better, more equitable systems of care for all. Some of our research focuses on people living with long term conditions (e.g. asthma, COPD, cancer, HIV, diabetes). We also conduct research focussing on patients affected by multiple long terms conditions and related issues such as polypharmacy, as well as other aspects of complex care delivery, including how care is organised and how technologies impact on care. In 2021 we became members of the prestigious NIHR funded School for Primary Care. We jointly lead the UK-wide Asthma UK Centre for Applied Research. We lead or co-lead studies including: AD HOC, APOLLO-MM, CHILL (Children's Health in London and Luton), IMP2ART, SURECAN, Genes & Health.
Supporting changes in behaviour, organisations and systems of care delivery to improve care for patients.


Qualitative research on complex areas of generalist practice e.g. multimorbidity, polypharmacy, technologies-in-practice, healthcare communication.


Developing complex interventions to improve care delivery across a range of conditions and circumstances.



Environmental and genetic influences on health.
OUR TEAM
Ms Tahania Ahmad (NIHR ARC North Thames Doctoral Student)
Dr Atena Barat (IMP2ART Researcher)
Ms Esca van Blarikom (NIHR ARC PhD Fellowship)
Dr Sara Calderon-Larranaga (LISS-DTP doctoral fellow)
Ms Louise Cross (Programme Manager)
Dr Anna De Simoni (Clinical Lecturer)
Dr Sheila Donovan (SURECAN Researcher)
Dr Ros Dove (post doctoral researcher)
Dr Fabiola Eto (Postdoctoral Research Fellow)
Dr Sarah Finer (Clinical Senior Lecturer in Diabetes)
Dr Nina Fudge (Research Fellow, Social Sciences)
Ms Caroline French (QM Doctoral student)
Dr Dipesh Gopal (NIHR In-Practice Fellow)
Prof Chris Griffiths
Dr Hajal Hajmohammadi (Post doctoral researcher)
Ms Lucie Hogger (NIHR Doctoral Fellowship)
Mr Colin Houlihan (SURECAN Administrator)
Dr Harpal Kalsi (Research Physiologist)
Mr Imran Khan (SURECAN Programme Manager)
Ms Jing Hui Law (Wellcome Trust Health Data In Practice doctoral fellow)
Dr Werner Leber (Clinical Lecturer)
Dr Elisavet Moschopoulou (SURECAN Researcher)
Ms Momoko Phelan (IMP2ART Administrator)
Dr Sarah Pocknell (Academic Clinical Fellow)
Dr Miriam Samuel (NIHR Academic Clinical Fellow)
Dr James Scales (post doctoral researcher)
Ms Barbara Searle (THIS Institute Doctoral Student)
Dr Ratna Sohanpal (NIHR SPCR Fellow)
Dr Eleanor Southgate (Academic Clinical Fellow)
Dr Sarah Spencer (NIHR SPCR GP Development Fellow)
Dr Najia Sultan (NIHR In-Practice Fellow)
Dr Elizabeth Steed (Senior Lecturer)
Prof Deborah Swinglehurst (Professor of Primary Care)
Prof Steph Taylor (Professor in Public Health and Primary Care)
Dr Victoria Tzortziou Brown (NIHR Fellow)
Dr Helen Wood (post doctoral researcher)
Dr. Meredith Hawking (NIHR SPCR Post-doctoral Fellow)
CONTACT
Yvonne Carter Building
Will be CPC Administrator – to be appointed
Charlotte Edwards Roscamp - CPC Manager