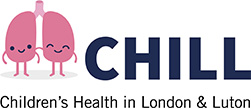 CHILL is a cohort study funded by the NIHR Public Health Research Programme. It will determine whether reducing air pollution from traffic improves lung growth and respiratory health in primary school children. Click the link to watch a short video to find out about CHILL
The Children's Health in London and Luton (CHILL) Study is led by researchers from the Centre for Primary Care and Public Health, King's College London, the University of Edinburgh, the Keck School of Medicine at the University of Southern California, the University of Bedfordshire, St George's Hospital Medical School and the University of Cambridge.
The work brings together experts from four world-leading research centres: The Asthma UK Centre for Applied Research, the MRC Asthma UK Centre in Allergic Mechanisms of Asthma, the MRC PHE Centre in Environment and Health, the MRC Epidemiology Unit's Centre for Exercise Diet and Activity Research.