Professor Nicholas Ridout, BA (Cambridge), PhD (London)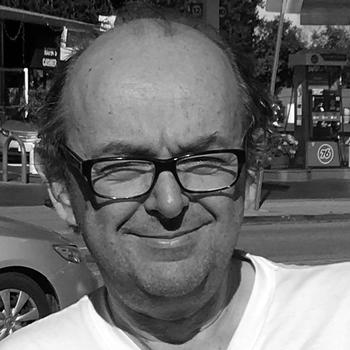 Professor of Theatre
Email: n.p.ridout@qmul.ac.uk
Profile
I went to a state secondary school in Cheltenham where I first started to take an interest in theatre and performance. I then did a BA in English at Cambridge before working for nearly fifteen years, making theatre and performance in London and New York, and researching and writing about Middle East politics. I taught at Wimbledon School of Art for five years and studied for a PhD at Birkbeck College, London University, which I finished in 2003. I came to Queen Mary as a Lecturer in Performance in 2002.
Research
Research Interests:
Research interests:
Marxist histories and theories of culture
publics, theatregoing, consumption
contemporary experimental theatre
intersections between theatre and philosophy
histories and theories of theatre and affect
opera and musical performance
In my research I am interested in developing a political understanding of the theatrical event. This means thinking about theatre as an instance of cultural production, as an affective experience and as a mode of social organisation. The main focus of my work so far has been on the theatre of modern capitalism, in which people spend their leisure time sitting in the dark watching other people working in the light. The strange feelings and peculiar social experiences involved in this activity were the subject of my first book, Stage Fright, Animals and Other Theatrical Problems (2006). My next book, Passionate Amateurs: Theatre, Communism and Love (2013) took up similar ideas, but with a particular emphasis on twentieth-century romantic anti-capitalists for whom theatre has offered a way of reorganising our relationship with work.
My current work ­ Scenes from Bourgeois Life – considers the history of theatre spectatorship in Britain as an aspect of a society in which leisure consumption made possible by colonial expropriation becomes a crucial dimension of economic and cultural life. To this end I am extending the range of my historical inquiry back to the early eighteenth century.
I have also written about opera, about experimental theatre in Europe, and, for over fifteen years I have found constant inspiration in the work of the Italian theatre company, Socìetas Raffaello Sanzio, with whom (and with my frequent collaborator, Joe Kelleher), I co-authored The Theatre of Socìetas Raffaello Sanzio (2007).
I am the Editor of Theatre Survey and co-editor, with Patrick Anderson, of the book series, Performance Works, at Northwestern University Press.
In 2016-17 I was the Fletcher Jones Foundation Fellow at the Huntington Library in San Marino, California.
During academic year 2017-18 I am in Berlin as a Fellow of the International Research Centre "Interweaving Performance Cultures; at the Freie Universität.
Publications
Books:
with J. Jones, A History of Modern Oman (Cambridge: Cambridge University Press, 2015)
Passionate Amateurs: Theatre, Communism and Love (Ann Arbor, MI: University of Michigan Press, 2013)
with J. Jones, Oman, Culture and Diplomacy (Edinburgh University Press, 2010)
Theatre and Ethics (Palgrave MacMillan, 2009)
with R. Castellucci, J. Kelleher, C. Castellucci, & C. Guidi, The Theatre of Societas Raffaello Sanzio (London: Routledge, 2007)
with J. Kelleher, eds, Contemporary Theatres in Europe: A Critical Companion (London: Routledge, 2006)
Stage Fright, Animals, and Other Theatrical Problems (Cambridge: Cambridge University Press, 2006)
Selected Chapters and Articles:
'Regarding Theatre: Thoughts on Recent Work by Simon Vincenzi and Romeo Castellucci', Theatre Journal 66.3 (2014), 427-436.
'On the Work of Things: Musical Production, Theatrical Labor and the "General Intellect"', Theatre Journal, 64.3 (2012), 389-408
'Opera and the Technologies of Theatrical Production', in The Cambridge Companion to Opera Studies, ed. N. Till (Cambridge: Cambridge University Press, 2012)
'Mis-spectatorship, or, "redistributing the sensible"', in Archaeologies of Presence, ed. G. Giannachi, N. Kaye & M. Shanks (Routledge, 2012)
'Ice, or a Collective History of the History of our Collectivity in the Theatre', in Theater Historiography, ed. H. Bial & S. Magelssen (Ann Arbor: University of Michigan Press, 2010)
'Di tre tipi di appartanenza', in B.Motion Spazio di Riflessione fuori e dentro le arti performative, ed. V. Gravano, E. Pitozzi and A. Sacchi (Milan: Costa & Nolan, 2008)
'Performance and Democracy', in The Cambridge Companion to Performance Studies, ed. T. C. Davis (Cambridge University Press, 2008), pp. 11-22
'Performance in the Service Economy', in Double Agent, ed. C. Bishop and M. Sladen (London: ICA, 2008)
'Welcome to the Vibratorium', Senses and Society, 3 (2008), 221-31
'The Worst Sort of Places', Theater, 37 (2007), 6-15
'Make-believe: Societas Raffaello Sanzio do theatre', in Contemporary Theatres in Europe, ed. N. Ridout and J. Kelleher (London: Routledge, 2006), pp. 175-87
'Tragedy at Home: Societas Raffaello Sanzio at Laban', PAJ: Performance Arts Journal, 81 (2005), 83-92
with J. Jones, 'Democratic Development in Oman', Middle East Journal, 59 (2005), 376-392
'Animal Labour in the Theatrical Economy', Theatre Research International, 29 (2004), 57-65
'Two Parrots and an Answering Machine: Some Problems with Knowledge and Memory', Performance Research 7.4: On Archives (2002), 42-47
'Seeing Undoing' translated (by Dominique Hollier) as 'Voir Défaire', in To Carthage Then I Came, ed. R. Castellucci (Arles, Actes Sud, 2002), pp. 51-71
Supervision
I would welcome enquiries from potential doctoral students interested in any of the areas of my research.
I have supervised the following successful PhD projects:
Léonore Easton, 'Livegraphy Performance Art, Language and the Multiplicity of Sense' (2010)
Eirini Kartsaki, 'Repeat Repeat: Returns of Performance' (2010)
Louise Owen, 'Performing "Risk": Neoliberalization and Contemporary Performance', co-supervised with Paul Heritage (2010)
Sarah Whitfield, 'Kurt Weill: The "Composer as Dramatist" in American Musical Theatre Production' (2010)
Theron Schmidt, 'The Politics of Theatricality: Community and Representation in Contemporary Art and Performance' (2011)
Tiffany Watt-Smith, 'Flinching: Self-Experimentation and Theatricality, 1872-1918' (2011)
Francesco Ceraolo, 'The Aesthetics of the Wagnerian Gesamtkunstwerk from Appia to Postdramatic Theatre' (2012)
Megan Macdonald, 'Performance Art, Liturgy and the Performance of Belief', co-supervised with Paul Heritage (2012)
Mischa Twitchin, 'The Theatre of Death: The Uncanny in Mimesis - Tadeusz Kantor, Aby Warburg, and an Iconography of the Actor; Or, must one die to be dead?' (2013)
Manuela Zechner, 'The World we Desire is one we can Create and Care for Together: On Collectivity, Organisation, Governance and Commoning in Times of Crisis and Precarity: A Reading through the Prisms of Care and Creativity', co-supervised with Arianna Bove (School of Business and Management) (2014)
Saini Manninen, 'Duration Materialised: Investigating Contemporary Performance as a Temporal Medium', co-supervised with Dominic Johnson (2014)
Francesco Scasciamacchia, 'Radical or Critical?: Theatrical Politics in Contemporary Visual Art Practices' (2016)Kirstin Smith, 'Risky Enterprise: Stunts and Value in Public Life' (2017)Emma Bennett, 'Just Joking: Speech, Performance and Ethics' (2017)Eleanor Massie, 'Amateurs and Professionals: The Circum-Atlantic Genealogy of Performer Identity' (2017)Caoimhe Mader McGuinness, "Challenging Liberal Conceptions of the Theatrical Sphere in London, 2009-2015', co-supervised with Catherine Silverstone (2017)
Performance
From time to time I make or contribute to performances, and to the curation of performance events. In 2009 I worked with the director Tim Hopkins, adapting the libretto of Mozart's Die Entführung aus dem Serail for a production at Opera North. In 2013, with my colleague Lois Weaver, I co-curated the inaugural Peopling the Palace festival at Queen Mary, and co-created and performed a new experimental theatre piece The State Department Presents (with Lindsay Goss) in Providence (USA). I continue to work with Lindsay Goss, most recently on a new theatre piece entitled quite the best news in some considerable time (2015), revived in 2016 as quite the best news in some considerable time (rinse and repeat version).