Dr Michael McKinnie, BA Hons (Guelph), MA (York, Canada), PhD (Northwestern)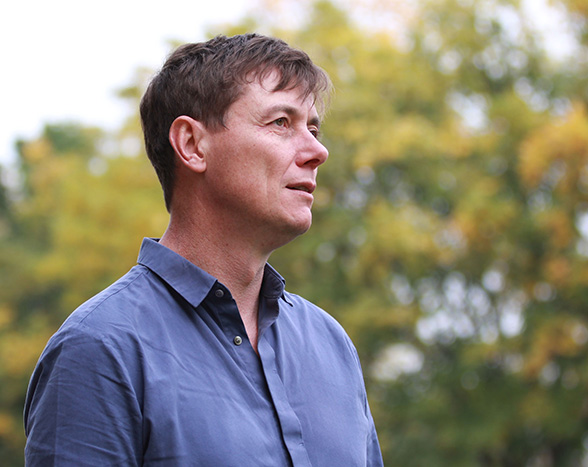 Reader in Theatre
Email: m.mckinnie@qmul.ac.uk
Profile
I studied in Canada and the United States, and moved to the UK after completing my PhD in the Interdisciplinary Program in Theatre and Drama at Northwestern University under the supervision of Prof. Tracy C. Davis. In between my MA and PhD, I trained as a dramaturg with Necessary Angel Theatre Company in Canada, and subsequently worked in new play development in professional theatres and universities in the United Kingdom, the United States, and Canada. I joined Queen Mary's Drama Department in 2006, having previously worked at the University of Birmingham and Queen's University Belfast.
Undergraduate Teaching
I have taught on:
DRA114: London/Culture/Performance
DRA312: Places of Performance
DRA343: Siting Performance
Postgraduate Teaching
I have also taught on:
DRA7006: Theatre and Performance Theory
DRA7100: Performance Research
Research
Research Interests:
Performance and space (including performance and the city and performance and urban development)
Performance and political economy (including performance and cultural industries)
Performance and public policy
Interdisciplinary and materialist performance research
Dramaturgy and new play development
Recent and On-Going Research:
My research investigates the relationship between performance, place and economics. As this suggests, my work is interdisciplinary and materialist, moving beyond theatre and performance studies to engage issues and ideas emerging from fields such as political economy, urban studies and cultural history.
My interest in the cultural economics of urban performance is reflected in my monograph, City Stages: Theatre and Urban Space in a Global City (University of Toronto Press), which was awarded the Ann Saddlemyer Award for Outstanding Book by the Canadian Association for Theatre Research. City Stages argues that, over the past four decades, theatre in Toronto has been increasingly implicated in the civic self-fashioning of the city and preoccupied with Toronto's changing urban political economy. It considers how theatre has been used to justify certain forms of urban development, how property markets have influenced the ways in which theatre companies acquire and use performance space and how the analysis of theatre as an urban phenomenon complicates dominant forms of Canadian theatre historiography. My edited collection, Space and the Geographies of Theatre (Playwrights Canada Press), brings together historical scholarship addressing the spatiality of English-language theatre in Canada.
More recently, I have considered what the places of performance might tell us not only about the spatiality of performance itself, but about broader issues of politics and economics (and theatre's complex relationship to them). I am currently working on a monograph about performance and the cultural politics of place for Cambridge University Press. This book explores concerns as diverse as performance districts and theatrical productivity in the United Kingdom, site-specific performances and citizenship in Ireland, and theatre and securitisation on the US-Canada border. Other work in progress includes articles about the cultural history of the modern theatre as an institution and the 2012 Olympics in London as political economic spectacle.
Publications
Monograph:
City Stages: Theatre and Urban Space in a Global City, Cultural Spaces series (Toronto: University of Toronto Press, 2007) [Winner, Ann Saddlemyer Award for Outstanding Book, Canadian Association for Theatre Research]
Edited Collection:
Space and the Geographies of Theatre, Critical Perspectives on Canadian Theatre in English series (Toronto: Playwrights Canada Press, 2007)
Research Report:
with Louise Pearson, Visual Arts Organisations and Higher Education Collaboration: Developing Digital Priorities (London: London Centre for Arts and Cultural Exchanges, 2009) Commissioned by Arts Council England-London and LCACE. 55 pp.
Selected Articles and Chapters:
"Institutional Frameworks: Theatre, State, and Market in Modern Urban Performance," in A Cultural History of Theatre in The Modern Age, edited Kim Solga. Vol. 6 of A Cultural History of Theatre, edited by Tracy C. Davis and Christopher B. Balme. London: Bloomsbury (in press, 2017).
'Olympian Performance: The Cultural Economics of the Opening Ceremony of London 2012.' Public, 53: Mega-Event Cities (Spring 2016): 49-57.
'Performing Like a City: London's South Bank and the Cultural Politics of Urban Governance', in Performance and the Politics of Space: Theatre and Topology, ed. Erika Fischer-Lichte and Benjamin Wischutz (Abingdon: Routledge, 2013), pp. 66-80
'Rethinking Site-Specificity: Monopoly, Urban Space, and the Cultural Economics of Site-Specific Performance', in Performing Site-Specific Theatre, ed. Anna Birch and Joanne Tompkins (Basingstoke: Palgrave Macmillan, 2012), pp. 21-36
'Capital: Theaterkultur und Stadtplanung am Beispiel von Londons South Bank', in Politik des Raumes: Theater und Topologie, ed. Erika Fischer-Lichte and Benjamin Wischutz, trans. Thomas Stachel (Munich: Wilhelm Fink Verlag, 2010), pp. 109-120
'Performing the Civic Transnational: Performance, Governance, and Citizenship in Contemporary London', in Performance and the City, ed. D. J. Hopkins et al. (Basingstoke: Palgrave Macmillan, 2009), pp. 110-127
'The State of the Nation', Canadian Theatre Review, 125 (2006), 5-8 [Thirtieth anniversary issue]
'Bees, Horseshoes and Puppets for the Elderly: The Local Initiatives Program and the Political Economy of Theatre in Canada', Contemporary Theatre Review, 15.4 (2005), 427-39 doi:10.1080/10486800500280446
'A Sympathy for Art: The Sentimental Economies of New Labour's Arts Policy', in Blairism and the War of Persuasion: Labour's Passive Revolution, ed. Richard Johnson and Deborah Lynn Steinberg (London: Laurence and Wishart, 2004), pp. 186-203

'The State of this Place: Convictions, the Courthouse, and the Political Geography of Performance in Belfast', in Modern Drama, 46.4 (2003), 580-97 [Special issue, Space and the Geographies of the Theatre]
'Canadian Theatre and Industrial Development', Canadian Theatre Review, 114 (2003), 16-20
'Legacies: Richard Rose's Vision for Tarragon Theatre', Canadian Theatre Review, 113 (2003), 29-33
'Liberal Shakespeares and Illiberal Critiques: Necessary Angel's King Lear', in Shakespeare in Canada: A World Elsewhere?, ed. Diana Brydon and Irena Makaryk (Toronto: University of Toronto Press, 2002), pp. 212-230
'Urban National, Suburban Transnational: Civic Theatres and the Urban Development of Toronto's Downtowns', Theatre Journal, 53.2 (2001), 253-276 [Special issue, Theatre and the City]
'Space Administration: Rereading the Material History of Toronto's Theatre Passe Muraille', Essays on Canadian Writing, 68 (2000), 19-45 [Special issue, Canadian Materialist Criticism]
Supervision
I welcome enquiries from potential doctoral students interested in any of the areas of my research.
I have supervised a range of PhD projects, investigating topics such as performance and social housing, the labour politics of performance workshops, and the performativity of political economy.
I have recently supervised the following successful PhD projects:
Sarah Grochala, 'Seriousness, Structure and the Dramaturgy of Social Life' (2012)
Timothy Edkins, 'Feeling Productive' (2013)
Sophie Leighton-Kelly, 'The Barbican: Performance, the City and Transnationalism' (2014)
Elyssa Livergant, 'Workshop: The Dramaturgy of Theatrical Labour' (2014)
Charlotte Bell, 'On Site: Performance and the Urban Social Housing Estate in Contemporary Governance and the Cultural Economy' (2014) Valeria Graziano, 'Common Pleasures: The Politics of Collective Practice from Sociability to Militant Conviviality' (2014)
I am currently supervising:
Philip Watkinson, 'Making Space for Affect: Affective Materialism and Contemporary Performance'