Queen Mary University of London is based in one of the world's truly global cities and our international community reflects this. We have students and staff from 155 countries and our international partnerships and activities allow us to deliver teaching and research with an international dimension and impact.
International students can receive specialised services from Queen Mary, including a precessional orientation course. Take a look at our entry requirements on our degree programme pages and use our international pages to determine whether your qualifications are acceptable. If you are submitting an application overseas, you my wish to contact our International Office for assistance with the application. Representatives can help you through the application process step by step. They do not charge for their services.
International student life
Watch this video of some of our international students talking about their experience living and studying in London.
English language requirements
Students from outside the United Kingdom must give evidence of their English language ability by producing an English language test score. Our minimum requirements are as follows:
IELTS (International English Language Testing Service) - 6.5 (with a minimum of 5.5 in each category)
WELT (Warwick English Language Test) – BBC/BCC
TEEP (Test of English for Educational Purposes) – 6.5
Cambridge ESOL Certificate in Advanced English – B
Cambridge ESOL Certificate of Proficiency in English – C
For further information about our English language requirements pease visit the central Queen Mary international pages.
English language and study skills
Queen Mary offers a range of courses for students who have not quite reached the required standard of English language ability, or for those wishing to improve their English language and study skills.
Visit the Language and Learning website for more information.
Location
We are based in east London, next to the City of London - a place with a rich history, cultural scene and a sense of community. One of the most rapidly changing parts of the capital, it combines the best of old and new.
London is a vibrant city with much to offer in every sense. Even though is the biggest city in Europe, it is highly welcoming. As a student in science, it is relatively easy to get close to the highest spheres of cutting edge science, as London hosts many of the most prestigious academic institutions in the world.
Carlos Martinez Ruiz, Ecology and Evolutionary Biology MSc student
Living on campus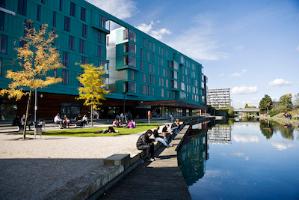 Our campus is the largest self-contained student campus in central London, and only 15 minutes by tube from Oxford Street, Covent Garden and the rest of the West End. We offer students a central site containing cafes, bar, restaurants, accommodation, gym, a student shop, bookshop, cash point and launderette all on one central site.
You have all the advantages of living in the capital city as well as being part of a sociable and safe student village. We have 24 hour security on campus and all student flats have entry-phones.When you accept your place to study at Queen Mary, the Admissions Office will send you information on how to apply for Queen Mary residences.
There is no specific deadline for the return of accommodation applications. However, places are offered on a first come first served basis, so the earlier you apply the better your chance of securing a place
Scholarships
The School of Biological and Behavioural Sciences offers international students scholarships of up to £3,000, depending on their academic background.
Find out more on our scholarships and bursaries page.
You might also be interested in: