Using puppet theatre to engage young families with Genetics
Published:
Written by Rebecca Knowlson,
Explainer at Centre of the Cell
In October the Centre of the Cell team headed up north for the Born in Bradford Family Festival to deliver our new family show!
Over the two-day festival we performed 'A Mummy for Melissa', a puppet show about genetics aimed at families and young children. The show is all about a furry, colourful, stripy monster called Melissa who uses her knowledge of cells and DNA to find her Mummy! The show not only included lots of colourful monster puppets, but also gave children the opportunity to see some real experiments. We squashed up strawberries and extracted their DNA, used a home-made smart phone microscope to see real plant cells and even used a Toilet Roll DNA Cannon to represent just how long our DNA is. Did you know that your DNA is so long that if it was the size of toilet roll then you would need enough toilet rolls to stretch to the moon and back ten times?!
In addition to our show, the fantastic Born in Bradford volunteers ran some of our experiments as table-top activities over the whole weekend, giving every child the opportunity to do the experiments for themselves.
The festival brought together families from Bradford, including many who are involved in the Born in Bradford project. This project is a large cohort study of 13,500 children who were born between March 2007 and December 2010 at Bradford Royal Infirmary. The study follows their health from their time in the womb through to adulthood. You can find out more about the Born in Bradford project here.
Held at the National Media Museum, the event attracted over 3,500 visitors, and brought in a completely new demographic of visitors for both the museum and Centre of the Cell. It also gave us the chance to introduce Queen Mary University of London to many families in Bradford. The event stretched as far as City Park where 1,500 visitors took part jumping in a giant digger, having their picture taken with the Born in Bradford bear or even following a teddy bear trail!
Centre of the Cell collaboration with 'Born in Bradford' and 'East London Genes and Health'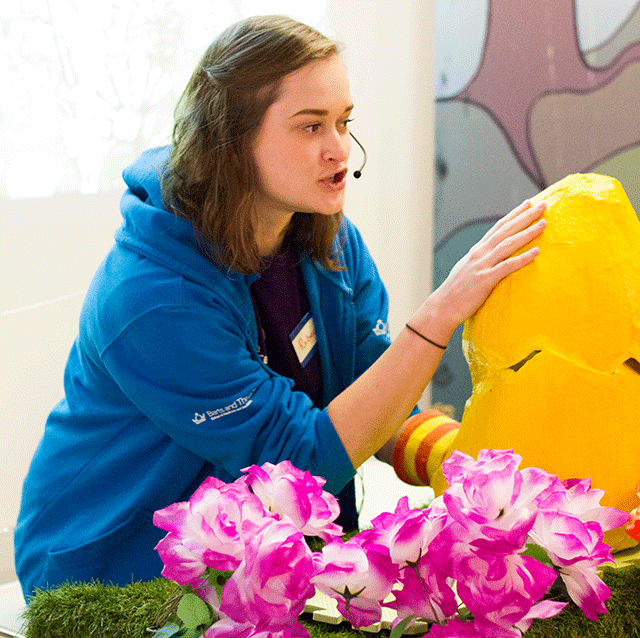 Overall the Born in Bradford Family Festival was a fantastic experience that we are proud to have been part of. We will be heading back up to Bradford soon to train some of the Born in Bradford volunteers so that they can deliver the show to school children in Bradford. In the near future Centre of the Cell will also be offering the show to family groups and schools in East London, so watch this space!
This partnership is a result of our collaboration with the 'East London Genes & Health' project, a large scale, long-term community based study and BioResource of (British-) Bangladeshi- and Pakistani-origin East London residents with genetics, health records, and volunteer recall for further medical research studies.
The study is led from Barts Health NHS Trust and Queen Mary University of London, in collaboration with local East London charity Social Action for Health.
To find out more about Centre of the Cell and our workshops and shows head to our website.
---
By Rebecca Knowlson
Explainer
Centre of the Cell
Photographs taken by 'Charlotte Arliss Photography'