Published:
Written by Daniel Taylor,
Assistant Public Engagement Officer at the Centre for Public Engagement
On October 26th a gothic shadow fell over Queen Mary's Mile End campus as music and drama combined for 'The Sound of Discovery'. Loosely playing on themes of research and scientific endeavour, this night of contemporary classical music featured a range of original and modern pieces performed across the campus, linked together by ghoulish guides from the QMUL drama department.
The concert was conceived by Musical Director Paul Edlin and funded by the Centre for Public Engagement as a chance to showcase QMUL musical excellence and innovations to new audiences, such as the C4DM magnetic resonator piano and a one handed trumpet, as part of the city-wide Inside Out Festival.
This aim of spreading subjects to new audiences is common in public engagement, as many activities rightly look to expand their audiences beyond the obvious. This is where the collaborative nature of the night really benefitted the project's aim. Their fusion of modern classical music with theatre turned a musical performance into an immersive experience, of the type made popular by organisations such as secret cinema, in which the audience were submerged in the theme of the night rather than passive observers.
Doing this opened the subject up to those who wouldn't usually elect to sit down for a classical music concert, and received strong reviews at the end of the night for finding an absorbing way for newcomers to digest classical music performances.
The process of collaboration also brought two separate departments together to explore complementary themes, creating exchange and innovation across subjects. Collaborations such as this have been a strength of Queen Mary as projects have combined fields such as Dentistry and Drama (Dental Detectives), Engineering and Art (Human Harp), and English, Physics and Geography (Centre for Poetry).
We'd like to thank Paul Edlin, the Queen Mary Department of Drama, and all those involved in making the night a success for a fantastic experience and a great example of engaging new audiences with new subjects.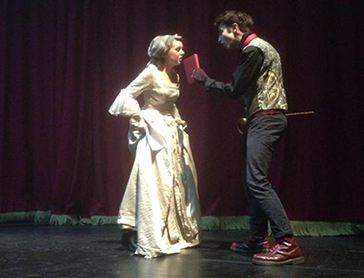 ---
By Daniel Taylor
Assistant Public Engagement Officer
Queen Mary University of London