Equality, diversity and wellbeing
Launched in June 2005, the Athena SWAN Charter is a national scheme that promotes gender equality throughout higher education and research. The School of Geography received the bronze award in September 2016.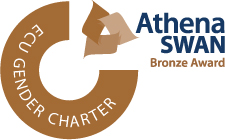 This is the first award for the School of Geography, who were able to submit under the expanded Athena SWAN criteria which now covers gender equality in arts, humanities, social sciences, business and law departments (AHSSBL), including both academic and professional services staff. The School of Geography is the first School at QMUL to receive accreditation under the new criteria. Professor Alison Blunt, Head of School (HoS) and co-chair – together with Dr Anna Dulic-Sills, Head of Administration (HoA) – of the Geography Self-Assessment Team, commented: "We are very proud of this achievement and recognition of the School's commitment to gender equality for all students and staff. Equality underpins our strategic aims, values and ethos, and is essential in achieving the School's mission of delivering outstanding research, education and career opportunities for all staff and students. Our new Equality and Diversity Group is implementing our Action Plan and building on our success by preparing an application for a Silver Award."
Read our full application and action plan:
Athena SWAN Bronze Application and Action Plan [PDF 4,748KB]
Athena SWAN annual report 2016 [PDF 2,513KB]
Athena SWAN annual report 2017 [PDF 607KB]
The Athena SWAN assessment panel particularly commended institutionally funded research [PDF 1,053KB] undertaken by Professor Cathy McIlwaine to explore undergraduate progression and attainment as a good practice example.
School Strategy and Athena SWAN
Our School Strategy (2015-19) has Equality, Diversity and Wellbeing built into its core values and fundamental commitments.
The School is committed to the provision of equality of opportunity for all of our students and staff.
We strive to nurture a culture amongst staff and students that is collegial, mutually supportive and committed to the development of the School's individual members.
We are committed to a community in which all people can learn, work and interact freely without fear of discrimination, prejudice or harassment.
We are committed to creating and sustaining a diverse work and study environment.
All students and staff are treated equitably and are not accorded less favourable treatment because of age, marital/civil partnership status, sex, disability, race, colour, ethnic or national origin, sexual orientation, family circumstances, religious or political beliefs and transgender status.
The School is committed to enhancing the work-life balance of staff including through: the careful management of workloads; consideration of all requests to work on a part-time or flexible basis by HoS (academic staff) or HoA (professional services staff); support for all staff in taking their full annual and other leave entitlement; support for academic staff in working away from the office when not required to teach or attend meetings; and the School's collective expectation that emails will only be answered during working hours.
Supporting Frameworks

To support our ambitions for inclusivity and to ensure we measure ourselves against others to continuous improve the School supports the university's Equality and Diversity Initiatives specifically:
Time to Change pledge
Disabled Staff Network
Women's Mentoring Scheme
B-MEntor Scheme
Stonewall
More information: