Dr Aysha Begum, BDS, BSc (Hons)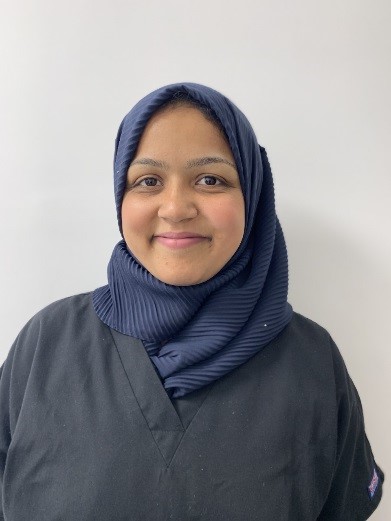 Clinical Lecturer in Adult Restorative Health
Email: aysha.begum@qmul.ac.ukRoom Number: Office 1, Floor 4, Institute of Dentistry
Profile
Dr Begum qualified from Bart's London Dental School in 2010. She completed her Vocational Training in Colchester and then worked as a Senior House Officer at Addenbrooke's Hospital in Cambridgeshire. Whilst in hospital she passed the Membership of the Faculty of Dental Surgeon's examination for the Royal College of Surgeons in Edinburgh. Dr Begum successfully completed PgCERT Dental Education in January 2016. She currently work as a clinical lecturer and as a General Practitioner.
Teaching
Dr Begum started teaching at the Bart's London Dental School in October 2016. She initially started to work as a facilitator for the Dental Public Health Department. The main learning outcome was to discuss what Access, Prevention and Quality meant to dental practitioners and then discussing the barriers to Access, Prevention in clinical practice. This teaching experience gave Dr Begum the opportunity to teach final year Dental Students the main reflection as a practitioner and conveying what it would be like in pratcice once they qualify.
Dr Begum started working as a part time restorative clinical lecturer in August 2017 for the Restorative Department at Bart's Dental Hospital. She contributed to the maintenance and further development of excellence in the quality of education within the Adult Oral Health Department where she was responsible for both pre-clinical and clinical supervision of dental undergraduate students.
In the laboratory Dr Begum has taught many aspects of dentistry such as cavity prep and application of rubber dam on phantom heads. She has also assisted students to prepare a typodont tooth for indirect restorations and constructions of provisional restorations.
As well as working in the man hospital, Dr Begum supervise'd undergraduates at the outreach clinics; Barkantine and Sir Ludwig Guttman in Stratford.
Dr Begum also works part time in a practice in East London were she strives to offer patients good quality dental treatment in a pleasant and comfortable surrounding. She has an empathetic approach and enjoys the aspect of anxiety and pain control.
Research
Publications
Synovial sarcoma: Effect of treatment on root development and eruptive potential – A Case Report and Review
Begum Aa, Bister Db, Khamashta-Ledezma Lc
BDS (Lon), BSc (Lon), MFDS RCS (Eng). Clinical Lecturer, Dental Hospital, Whitechapel
med., Dr.med.dent., MSc (Lon), MOrth RCS (Edin), FDS Orth RCS (Edin), MA (KCL). Consultant in Orthodontics, Orthodontic Department, Guy's and St Thomas's NHS Foundation Trust
BDS Hons (Lon), MJDF RCS (Eng), MSc (KCL), MOrth RCS (Edin), FDS Orth RCS (Edin), GCAP (KCL), FHEA. Consultant in Orthodontics, Orthodontic Department, Guy's and St Thomas's NHS Foundation Trust
The main aim of the case report is to describe the effects of both chemotherapy and radiotherapy on dental development, dental appearance and oral health in a 6 year old female patient treated for synovial sarcoma. Numerous theories of tooth eruption have been described in the article and the case report shows how although root development was arrested tooth eruption still occurred. The article emphasizes the important for dental professionals to understand the effect of cancer treatment can have on growth and development.