Alessandra Bonfiglioli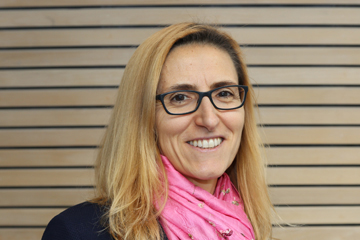 Reader
Email: a.bonfiglioli@qmul.ac.ukTelephone: +44 20 7882 8842Room Number: GC542Website: https://sites.google.com/view/alessandra-bonfiglioli/homeOffice Hours: Wednesday: 3pm - 4pm
Profile
Alessandra Bonfiglioli is a Reader in Economics and since September 2018 the Director of Graduate Studies at the School of Economics and Finance at Queen Mary University of London.
She is a Research Fellow at CEPR (Centre for Economic Policy Research), an Affiliated Professor at the Barcelona Graduate School of Economics (GSE), and an Associate Editor of the Journal of the European Economic Association.
Alessandra Bonfiglioli is a macroeconomist mostly interested in international trade, growth and income inequality, and political economy. Her research focuses on the the determinants of income inequality and firm heterogeneity across and within countries, and on the effects of institutions on economic incentives and countries' economic performance.
She received her Ph.D. in Economics at Stockholm University (Institute for International Economic Studies) in 2005. Previously, she was a Research Fellow at the Institute for Economic Analysis (CSIC) in Barcelona and an Assistant Professor at Universitat Pompeu Fabra.
Research
Research Interests:
International Trade

Growth and Income Distribution

Political Economy

Financial Economics
Publications
Bonfiglioli A., Gancia G. "Heterogeneity, Selection and Labor Market Disparities", CEPR Discussion Paper 9981, February 2018, conditionally accepted at the Review of Economic Dynamics, (forthcoming)
Bonfiglioli A., Crinò R., Gancia G. (2017) "Trade, Finance and Endogenous Firm Heterogeneity", Journal of the European Economic Association.
Bonfiglioli A., Crinò R., Gancia G. (2018) "Betting on Exports: Trade and Endogenous Heterogeneity", Economic Journal,128, 612-651.
Bonfiglioli A., Gancia G. (2014) "Growth, Selection and Appropriate Contracts", Review of Economic Dynamics 17(1), 21-38.
Bonfiglioli A., Gancia G. (2013) "Uncertainty, Electoral Incentives and Political Myopia", Economic Journal 123, 373-400.
Bonfiglioli A. (2012) "Investor Protection and Inequality: Risk Sharing vs Risk Taking", Journal of Development Economics 99, 92-104.
Bonfiglioli A. (2008) "Financial Integration, Productivity and Capital Accumulation, Journal of International Economics 76, 337-355, Reprinted in Ostry, Jonathan, Atish Ghosh and Mahvash Qureshi (Eds.) Capital Controls, Edward Elgar Publishing (2015).
Bonfiglioli A., Gancia G. (2008) "North-South Trade and Directed Technical Change", Journal of International Economics 76, 276-295.
Bonfiglioli A., Favero CA. (2005) "Explaining Co-movements Between Stock Markets: The Case of US and Germany", Journal of International Money and Finance 24(8), 1299-1316.
Public Engagement
Alessandra Bonfiglioli's research has featured in the main European economic blogs (VoxEU.org, Nada es Gratis and LaVoce.info). Her work on economic uncertainty and structural reforms featured in one of the main Spanish newspapers (La Vanguardia) as shortlisted for the prize "the vanguard of science" of 2015.