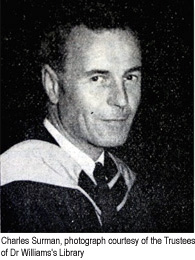 Charles Surman's extraordinary biographical card index of Congregational ministers was given to Dr Williams's Library in 1960. The Surman Index Online makes the contents available electronically via the internet for the first time. The index includes the names of about 32,000 ministers, and, where known, their dates, details of their education, ministries or other employment, together with the sources used. It covers the period from the mid-seventeenth century to 1972, and though it focuses on England and Wales, it includes Congregational ministers serving abroad provided they trained or served as ministers in Britain. Although intended as an index of Congregational ministers, it also gives details of seventeenth- and eighteenth-century Presbyterians. The card index has been much used by academics and by local and family historians.
This open access online edition has been funded by a Small Research Grant from the British Academy with further grants from the Congregational Memorial Hall Trust and Dr Williams's Trust. We gratefully acknowledge the financial support received from these bodies, without which the work could not have been undertaken.
Citations should take the form: The Surman Index Online, http://surman.english.qmul.ac.uk.
The database and interfaces were designed and the work undertaken by Richard Gartner under the direction of David Wykes, Director of Dr Williams's Library. The Introduction and account of the Index are by David Wykes.