Professor Ginestra Bianconi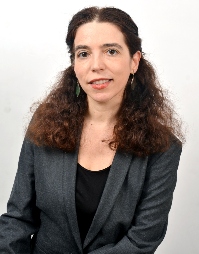 Professor of Applied Mathematics
Email: g.bianconi@qmul.ac.ukTelephone: +44 (0)20 7882 5444Room Number: Mathematical Sciences Building, Room: MB-521Website: http://www.maths.qmul.ac.uk/~gbianconiOffice Hours: Semester B: Wednesday 11:00-12:00 for students of MTH6142 Thursday 13:00-14:00 on Teams for Advisees
Profile
Ginestra Bianconi is Professor of Applied Mathematics in the School of Mathematical Sciences of Queen Mary University of London and she is Alan Turing Fellow at the Alan Turing Institute. Currently she is Chief Editor of JPhys Complexity, Editor of PloSOne, and Scientific Reports, and she is Associate Editor of Chaos, Solitons and Fractals. In 2020 she was awarded the Network Science Fellowships by the NetSci Society.
Her research activity on Statistical Mechanics and Network Science includes Network Theory and its interdisciplinary applications. She has formulated the Bianconi-Barabasi model that displays the Bose-Einstein condensation in complex networks. She has worked in network entropy and network ensembles and on dynamical processes on networks. In the last years, she has been focusing on multilayer networks, simplicial complexes, network geometry and topology, percolation and network control. She is the author of the book Multilayer Networks: Structure and Function by Oxford University Press.
Research
Research Interests:
Statistical mechanics of networks

Multilayer Networks
Higher-order networks and simplicial complexes
Network Topology and Network Geometry
Network modelling
Percolation theory
Synchronization
Quantum phenomena on networks
Critical phenomena on networks
Entropy measures for network ensembles
Models of social network dynamics
Centrality measures for economic and financial networks

Biological Networks

Neural networks and brain dynamics
Molecular Networks

Complexity and criticality in condensed matter
Examples of research funding:
EPSRC Network Plus grant for holding the workshop "Physics challenges for Machine Learning and Network Science"
Royal Society "Large deviation theory of dynamical processes on networks and its application to ecological systems"
Publications
Ginestra Bianconi has published more than 150 papers and her work has appeared in major scientific journals such as Science, Nature, PNAS, PRX and Physical Review Letters. She is the author of the book Multilayer Networks: Structure and Function by Oxford University Press.
(2022)

,

Critical time-dependent branching process modelling epidemic spreading with containment measures Journal of Physics A: Mathematical and Theoretical $nameOfConference

(2022)

,

Grand canonical ensembles of sparse networks and Bayesian inference $journal $nameOfConference

(2022)

,

Geometry, Topology and Simplicial Synchronization $journal $nameOfConference

(2022)

,

Statistical physics of exchangeable sparse simple networks, multiplex networks and simplicial complexes Physical Review E: Statistical, Nonlinear, and Soft Matter Physics $nameOfConference

(2022)

,

Critical time-dependent branching process modelling epidemic spreading with containment measures JPhys A:Mathematical and Theoretical $nameOfConference

(2021)

,

Information theory of spatial network ensembles $journal $nameOfConference

(2021)

,

Link overlap influences opinion dynamics on multiplex networks of Ashkin-Teller spins Physical Review E $nameOfConference

(2021)

,

Spectral Detection of Simplicial Communities via Hodge Laplacians Physical review. E, Statistical physics, plasmas, fluids, and related interdisciplinary topics $nameOfConference

(2021)

,

Spectral detection of simplicial communities via Hodge Laplacians Physical Review E $nameOfConference

(2021)

,

Higher Order Networks: An Introduction to Simplicial Complexes $journal $nameOfConference

(2021)

,

Higher-Order Networks $journal $nameOfConference

(2021)

,

Local topological moves determine global diffusion properties of hyperbolic higher-order networks Physical Review E $nameOfConference

(2021)

,

Statistical physics of exchangeable sparse simple networks, multiplex networks and simplicial complexes $journal $nameOfConference

(2021)

,

The physics of higher-order interactions in complex systems $journal $nameOfConference

(2021)

,

Universal nonlinear infection kernel from heterogeneous exposure on higher-order networks Physical Review Letters $nameOfConference

(2021)

,

The physics of higher-order interactions in complex systems Nature Physics $nameOfConference

(2021)

,

Higher-order percolation processes on multiplex hypergraphs Physical Review E: Statistical, Nonlinear, and Soft Matter Physics $nameOfConference

(2021)

,

The topological Dirac equation of networks and simplicial complexes JPhys Complexity $nameOfConference

(2021)

,

Spectral Detection of Simplicial Communities via Hodge Laplacians $journal $nameOfConference

(2021)

,

Topological synchronization: explosive transition and rhythmic phase $journal $nameOfConference

(2021)

,

Link overlap influences opinion dynamics on multiplex networks: spin model approach $journal $nameOfConference

(2021)

,

Higher-order simplicial synchronization of coupled topological signals Communications Physics $nameOfConference

(2021)

,

The topological Dirac equation of networks and simplicial complexes $journal $nameOfConference

(2021)

,

Geometry, Topology and Simplicial Synchronization $journal $nameOfConference

(2021)

,

Higher-order percolation processes on multiplex hypergraphs $journal $nameOfConference

(2021)

,

D-dimensional oscillators in simplicial structures: odd and even dimensions display different synchronization scenarios Chaos, Solitons and Fractals $nameOfConference

(2021)

,

Networks of Networks in Biology Concepts, Tools and Applications $journal $nameOfConference

(2021)

,

Local topological moves determine global diffusion properties of hyperbolic higher-order networks $journal $nameOfConference

(2021)

,

A message-passing approach to epidemic tracing and mitigation with apps Physical Review Research $nameOfConference

(2021)

,

Beyond COVID-19: Network science and sustainable exit strategies Journal of Physics: Complexity $nameOfConference

(2021)

,

Universal nonlinear infection kernel from heterogeneous exposure on higher-order networks $journal $nameOfConference

(2020)

,

Non-Markovian Majority-Vote model Physical Review E: Statistical, Nonlinear, and Soft Matter Physics $nameOfConference

(2020)

,

Probing the spectral dimension of quantum network geometries JPhys Complexity $nameOfConference

(2020)

,

Epidemic plateau in critical susceptible-infected-removed dynamics with nontrivial initial conditions Physical Review E $nameOfConference

(2020)

,

Higher-order simplicial synchronization of coupled topological signals $journal $nameOfConference

(2020)

,

D-dimensional oscillators in simplicial structures: odd and even dimensions display different synchronization scenarios $journal $nameOfConference

(2020)

,

Beyond COVID-19: Network science and sustainable exit strategies $journal $nameOfConference

(2020)

,

Epidemics with containment measures Physical Review E $nameOfConference

(2020)

,

Non-Markovian Majority-Vote model $journal $nameOfConference

(2020)

,

Epidemic plateau in critical SIR dynamics with non-trivial initial conditions $journal $nameOfConference

(2020)

,

Renormalization group theory of percolation on pseudo-fractal simplicial and cell complexes Physical Review E: Statistical, Nonlinear, and Soft Matter Physics $nameOfConference

(2020)

,

The higher-order spectrum of simplicial complexes: a renormalization group approach Journal of Physics A: Mathematical and Theoretical $nameOfConference

(2020)

,

A message-passing approach to epidemic tracing and mitigation with apps $journal $nameOfConference

(2020)

,

Classical Information Theory of Networks Journal of Physics: Complexity $nameOfConference

(2020)

,

Simplicial complexes: higher-order spectral dimension and dynamics Journal of Physics: Complexity $nameOfConference

(2020)

,

Welcome to JPhys Complexity Journal of Physics: Complexity $nameOfConference

(2020)

,

Explosive higher-order Kuramoto dynamics on simplicial complexes Physical Review Letters $nameOfConference

(2020)

,

Probing the spectral dimension of quantum network geometries $journal $nameOfConference

(2020)

,

Renormalization group theory of percolation on pseudo-fractal simplicial and cell complexes $journal $nameOfConference

(2020)

,

Epidemics with containment measures $journal $nameOfConference

(2020)

,

The higher-order spectrum of simplicial complexes: a renormalization group approach $journal $nameOfConference

(2020)

,

The spectral dimension of simplicial complexes: a renormalization group theory Journal of Statistical Mechanics: Theory and Experiment $nameOfConference

(2020)

,

Simplicial complexes: higher-order spectral dimension and dynamics $journal $nameOfConference

(2019)

,

Percolation on branching simplicial and cell complexes and its relation to interdependent percolation Physical Review E: Statistical, Nonlinear, and Soft Matter Physics $nameOfConference

(2019)

,

Explosive higher-order Kuramoto dynamics on simplicial complexes $journal $nameOfConference

(2019)

,

Multiplex network analysis of the UK OTC derivatives market International Journal of Finance and Economics $nameOfConference

(2019)

,

The spectral dimension of simplicial complexes: a renormalization group theory $journal $nameOfConference

(2019)

,

Quantum statistics in Network Geometry with Fractional Flavor Journal of Statistical Mechanics: Theory and Experiment $nameOfConference

(2019)

,

Percolation on branching simplicial and cell complexes and its relation to interdependent percolation $journal $nameOfConference

(2019)

,

Enhancing the robustness of a multiplex network leads to multiple discontinuous percolation transitions Physical Review E $nameOfConference

(2019)

,

Renormalization group for link percolation on planar hyperbolic manifolds Physical Review E $nameOfConference

(2019)

,

Classical Information Theory of Networks $journal $nameOfConference

(2019)

,

Statistical mechanics of bipartite $z$-matchings Europhysics Letters $nameOfConference

(2019)

,

Renormalization group for link percolation on planar hyperbolic manifolds $journal $nameOfConference

(2019)

,

Enhancing the robustness of a multiplex network leads to multiple discontinuous percolation transitions $journal $nameOfConference

(2019)

,

Beyond the clustering coefficient: A topological analysis of node neighbourhoods in complex networks Chaos, Solitons and Fractals X $nameOfConference

(2019)

,

Large deviation theory of percolation on multiplex networks Journal of Statistical Mechanics: Theory and Experiment $nameOfConference

(2019)

,

Quantum statistics in Network Geometry with Fractional Flavor $journal $nameOfConference

(2019)

,

Synchronization in Network Geometries with Finite Spectral Dimension Physical Review E $nameOfConference

(2019)

,

Beyond the clustering coefficient: A topological analysis of node neighbourhoods in complex networks $journal $nameOfConference

(2018)

,

Controlling the uncertain response of real multiplex networks to random damage Physical Review E $nameOfConference

(2018)

,

Topological Percolation on Hyperbolic Simplicial Complexes Physical Review E $nameOfConference

(2018)

,

Synchronization in Network Geometries with Finite Spectral Dimension $journal $nameOfConference

(2018)

,

Large deviation theory of percolation on multiplex networks $journal $nameOfConference

(2018)

,

Statistical mechanics of bipartite $z$-matchings $journal $nameOfConference

(2018)

,

Topological Percolation on Hyperbolic Simplicial Complexes $journal $nameOfConference

(2018)

,

Network Geometry and Complexity Journal of Statistical Physics $nameOfConference

(2018)

,

Complex Network Geometry and Frustrated Synchronization Scientific Reports $nameOfConference

(2018)

,

Multilayer Networks Structure and Function $journal $nameOfConference

(2018)

,

Multiplex network analysis of the UK OTC derivatives market $journal $nameOfConference

(2018)

,

Dense Power-law Networks and Simplicial Complexes Physical Review E - Statistical, Nonlinear, and Soft Matter Physics $nameOfConference

(2018)

,

Controlling the uncertain response of real multiplex networks to random damage $journal $nameOfConference

(2018)

,

Sparse power-law network model for reliable statistical predictions based on sampled data Entropy $nameOfConference

(2018)

,

Complex network view of evolving manifolds Physical Review E $nameOfConference

(2018)

,

Multilink Communities of Multiplex Networks PLoS ONE $nameOfConference

(2018)

,

Multilink communities of multiplex networks. PLoS One $nameOfConference

(2018)

,

Sparse power-law network model for reliable statistical predictions based on sampled data $journal $nameOfConference

(2018)

,

Rare events and discontinuous percolation transitions Physical Review E $nameOfConference

(2018)

,

Dense Power-law Networks and Simplicial Complexes $journal $nameOfConference

(2018)

,

Complex Network Geometry and Frustrated Synchronization $journal $nameOfConference

(2017)

,

Machine learning meets network science: dimensionality reduction for fast and efficient embedding of networks in the hyperbolic space Nature Communications $nameOfConference

(2017)

,

Network Geometry and Complexity $journal $nameOfConference

(2017)

,

Centralities of Nodes and Influences of Layers in Large Multiplex Networks Journal of Complex Networks $nameOfConference

(2017)

,

Complex network view of evolving manifolds $journal $nameOfConference

(2017)

,

Fluctuations in percolation of sparse complex networks Physical Review E $nameOfConference

(2017)

,

Rare events and discontinuous percolation transitions $journal $nameOfConference

(2017)

,

Multilink Communities of Multiplex Networks $journal $nameOfConference

(2017)

,

Weighted Growing Simplicial Complexes Physical Review E $nameOfConference

(2017)

,

Centralities of Nodes and Influences of Layers in Large Multiplex Networks $journal $nameOfConference

(2017)

,

Fluctuations in percolation of sparse complex networks $journal $nameOfConference

(2017)

,

Epidemic spreading and bond percolation in multilayer networks Journal of Statistical Mechanics: Theory and Experiment $nameOfConference

(2017)

,

Weighted Growing Simplicial Complexes $journal $nameOfConference

(2017)

,

Erratum: Publisher's Note: Redundant Interdependencies Boost the Robustness of Multiplex Networks [Phys. Rev. X, 7,(2017) (011013)] DOI: 10.1103/PhysRevX.7.011013 Physical Review X $nameOfConference

(2017)

,

Emergent Hyperbolic Network Geometry Scientific Reports $nameOfConference

(2017)

,

Redundant interdependencies boost the robustness of multiplex networks Physical Review X $nameOfConference

(2016)

,

Percolation in real multiplex networks Physical Review E: Statistical, Nonlinear, and Soft Matter Physics $nameOfConference

(2016)

,

Network analysis and modelling: Special issue of European Journal of Applied Mathematics EUROPEAN JOURNAL OF APPLIED MATHEMATICS $nameOfConference

(2016)

,

Functional Multiplex PageRank Europhysics Letters: a letters journal exploring the frontiers of physics $nameOfConference

(2016)

,

Epidemic spreading and bond percolation in multilayer networks $journal $nameOfConference

(2016)

,

Percolation in real multiplex networks $journal $nameOfConference

(2016)

,

Redundant interdependencies boost the robustness of multilayer networks $journal $nameOfConference

(2016)

,

Message passing theory for percolation models on multiplex networks with link overlap Physical Review E $nameOfConference

(2016)

,

Functional Multiplex PageRank $journal $nameOfConference

(2016)

,

Emergent Hyperbolic Network Geometry $journal $nameOfConference

(2016)

,

The role of dimensionality in neuronal network dynamics Scientific Reports $nameOfConference

(2016)

,

Correlated Edge Overlaps in Multiplex Networks Physical Review E - Statistical Physics, Plasmas, Fluids, and Related Interdisciplinary Topics $nameOfConference

(2016)

,

Generalized network structures: The configuration model and the canonical ensemble of simplicial complexes Physical Review E - Statistical Physics, Plasmas, Fluids, and Related Interdisciplinary Topics $nameOfConference

(2016)

,

Extracting Information from Multiplex Networks Chaos $nameOfConference

(2016)

,

Message passing theory for percolation models on multiplex networks with link overlap $journal $nameOfConference

(2016)

,

Network geometry with flavor: From complexity to quantum geometry. Phys Rev E $nameOfConference