Professor Christian Beck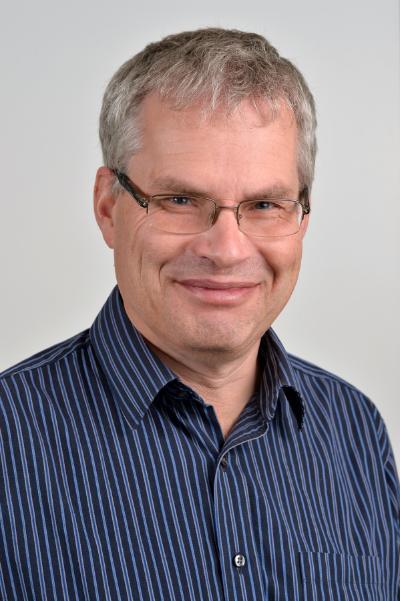 Professor of Applied Mathematics
Email: c.beck@qmul.ac.ukTelephone: +44 (0)20 7882 3286Room Number: Queens' Building, Room: W311Website: http://www.maths.qmul.ac.uk/~beckOffice Hours: Tuesday: 14:30-15:30 room W311 Notes: please e-mail for an appointment
Profile
Professor Christian Beck is a Professor of Applied Mathematics and Head of the Dynamical Systems and Statistical Physics Group.
He is also Chair of the Statistical and Nonlinear Physics Division of the European Physical Society (EPS).
Currently is Co-Editor of EPL (Europhysics Letters), Advisory Editor of Physica A, and Editor of Chaos, Solitons and Fractals. He is a Fellow of the Institute of Mathematics and its Applications (FIMA).
Christian Beck has a broad range of research interests in stochastic modelling, statistical physics, complex systems, chaotic dynamics, and interdisciplinary applications. In addition he is interested in axionic dark matter physics and other fundamental problems in high energy physics. His work on load balancing problems for electric power grids is funded by EPSRC. Previous research funding includes grants on superstatistical complex systems and a Royal Society Leverhulme Trust Senior Research Fellowship.
Research
Publications
(2018)

.

Stochastic differential equations driven by deterministic chaotic maps: analytic solutions of the Perron-Frobenius equation NONLINEARITY

.

authorsList

(2018)

.

Generalized statistical mechanics of cosmic rays: Application to positron-electron spectral indices Scientific Reports

.

authorsList

(2018)

.

Non-Gaussian power grid frequency fluctuations characterized by Lévy-stable laws and superstatistics Nature Energy

.

authorsList

(2017)

.

Transitions between superstatistical regimes: Validity, breakdown and applications Physica A: Statistical Mechanics and its Applications

.

authorsList

(2017)

.

Symbolic dynamics techniques for complex systems: Application to share price dynamics EPL (Europhysics Letters)

.

authorsList

(2017)

.

Superstatistics: Superposition of Maxwell-Boltzmann Distributions Kappa Distributions: Theory and Applications of Plasmas

.

authorsList

(2016)

.

Transition from lognormal to χ2-superstatistics for financial time series Physica A: Statistical Mechanics and its Applications

.

authorsList

(2016)

.

Transitions from lognormal to chi-square superstatistics Physica A

.

authorsList

(2016)

.

Cosmological flux noise and measured noise power spectra in SQUIDs. Scientific Reports

.

authorsList

(2016)

.

Extreme event statistics of daily rainfall: dynamical systems approach JOURNAL OF PHYSICS A-MATHEMATICAL AND THEORETICAL

.

authorsList

(2016)

.

Extreme event statistics of daily rainfall: dynamical systems approach Journal of Physics A: Mathematical and General

.

authorsList

(2016)

.

Superstatistics of Blaschke products Dynamical Systems

.

authorsList

(2015)

.

Axion mass estimates from resonant Josephson junctions PHYSICS OF THE DARK UNIVERSE

.

authorsList

(2015)

.

Superstatistical analysis of sea-level fluctuations PHYSICA A-STATISTICAL MECHANICS AND ITS APPLICATIONS

.

authorsList

(2014)

.

Lagrangian quantum turbulence model based on alternating superfluid/normal fluid stochastic dynamics EPL

.

authorsList

(2014)

.

Extreme Value Laws for Superstatistics ENTROPY

.

authorsList

(2014)

.

Renormalization aspects of chaotic strings 3QUANTUM: ALGEBRA GEOMETRY INFORMATION (QQQ CONFERENCE 2012)

.

authorsList

(2013)

.

Possible Resonance Effect of Axionic Dark Matter in Josephson Junctions PHYSICAL REVIEW LETTERS

.

authorsList

(2013)

.

Environmental superstatistics PHYSICA A-STATISTICAL MECHANICS AND ITS APPLICATIONS

.

authorsList

(2013)

.

Renormalization group approach to chaotic strings CHAOS SOLITONS & FRACTALS

.

authorsList

(2013)

.

Statistics of Lagrangian quantum turbulence PHYSICAL REVIEW E

.

authorsList

(2012)

.

Coupled intermittent maps modeling the statistics of genomic sequences: A network approach PHYSICAL REVIEW E

.

authorsList

(2012)

.

Coupled intermittent maps modeling the statistics of genomic sequences: A network approach. Phys Rev E Stat Nonlin Soft Matter Phys

.

authorsList

(2012)

.

Currents in complex polymers: An example of superstatistics for short time series PHYSICS LETTERS A

.

authorsList

(2012)

.

STATISTICAL MECHANICS OF THE VACUUM MODERN PHYSICS LETTERS B

.

authorsList

(2012)

.

Axion physics in a Josephson junction environment PHYSICA C-SUPERCONDUCTIVITY AND ITS APPLICATIONS

.

authorsList

(2011)

.

TESTING AXION PHYSICS IN A JOSEPHSON JUNCTION ENVIRONMENT MODERN PHYSICS LETTERS A

.

authorsList

(2011)

.

Skewed superstatistical distributions from a Langevin and Fokker-Planck approach CHINESE SCIENCE BULLETIN

.

authorsList

(2011)

.

Multifractal information production of the human genome EPL-EUROPHYS LETT

.

authorsList

(2011)

.

Multifractal analysis of nonhyperbolic coupled map lattices: Application to genomic sequences PHYS REV E

.

authorsList

(2011)

.

Dynamical modelling of superstatistical complex systems PHYSICA A

.

authorsList

(2011)

.

Generalized statistical mechanics for superstatistical systems PHILOS T R SOC A

.

authorsList

(2010)

.

Discrete symmetries of chaotic strings DYNAM SYST

.

authorsList

(2009)

.

Axiomatic approach to the cosmological constant PHYSICA A

.

authorsList

(2009)

.

Superstatistical fluctuations in time series: Applications to share-price dynamics and turbulence PHYS REV E

.

authorsList

(2009)

.

Recent developments in superstatistics BRAZILIAN JOURNAL OF PHYSICS

.

authorsList

(2009)

.

Superstatistics in high-energy physics Application to cosmic ray energy spectra and e(+)e(-) annihilation EUR PHYS J A

.

authorsList

(2009)

.

Closer look at time averages of the logistic map at the edge of chaos PHYS REV E

.

authorsList

(2009)

.

Generalised information and entropy measures in physics CONTEMP PHYS

.

authorsList

(2009)

.

Possible Measurable Effects of Dark Energy in Rotating Superconductors ADVANCES IN ASTRONOMY

.

authorsList

(2008)

.

Superstatistical distributions from a maximum entropy principle. Phys Rev E Stat Nonlin Soft Matter Phys

.

authorsList

(2008)

.

Chaotic quantization and the mass spectrum of fermions CHAOS SOLITON FRACT

.

authorsList

(2008)

.

A superstatistical model of metastasis and cancer survival PHYSICA A

.

authorsList

(2008)

.

Electromagnetic dark energy INT J MOD PHYS D

.

authorsList

(2007)

.

Superstatistics, thermodynamics, and fluctuations PHYS REV E

.

authorsList

(2007)

.

Scaling properties of invariant densities of coupled Chebyshev maps DYNAM SYST

.

authorsList

(2007)

.

Zeropoint fluctuations and dark energy in Josephson junctions FLUCT NOISE LETT

.

authorsList

(2007)

.

Modelling train delays with q-exponential functions PHYSICA A

.

authorsList

(2007)

.

Central limit behavior of deterministic dynamical systems PHYS REV E

.

authorsList

(2007)

.

Statistics of three-dimensional lagrangian turbulence. Phys Rev Lett

.

authorsList

(2006)

.

Nonconcave entropies in multifractals and the thermodynamic formalism J STAT PHYS

.

authorsList

(2006)

.

Scaling behavior of nonhyperbolic coupled map lattices PHYS REV E

.

authorsList

(2006)

.

Stretched exponentials from superstatistics PHYSICA A-STATISTICAL MECHANICS AND ITS APPLICATIONS

.

authorsList

(2006)

.

Dark energy, chaotic fields, and fundamental constants Frontiers of Fundamental Physics

.

authorsList

(2006)

.

Laboratory tests on dark energy Third 21COE Symposium: Astrophysics as Interdisciplinary Science

.

authorsList

(2006)

.

Superstatistical Brownian motion PROGRESS OF THEORETICAL PHYSICS SUPPLEMENT

.

authorsList

(2005)

.

From time series to superstatistics PHYS REV E

.

authorsList

(2005)

.

Could dark energy be measured in the lab? PHYS LETT B

.

authorsList

(2005)

.

Asymptoties of superstatistics PHYS REV E

.

authorsList

(2005)

.

Nonequivalent ensembles and metastability Complexity, Metastability and Nonextensivity

.

authorsList

(2004)

.

Superstatistical generalization of the work fluctuation theorem PHYSICA A-STATISTICAL MECHANICS AND ITS APPLICATIONS

.

authorsList

(2004)

.

Superstatistics, escort distributions, and applications PHYSICA A-STATISTICAL MECHANICS AND ITS APPLICATIONS

.

authorsList

(2004)

.

Nonextensive scalar field theories and dark energy models PHYSICA A-STATISTICAL MECHANICS AND ITS APPLICATIONS

.

authorsList

(2004)

.

Defect turbulence and generalized statistical mechanics PHYSICA D-NONLINEAR PHENOMENA

.

authorsList

(2004)

.

Superstatistics in hydrodynamic turbulence PHYSICA D-NONLINEAR PHENOMENA

.

authorsList

(2004)

.

Chaotic scalar fields as models for dark energy PHYS REV D

.

authorsList

(2004)

.

Superstatistics: theory and applications CONTINUUM MECH THERM

.

authorsList

(2004)

.

Generalized statistical mechanics of cosmic rays PHYSICA A

.

authorsList

(2003)

.

Lagrangian acceleration statistics in turbulent flows EUROPHYS LETT

.

authorsList

(2003)

.

Comment on "Dynamical foundations of nonextensive statistical mechanics" - Reply PHYS REV LETT

.

authorsList

(2003)

.

Superstatistics PHYSICA A

.

authorsList

(2002)

.

Chaotic strings and standard model parameters PHYSICA D

.

authorsList

(2002)

.

Generalized statistical mechanics and fully developed turbulence PHYSICA A-STATISTICAL MECHANICS AND ITS APPLICATIONS

.

authorsList

(2002)

.

Non-extensive statistical mechanics approach to fully developed hydrodynamic turbulence CHAOS SOLITON FRACT

.

authorsList

(2002)

.

Nonextensive methods in turbulence and particle physics PHYSICA A-STATISTICAL MECHANICS AND ITS APPLICATIONS

.

authorsList

(2002)

.

Non-additivity of Tsallis entropies and fluctuations of temperature EUROPHYS LETT

.

authorsList

(2001)

.

Dynamical foundations of nonextensive statistical mechanics PHYS REV LETT

.

authorsList

(2001)

.

On the small-scale statistics of Lagrangian turbulence PHYS LETT A

.

authorsList

(2001)

.

Higher-order correlations of Tchebyscheff maps PHYSICA D

.

authorsList

(2001)

.

Scaling exponents in fully developed turbulence from nonextensive statistical mechanics PHYSICA A

.

authorsList

(2001)

.

A note on the application of non-extensive statistical mechanics to fully developed turbulence J PHYS A-MATH GEN

.

authorsList

(2001)

.

Measuring nonextensitivity parameters in a turbulent Couette-Taylor flow PHYS REV E

.

authorsList

(publicationYear)

.

Possible resonance effect of dark matter axions in SNS Josephson junctions lanl.arxiv.org/abs/1710.04299v1

.

authorsList