Information for applicants from Vietnam
Queen Mary University of London has a long history of welcoming students from around the world. Over the years, many thousands of international students have graduated from the university and gone on to pursue successful careers. Today, we are home to students from more than 162 different countries and over 45% of our student body come from outside of the UK. This diversity contributes to a lively and welcoming community which should make you feel comfortable and at home.
We are one of the largest colleges of the University of London and one of the few with fully integrated teaching, research and residential facilities. Our setting provides our students with the benefits of both a large campus environment, and the countless academic and social opportunities provided by London.
There are currently 53 students from Vietnam studying at Queen Mary who are enrolled on a range of degree programmes at both undergraduate and postgraduate levels.
Queen Mary's International Office staff visit Vietnam twice a year, details of our next visit can be found on these pages.
Entry requirements
Foundation programmes
Holders of the Upper Secondary School Graduation Certificate with a minimum average score of 7.0 are eligible to enter the Foundation Programmes.
For more information regarding our foundation programmes please click here.
Undergraduate
A Queen Mary (or recognised) Foundation programme
Holders of the Upper Secondary School Graduation Certificates with excellent grades who complete the first year of study at a recognised university in Vietnam may be considered for entry directly into the first year of undergraduate study
A leves
International Baccalaureate (IB)
Other International qualifications taught at International Schools in Vietnam deemed equivalent to A Level
Please check the grade requirements for your chosen degree programme via the undergraduate study section of our website.
For information on applying to study for a undergraduate course at Queen Mary, please refer to Undergraduate study.
Postgraduate
Taught programmes
Information on the comparability of international qualifications can be found on the Entry Requirements section under the listings for each programme in the course finder. Please note this information is only intended as a guide as the final decision on equivalency of overseas qualifications will be made by the Admissions Office at Queen Mary.
This is Queen Mary's equivalency table for UK and Vietnamese Bachelor degree classifications:
UK Bachelor Degree Classification

Vietnamese

Bachelor Degree Classification

First Class (1st)

8.0/10

Upper Second Class Hons (2:1)

7.0/10

High – Lower Second Class Hons (2:2)

6.4/10

Standard – Lower Second Class Hons (2:2)

5.7/10

Third Class Hons (3rd)

5.0/10

Research degrees (MPhil/PhD: three years)

The usual entrance requirement for a research degree is a Master's degree with upper class second honours (or equivalent GPA) from a UK or Vietnamese university. Some departments will sometimes accept students with the equivalent of a first or upper second class bachelor degree from a UK university.
For more information regarding our research specialisms and opportunities, please see our Postgraduate Research webpages.
English language requirements
Student profiles and Alumni ambassadors
Alumni ambassador
Nhi Hong Truong'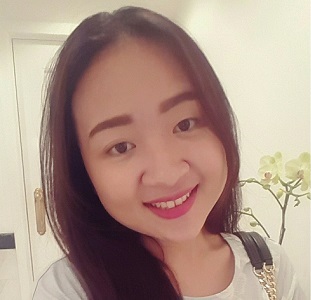 Email Nhi
Hi there,

I'm glad that you come to this site to find out about the Lead Country Alumni Ambassador for Vietnam.
My name is Nhi Hong Truong and I spent 4 years at Queen Mary University of London (QMUL). I graduated in 2015 with a first-class honours degree in Pharmaceutical Chemistry.
To me, QMUL was the greatest memory during my 6 years of study in the UK. I made a decision to study at QMUL after my A-levels simply because this university was the only one on the list of 5 I'd chosen that was based in London and offered MSci degree rather than a MPharm. I was offered Science and Engineering Excellence scholarship. On the date of my interview with the School of Biological and Chemical Sciences, I was amazed by the size of QMUL campus and the big modern library.
I didn't have a chance to stay in the accommodation on QMUL campus until the last semester of my final year. By the way, I think staying outside or on campus both have good points. QMUL campus is not too far from Zone 1 which is easy to travel to. QMUL hall that I stayed in was called Pooley House which was nicely built and had lovely surroundings.
During my time at QMUL, I found out that all centres/offices within QMUL provide great services to the students. When preparing documents to renew my student visa, the Advice and Couselling Centre staff were really helpful and made me feel less worried. I secured a part time job as a Teaching Assistant at the sixth form college in London thanks to the Careers and Enterprise Centre. Student Union always hosted academic or social events which were enjoyable and fun.
Although in my course I was the only Vietnamese student, I never felt isolated. People here were friendly, from my supervisors, professors, classmates to lab assistants, PhD students. I had full support whenever I needed. The facilities in most buildings were good as well.
Apart from academic schedule, I also joined the Vietnamese Society at QMUL. This group was fantastic! We connected students from Vietnam and other nationalities here at QMUL. I was on the comittee board, we have organised many events and activities for Vietnamese students throughout the year both within QMUL and wider, expanding it to other universities in London and across the UK.
If you are considering QMUL, trust me... you will experience so many good things here. Please feel free to drop me an email at vn-alumni@qmul.ac.uk if you have any enquiries about student life/social life/accommodation or just about anything here at QMUL or in London.
---
Linh Dao
LLM in Comparative and International Dispute Resolution

Pursuing a career in law has always been my dream and QMUL is an ideal destination to attain that dream. I did my LL.M in Comparative and International Dispute Resolution on a scholarship basis. During the course, I had an opportunity to study in an international environment with lawyers, arbitrators and scholars from diverse jurisdictions. The time at QMUL has given me more than just legal knowledge. Through all the seminars, workshops and similar events organized by the school, I formed my own network which is of great importance in the legal industry.
The highlight of my year at QMUL was the time when I, along with three other members and two coaches, participated in the Frankfurt Investment Arbitration Moot Court on behalf of QMUL. We worked together for three months, met twice a week to discuss and practice oral advocacy, did pre-moots Geneva and won pre-moot in ICC-Paris, and finally got the ninth place in the official moot in Frankfurt. During the moot, we received huge support from our professors and the administrative team of the school. Not only did the moot bring me knowledge and skills, but also friends from different parts of the world to treasure for the rest of my life.
It is also worth mentioning the International Arbitration Charity Ball Scholarship which brought me to QMUL. Had it not been the Scholarship, I would not have had all these amazing experience. The Scholarship not only provided a tuition fee waiver, but also arranged several internships at some very prestigious law firms in London, which helped me understand the legal market here and lighted up my career path. I do think this is a great funding opportunity for those who are considering doing an LL.M at QMUL.
The last words would definitely be a big thank-you to Queen Mary School of Law, my professors and friends, and good luck to all the prospective students!
Duy Nguyen
MSc Mathematical Finance
"The MSc Mathematical Finance equipped me with advanced knowledge and expertise necessary to succeed in the competitive financial world. I joined a large US financial institution just a week after completing my MSc dissertation. "
"Chương trình thạc sĩ toán tài chính trang bị cho mình kiến thức và kỹ năng chuyên sâu để thành công trong thị trường tài chính vốn mang tính cạnh tranh cao . Mình được nhận vào một công ty tài chính hàng đầu thế giới của Mỹ chỉ một tuần sau khi nộp luận văn."
Phuong Anh Nguyen
MSc Banking and Finance
"At Queen Mary, I have the chance to study and work with world-renowned experts in banking and finance, which is of great help for not only my learning process but also my career as well this professional course presents wonderful opportunities to to study in a multidisciplinary School, which is located in the world's foremost financial centre, to put into practice what I have learned at school.
Lecturers are specialists across a broad range of business subjects, including accounting, banking, finance, economics, management, marketing, who give most support to students and learning is really interesting here.
We can discuss 'hot' topics like friends, which makes learning much easier and comfortable.
This MSc brings the knowledge and analytical skills needed for a successful career in banking, finance and related areas. The international learning experience adds not only range and depth to the student experience but also worldwide networking opportunities after graduation.
During my studies, I had the opportunity to attend many support classes ranging from academic classes to social classes and all of them were absolutely free. Such classes are of great help for my learning process as well as for my future career when I am back to Vietnam.
Queen Mary is full of nice people, in particular my classmates and teachers. They made me feel at home and thanks to them my life in the UK was unforgettable and much more interesting."
Vu To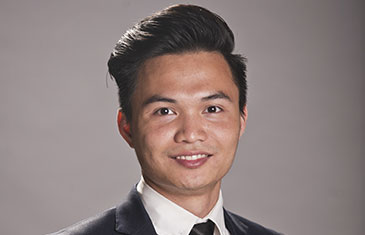 MSc Banking and Finance & former President of QMUL Vietnamese Society
"The Vietnamese Society (Vietsoc) at QMUL was officially created in September 2014. Despite being a young society, we have been very active and our committee is enthusiastic in almost all activities and events both inside and out of Vietsoc, with a hope of bringing the best for the Vietnamese students at QMUL. We proudly contribute to connect not only the Vietnamese students at QMUL but also to all the Vietnamese students across the UK via the Vietnamese Student Association in the UK (SVUK). We are determined to provide any information for those who will be spending their study at QMUL; and to help the current students with all aspects including education, housing accommodation, entertainment, etc. Our monthly meetings and some special events, together with those hosted by SVUK will definitely give you an opportunity to relax besides your hard-working period, to express yourself and of course to make new friends who you will be sharing the precious moments in UK."
Visit the Vietsoc Facebook page.
Scholarships and Funding
Queen Mary regularly have Vietnamese students studying with us who are sponsored by Project 165 scholarship. These students often come to study in our School of Politics and International Relations for MSc Public Policy or MSc International Public Policy. We have also received students with Project 165 scholarships for our LLM programme and Masters in Public Administration.
Vietnamese students are eligible to receive our International Science and Engineering Excellence awards. Further details about these awards can be found here
We are also host institutions for a number of Chevening Scholarship holders each year. See here for further details on the Chevening awards: www.chevening.org/vietnam
In country representatives
Queen Mary staff visit Vietnam two or three times per academic year but we also have several representatives in country to help prospective students submit applications to the College, apply for study visas, look at flights and accommodation and provide other services required by our students before they enrol at Queen Mary.
Please see below for details of our representatives in Vietnam. Please feel free to make contact with any of them for assistance with your application to the University.
ISC-UKEAS
ISC-UKEAS Ho Chi Minh City

35 Mac Dinh Chi,
Dakao Ward, District 1
Ho Chi Minh City
Tel: (84-8) 3824 6622
Fax: (84-8) 3824 6611
hochiminh@isc-ukeas.com

ISC-UKEAS Hanoi
1st Fl., Phu Dien Building
83A Ly Thuong Kiet
Hoan Kien, Hanoi
Tel: (84-4) 3941 1906
Fax: (84-4) 3941 1907
hanoi@isc-ukeas.com
ISC-UKEAS Hanoi West
Office Manager
62-64 Tran Thai Tong
Cau Giay
Hanoi
Tel: (84-4) 3792 5288
Fax: (84-4) 3792 5289
hanoiwest@isc-ukeas.com
GSE
GSE Hanoi Office
2nd Floor, Toserco Building,
273 Kim Ma
Ba Dinh District
Hanoi
Vietnam
Tel: +84-4-3771-3561
Mobile: +84-92-363-5656
Email: hanoi@gse-beo.edu.vn
www.gse-beo.edu.vn


GSE HCMC Office
11th Floor, Greenstar Building,
70 Pham Ngoc Thach
Ward 6, District 3
Ho Chi Minh City
Vietnam
Tel: +84-8-3820-7759
Mobile: +84-93-499-9329
Email: hochiminh@gse-beo.edu.vn
www.gse-beo.edu.vn
IDP
IDP Hồ Chí Minh Office:
GIC Tower, 2nd Floor, 36 Mac Dinh Chi Street, Dakao Ward, Dist 1, Ho Chi Minh.
Phone: 1900 6955
Email: info.hcmc@idp.com
IDP Trieu Viet Vuong Ha Noi Office:
30 Trieu Viet Vuong Street, 3rd Floor, Hai Ba Trung District, Ha Noi.
Phone: 1900 6955
Email: info.hanoi@idp.com
IDP Ngoc Khanh Ha Noi Office:
15-17 Ngoc Khanh Street, Ba Dinh District, Ha Noi.
Phone: 1900 6955
Email: info.hanoi@idp.com
IDP Da Nang Office:
10 Ngo Gia Tu Street, Hai Chau District, Da Nang.
Phone: 1900 6955
Email: info.danang@idp.com
SI UK
SI-UK Ho Chi Minh
2nd Floor, Alpha Tower, 151 Nguyen Dinh Chieu, District 3, Ho Chi Minh City, Viet Nam
Tel: +84 91 824 9898 | +84 28 3930 8332
hochiminh@studyin-uk.com
studyin-uk.vn

SI-UK Ha Noi
3rd Floor, Toong Building, 8 Trang Thi, Hoan Kiem District, Ha Noi, Viet Nam
Tel: +84 91 821 9898
hanoi@studyin-uk.com
Visits to your country
Country manager
Dr Robert Duncan
Regional Manager - UK International, Hong Kong, Vietnam and Thailand