Information for students from Ukraine
Queen Mary University of London has a long history of welcoming students from around the world. Over the years, many thousands of international students have graduated from the university and gone on to pursue successful careers. Today, we are home to students from more than 162 different countries and over 45% of our student body come from outside of the UK. This diversity contributes to a lively and welcoming community which should make you feel comfortable and at home.
We are one of the largest colleges of the University of London and one of the few with fully integrated teaching, research and residential facilities. Our setting provides our students with the benefits of both a large campus environment, and the countless academic and social opportunities provided by London.
There are currently 40 students from Ukraine studying at Queen Mary who are enrolled on a range of degree programmes at both undergraduate and postgraduate levels.
Any students living in the Crimea Region/Sevastopol will not be able to make their application via UCAS. Please contact our admissions team at admissions@qmul.ac.uk to express an interest in applying for an undergraduate course at Queen Mary University of London for the 2022/2033 academic year.
Please see the following information for students affected by the war in Ukraine
Entry requirements
Undergraduate
Students that have successfully completed A-Levels, the European Baccalaureate, or the International Baccalaureate can be considered for admission to our undergraduate degrees.
Please check the grade requirements for your chosen degree programme via the undergraduate study section of our website.
The Ukrainian Aтестат про повну загальну середню освіту (Certificate of Complete General Secondary Education) is not currently accepted for entry to any of our bachelor degree programmes. However, applicants that have completed the Attestat can be considered for entry to one of our International Foundation Programmes. These provide opportunities for students to progress to linked bachelor degree programme one year later, providing that the foundation programme is satisfactorily passed.
For more information please check our foundation programmes.
We generally expect a minimum Attestat score of 4/5 overall (or 8/12), with 4/5 (or 8/12) in relevant subjects. Please also see the information included in the English Language Requirements section below.
We also accept some other UK foundation programmes provided by certain other approved institutions. If you are currently studying another UK foundation programme elsewhere and would like to progress to a Bachelor degrees at QMUL, please get in touch via the contact details at the bottom of the page.
Undergraduate Medicine and Dentistry admissions
For detailed Medicine and Dentistry entry requirements and instructions on how to apply, please refer to the School of Medicine and Dentistry website.
Please note, the Attestat is not accepted for admission to our MBBS or BDS programmes delivered either in London or Malta. However, the Attestat is considered for entry to our Certificate in Clinical Foundation Studies, which is provided in Malta.
Postgraduate
Information on the comparability of international qualifications can be found on the Entry Requirements section under the listings for each programme in the course finder. Please note this information is only intended as a guide as the final decision on equivalency of overseas qualifications will be made by the Admissions Office at Queen Mary.
English language requirements
Please refer to the English language requirements webpage for more information regarding our English proficiency criteria.
Students that fall slightly below the published requirements may be offered a place on one of our pre-sessional English courses.
How to apply
For further information on how to apply, please refer to these links:
Any students living in the Crimea Region/Sevastopol will not be able to make their application via UCAS. Please contact our admissions team at admissions@qmul.ac.uk to express an interest in applying for an undergraduate course at Queen Mary University of London for the 2022/2033 academic year.
Foundation Programmes:
Student profiles and Alumni ambassadors
Alumni ambassador
Illia Chernohorenko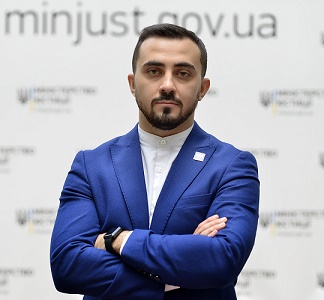 Contact Illia
At only 27 years old, Illia Chernohorenko was appointed as Director General at the newly established Directorate for Judiciary, Courts and Related Legal Institutions at the Ministry of Justice of Ukraine.
While studying at Queen Mary's Centre for Commercial Law Studies (CCLS), his focus was on both investment and international commercial arbitration as well as international commercial litigation.
Mr Chernohorenko completed a Masters in Dispute Resolution as a UK Foreign and Commonwealth Office Chevening Scholar. He graduated with Distinction in November 2017.
---
Inna Poliakova, Ukraine - LL.M. in Computer and Communications Law
My name is Inna Poliakova and I am proud to be a graduate of Queen Mary University of London. I graduated with Master of Law degree (LL.M. in Computer and Communications Law) in 2015. If you are about to apply for the degree program, Queen Mary University of London will be a strong fit. Being a part of both the University of London and prestigious Russell Group, QMUL delivers the profound knowledge and expertise. What's more, the education process is arranged in such a way as to develop key skills, such as research, analysis, critical thinking etc. I can say with confidence that the professors here are really outstanding and always willing to help. The library is impressive and innovative, so you will be delighted by the use of technology and massive scale of resources. While studying at QMUL I was writing my own book on the application of IT law for the Ukrainian business. Library resources and access to e-learning database platforms assisted me greatly in my task.
In addition, Students' Union provides lots of entertainment, cultural, scientific and sport activities. The Ukrainian community at the University is constantly expanding so you will not feel far from home. While studying, I established Ukrainian Business Society within Student Union jointly with other Ukrainian students. During study year we arranged meetings with aspiring professionals and had lots of fun organizing Ukrainian events. So, I am sure you will find studying both enjoyable and exciting.
London is the best destination for culture lovers. The Centre for Commercial Law Studies (CCLS) is located in the city centre, a perfect location. It's very well organized and I liked the way the classes have been given, in small groups. This gave me the opportunity to get to know my fellow students well.
After graduation, you are very welcome to join QMUL Ukrainian Alumni Club. The Club has recently joined the 'Professional Government' initiative in Ukraine and is actively involved in its activities. We are the generation which can change our country so it is a good chance for you to make an impact for its further development!
Taking LL.M. program at QMUL was an interesting part of my life and I strongly recommend you to explore this opportunity.
Taras Kulbaba, Ukraine - LLM in Intellectual Property Law

Prior to entering the LLM programme at Queen Mary, University of London, I had graduated from the Kyiv National Taras Shevchenko University and had received a Master's degree in International Private Law with honours. During the last year of my master's programme in Ukraine, I commenced practising law with one of the leading Ukrainian law firms. With the intent to obtain more specialised education in the area of Intellectual Property Law, I applied to a number of UK law schools, including Queen Mary.
Finally, I chose Queen Mary among all the offers I had received, as the School of Law at Queen Mary was of the highest quality. Some of these IP courses are exclusively provided by Queen Mary only. Moreover, most of the IP academic staff are world-known specialists in their respective areas.
By participating in numerous inter-university projects and networks, Queen Mary provides its students with the possibility to participate in interesting events all year round.
I really enjoyed the LLM in Intellectual Property Law programme and have drawn from it as much as I could by auditing a number of courses in addition to those I took exams in.
After completion of the LLM course with Queen Mary, I joined PETOSEVIC providing services in the area of Intellectual Property in more than 30 jurisdictions. I have a position as an Associate in the Belgian office in Brussels.
Olga Aleksandrova, Ukraine - LLM in International Business Law
After I qualified as a Solicitor in Ukraine, studying LLM in International Business Law at Queen Mary, University of London was one of the best decisions I have ever made. A very practical aspect of the Master's degree broadened my knowledge and application of the law, as well as allowed me to establish exclusive business contacts across the globe.
High quality of academic teaching, personalised approach and invaluable experience of writing a Master Thesis under a direct supervision of the world-known Professors Stavros Brekoulakis and Loukas Mistelis made my LLM year inestimable. Already within a short period of time after graduating I was able to work as an English Solicitor in one of the top London Mayfair law firms.
In country representatives
Agents:
Students International
Office 519, 14/1 Mechnykova St.,
Kyiv, Ukraine 01133
Phone: +38 044 238 25 25
Mobile: +38 063 363 66 44
SI-UK
37-A Olesia Honchara Street
Kyiv, Ukraine
Phone: +380 67 588 2525
Phone: +380 73 588 2525
Email: kyiv@studyin-uk.com
Website: www.studyin-uk.com.ua
Country manager
Josh Ibrahim
Regional Manager - Europe
Marketing and Communications
Queen Mary University of London
Mile End Road
London E1 4NS
Email: europe@qmul.ac.uk
Tel: +44(0) 20 7882 6519