Bienvenido!
Queen Mary University of London has a long history of welcoming students from around the world. Over the years, many thousands of international students have graduated from the university and gone on to pursue successful careers. Today, we are home to students from more than 162 different countries and over 45% of our student body come from outside of the UK. This diversity contributes to a lively and welcoming community which should make you feel comfortable and at home.
We are one of the largest colleges of the University of London and one of the few with fully integrated teaching, research and residential facilities. Our setting provides our students with the benefits of both a large campus environment, and the countless academic and social opportunities provided by London.
Entry requirements
Foundation
Applicants who have taken the Certificado de Educación Secundaria Común Completa may be considered for entry onto a foundation programme at Queen Mary.
For information on applying to study a foundation course at Queen Mary, please refer to English language and foundation courses.
Undergraduate
The standard school leaving certificate Certificado de Educación Secundaria Común Completa does not meet the requirements for direct entry to a degree level programme. To be considered, students must successfully complete a foundation programme.
If you have studied the International Baccalaureate or another international qualification, please refer to the prospectus and department websites for individual subject requirements.
Applications for undergraduate degrees in the UK are made through the UCAS system, information on the procedure can be found in Undergraduate Study. Information on applying directly to Queen Mary for a place on an undergraduate or a foundation course should be made through our Admissions Office admissions@qmul.ac.uk.
Postgraduate
Taught degrees (MSc/MA: one year)
Applicants who have completed their Licenciado will be considered for postgraduate diploma courses or masters degree courses, as appropriate. Most masters programmes will require undergraduate degrees in a related field of study.
Students that apply to one of our Master degree courses are normally expected to have achieved an Upper Second Class bachelor degree. However some courses may require higher grades while others will accept a Lower Second Class classification. Students may be admitted to masters programmes with a lower level degree if they have relevant work experience. Please check the grade requirements for your chosen degree programme via the postgraduate study section of our website.
This is QMUL's equivalency table for Peruvian Qualifications:
| | | | | |
| --- | --- | --- | --- | --- |
| UK Qualification | First Class (1st) equivalent grade/GPA - 70% and above | Second Class upper (2:1) equivalent grade/GPA - 60-69% | High Second Class Lower (2:2) equivalent grade/GPA - 56-59% | Standard Second Class Lower equivalent grade/GPA - 50-55% |
| Peruvian Equivalent | 17 out of 20 | 14 out of 20 | 13 out of 20 | 12 out of 20 |
Please note that all applications are considered on an individual basis. Applicants whose grades do not meet our minimum requirements may, in some cases, be considered for entry onto our Pre-Masters programmes.
Research degrees (MPhil/PhD: three years)
Applicants for PhD study should preferably hold a masters degree (Título de Maestría) with high marks.
Applications for postgraduate courses are made directly to the institution. Information on applying to study for a research degree at Queen Mary can be found in Research Degrees page..
English language requirements
How to Apply
For further information on how to apply, please refer to:
The above list is for guidance only and is not conclusive. Students unsure about the acceptability of their qualifications should write, for advice, to Queen Mary's Admissions Office (admissions@qmul.ac.uk), with full details of their educational background.
Student profiles and Alumni ambassadors
Alumni ambassador
Carlos Glave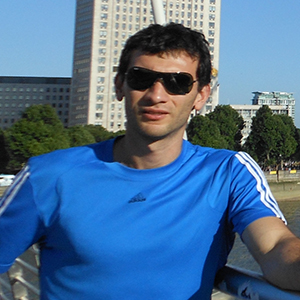 Email Carlos
I got my law degree in the Pontificia Universidad Católica del Perú in 2009. I am a partner in a Law Firm in Lima — Peru (Priori & Carrillo Abogados) — where I represent my clients before national courts and arbitration tribunals. Before coming to study my LLM at Queen Mary University of London I was working in my law firm and teaching courses of procedure law at the Pontificia Universidad Católica del Perú and Universidad Científica del Sur.
Since graduating my field of practice either as a litigator or a teacher has been procedure law and dispute resolution. However, I have always been interested in environmental law given the fact that environmental conflicts require procedure law, in both domestic and international level, to rethink its traditional instruments in order to achieve an adequate protection of the environment. I decided to study at Queen Mary because the scholarship awarded by the QMUL Department of Law gave me the opportunity to specialize in environmental law and to choose from a broad variety of modules.
Once I come back to my country I plan to keep working in my law firm and being a lecturer and researcher. The experiences that I have acquired during my master in QMUL are highly valued in regards to my future carrier. The modules are taught by excellent academics that are very helpful in assisting students, and they encourage us to take an active part in each session. The facilities to study and do our researches for the dissertations, essays or general interests are really comfortable and useful. I have also had the opportunity to build a wide networking given the fact that I have shared my studies and life in London with students from all over the world.
Queen Mary University of London is one of the most important universities in an exciting and cosmopolitan city such as London where there are always academic, social and cultural events to attend and enjoy. Thus I would encourage everyone to come and study there.
---
Scholarships and Funding
Queen Mary Scholarships and Bursaries
There are a number of scholarships and funding options available for international students wishing to pursue their studies at Queen Mary. Information about all of our scholarships and funding can be found via the database.
Visits to your country