Entry requirements
Foundation programmes
Applicants who have completed 12 years of education (Bachillerato) must complete a one year Foundation programme before progressing to an undergraduate degree.
Queen Mary offers one year foundation programmes for entry into Humanities and Social Sciences or Science and Engineering undergraduate programmes. For further information, please refer to the foundation study section of our website.
Undergraduate
Applicants who have completed one year at university level and are in good academic standing are eligible to apply for first year entry at Queen Mary.
Students who have completed at least 2 years of an undergraduate degree in Mexico and are in good academic standing may be considered for transfer into the second year of a Queen Mary undergraduate degree. Transfer students will not be accepted into the third (i.e. final) year of a degree.
The Schools of Medicine and Dentistry and Business Management do not accept transfer students.The School of Law only accepts transfer students from the London External Programme LLB.
Applications for undergraduate degrees in the UK are made through the UCAS system, information on the procedure can be found in Undergraduate Study.
Applications for Medicine and Dentistry
The School of Medicine and Dentistry accepts a limited number of qualifications for the MBBS and BDS programmes. Further details about the qualifications accepted and scores required can be found on the School of Medicine and Dentistry website.
Postgraduate
Information on the comparability of international qualifications can be found on the Entry Requirements section under the listings for each programme in the course finder. Please note this information is only intended as a guide as the final decision on equivalency of overseas qualifications will be made by the Admissions Office at Queen Mary.
English Language Requirements
Please refer to English language requirements for different course requirements.
Students who achieve slightly below these requirements may be admitted onto a pre-sessional English course at Queen Mary. Please see the Language Centre programmes for full details.
For further information on how to apply, please refer to:
The above list is for guidance only and is not conclusive. Students unsure about the acceptability of their qualifications should write to Queen Mary's International Office(americas@qmul.ac.uk) or Admissions Office (admissions@qmul.ac.uk), with full details of their educational background.
Student profiles and Alumni ambassadors
Alumni ambassador
Hasani Azamar Aguirre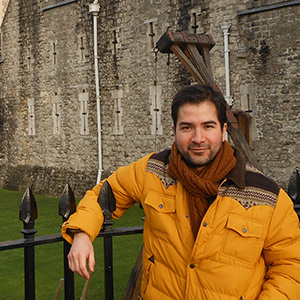 Email Hasani
I studied MSc in Aerospace Engineering (2013/14) in the School of Engineering and Materials Science at Queen Mary University of London. I had this opportunity due to the scholarship from CONACYT (Consejo Nacional de Ciencia y Tecnología) for both tuition fees and living expenses. This has been one of the best life experiences in terms of culture, friends and gaining knowledge on the subject of my choice. Every day was a new episode, a chance to learn new things, experience different weather, taste new food… The student atmosphere on campus was unsurpassable.
QML has excellent facilities, library, lecture rooms and halls of residence. The equipment is modern and the library has a vast collection of books from engineering to arts, which can be borrowed using self-service. The engineering facilities are also well-equipped, with professional staff on standby to provide support. The lecturers are outstanding, always there to help students. Due to the long and solid history of the school, the undergraduate and postgraduates students can find everything they need to secure their own success.
After graduating, I had the opportunity to present my Masters dissertation at the European Parliament in Strasbourg (France), an event organised by CONACYT. I am currently conducting research for aircraft engine propulsion and aerodynamics. I have no doubt that you would enjoy every single day at QML, and I would certainly give a highest recommendation to this wonderful university. If I had the opportunity to study another MSc, I would not hesitate to do it at Queen Mary University of London.
---
Ana Georgina Alba Betancourt
PhD Law
After qualifying in Mexico and having worked as a Law Clerk, I wanted to pursue my postgraduate studies abroad, since my main interest is in the international business law field. I heard about Queen Mary from one of my colleagues on the Master in Bucerius Law School, Germany, and after doing some research I discovered that Queen Mary is one of the best Universities in the UK, especially in my fields of interest. During my first year, Queen Mary organised two intensive weeks of research seminars at IALS which I found very interesting and helpful. Once a week we also attended a seminar at Queen Mary, which I considered very important, especially at a very early stage of the research, when you don't really know how and where to start your research, or even how to coordinate it with your supervisor.
PhD life can be very lonely, but with the activities that Queen Mary organises, you have the chance to meet up with the other PhD students, whom could be doing something related to your research, which is great for exchanging ideas. I think that interacting with fellow PhD students enriches your own research and I'm very glad that at QM this is encouraged, together with the support of the supervisors.
Scholarships and Funding
Queen Mary Scholarships and Bursaries
There are a number of scholarships and funding options available for international students wishing to pursue their studies at Queen Mary University of London.
CONACyT
Queen Mary University of London is very proud to partner with CONACyT. Full details about the agreement with CONACyT can be found here.
FUNED Queen Mary University of London Agreement
Queen Mary University of London is pleased to offer a discount on tuition fees in the Faculty of Humanities and Social Sciences and the Faculty of Science and Engineering for FUNED students. Please find full details on the FUNED website.
FIDERH Queen Mary University of London Agreement
Queen Mary University of London is pleased to offer a discount on tuition fees in the Faculty of Humanities and Social Sciences and the Faculty of Science and Engineering for FIDERH students. Please find full details on the FIDERH website.
In country representatives
Queen Mary has appointed representatives in Mexico who can offer advice and assistance with your application to the College.
Across the Pond (Study In Britain)
Niebla 2, Torre Bambu Depto 1003
Ampliacion Vista Hermosa, Tlalnepantla
Estado de Mexico MEXICO
C.P. 54080
Tel: (+52) 55 8421 4929 +52 (1) 55 4141.8913
Email: info@studyacrossthepond.com
http://www.studyacrossthepond.com/
Anglo Latino Education Partnership Paseo de la Reforma
No. 42 1st Floor
A-145 Oficine Col Centro Del Cuauhtemoc
Mexico, DF
CP 06010
Tel: (55) 3687 4477 / (55) 4169 2462
Email: info@anglolatinoedu.com
www.anglolatinoedu.com
Anglo Latino Education Partnership Queretaro
The Village Piso 3 Blvd. de las Ciencias No. 3015,
Juriquilla Santa Fé , Querétaro C.P. 76230
Tel. (01) 442 296 8103
Gerard Goule
Gérard Goulé - International Education Consultant
skype: gerardgoule
Email: ggeducation@ntlworld.com
www.ggeducationconsultancy.com