Information for applicants from Azerbaijan
Queen Mary University of London has a long history of welcoming students from around the world. Over the years, many thousands of international students have graduated from the university and gone on to pursue successful careers. Today, we are home to students from more than 162 different countries and over 45% of our student body come from outside of the UK. This diversity contributes to a lively and welcoming community which should make you feel comfortable and at home.
We are one of the largest colleges of the University of London and one of the few with fully integrated teaching, research and residential facilities. Our setting provides our students with the benefits of both a large campus environment, and the countless academic and social opportunities provided by London.
There are currently 14 students from Azerbaijan studying at Queen Mary who are enrolled on a range of degree programmes at both undergraduate and postgraduate levels.
Entry requirements
Foundation programmes
Students holding a good (minimum GPA 4.0) Certificate of General Education will be admitted to a Queen Mary Foundation Programme.
Students will also be required to have achieved appropriate grades from a SELT test. Please see the Entry Level Guidelines for English Language page for further details.
For information on applying to study for a foundation course at Queen Mary, please refer to our Language Centre web pages.
Undergraduate
For information on applying to study for an undergraduate course at Queen Mary, please refer to Undergraduate study
Pre-Masters
Overall minimum average of 60% or 3 from a bachelors or masters degree from a recognised Azerbaijan University and IELTS 6.0 (min. 5.5 in writing).
Postgraduate
Information on the comparability of international qualifications can be found on the Entry Requirements section under the listings for each programme in the course finder. Please note this information is only intended as a guide as the final decision on equivalency of overseas qualifications will be made by the Admissions Office at Queen Mary.
English language requirements:
For information on applying to study for a Research degree at Queen Mary, please refer to Doctoral College website.
Student profiles and Alumni ambassadors
Alumni ambassador
Turan Gafarli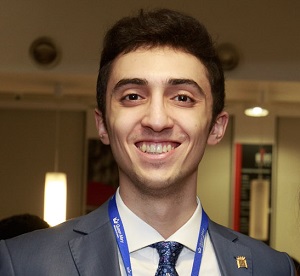 Email Turan
Hi, my name is Turan Gafarli and I studied BA History and Politics at Queen Mary University of London (2014-2017) thanks to the scholarship of the Ministry of Education of Azerbaijan. I always wanted to study in the UK, especially in London, and I am very grateful that I my dream came true at Queen Mary University.
I took modules from both School of History and School of Politics and International Relations, which made my vision broader and more sophisticated. I tried to maintain a balance between two different disciplines since they offered different types of study. Studying history helped me to see politics from an academic perspective, while studying politics kept me within the daily political agenda. It was the product of our contentious debates during the seminars. I am thankful to QMUL teaching staff for their passion which made our classes unforgettable and academically beneficial for all. I made excellent progress in my studies and became ready for the work environment thanks to the internationally acclaimed staff of both schools.
The open and diverse environment of the QMUL enlightened my vision and showed me different perspectives in the way of thinking about various political, social and daily problems. Taking part in debates made me more confident.
Queen Mary University of London also offered me a chance to socialise with other students via student communities and societies. I was a proud member of the United Nations Society during my undergraduate studies and became a Vice-President in my last year. I participated in reforms going on in the university and the Students' Union and also became a Course Rep, representing my fellow students and their problems. The university offers different engagement in your spare your time, besides academic progress. It was also a pleasant to experience to help the university as a Student Ambassador and represent my institution which I proudly did for three years.
Azerbaijani students need to know that the UK system is different from home. Compared to Azerbaijan, here you need to focus on your studies more, while spending fewer hours in the university lectures. So, in QMUL your study will be more independent, requiring more self-discipline and you can get limitless help from the academic staff. I never failed in my search of help in the QMUL and I am very thankful for that. Students coming from Azerbaijan need to know that everything will be easier if you will follow the instructions and regulations which you can easily find everywhere. If you considering to come to the QMUL, do not hesitate. You will spend best of your time living and working among the diverse and helpful community while enjoying the benefits of one of the best cities in the world, London.
---
Scholarships and Funding
Queen Mary offers various scholarships to encourage excellent students to study with us. Please see our International Scholarships page for more information.
Queen Mary is also a host institution for a number of Chevening Scholarship holders each year. For further details on the Chevening awards see: www.chevening.org/azerbaijan
In country representatives
Studynet Group Ltd.
AF Business House 5th Floor
Nizami street 203B
AZ1010, Baku
Azerbaijan
Tel: +994123100023
+994123100024
studynet-group.com

Country manager
Josh Ibrahim
Regional Manager - Europe
Marketing and Communications
Queen Mary University of London
Mile End Road
London E1 4NS
Email: europe@qmul.ac.uk
Tel: +44(0) 20 7882 6519