Information for students from Austria
Queen Mary University of London has a long history of welcoming students from around the world. Over the years, many thousands of international students have graduated from the university and gone on to pursue successful careers. Today, we are home to students from more than 162 different countries and over 45% of our student body come from outside of the UK. This diversity contributes to a lively and welcoming community.
We are one of the largest colleges of the University of London and one of the few with fully integrated teaching, research and residential facilities. Our setting provides our students with the benefits of both a large campus environment, and the countless academic and social opportunities provided by London.
There are currently 62 students from Austria studying at Queen Mary who are enrolled on a range of degree programmes at both undergraduate and postgraduate levels.
Brexit update:
The UK government has guaranteed that EU students starting a degree in 2019-20 will continue to be eligible for 'home fee status' for the duration of their studies in England and Wales.
It means that:
EU students will pay the same fees as UK students for all levels of study.
EU students will be able to apply for funding support for the duration of their studies at Queen Mary.
Further information can be found on the UK Department of Education's website.
Entry requirements
Undergraduate
Students that have successfully completed A-Levels, the European Baccalaureate, or the International Baccalaureate can be considered for admission to our undergraduate degrees.
Please check the grade requirements for your chosen degree programme via the undergraduate study section of our website.
We also consider students from Austria with the following qualifications:
This is QMUL's equivalency table for GCE A-Levels and the Reifeprüfung/Matura:
| | | | | |
| --- | --- | --- | --- | --- |
| A*AA | AAA | AAB | ABB | BBB |
| Pass the Matura with a classification of Mit ausgezeichnetem Erfolg bestanden | Pass the Matura with a classification of Mit gutem Erfolg bestanden | Pass the Matura with a classification of Mit gutem Erfolg bestanden | Pass the Matura with a classification of Mit gutem Erfolg bestanden | Pass the Matura with a classification of Mit gutem Erfolg bestanden |
Please note, actual offers may differ slightly.
The Reife- und Diplomprüfung/Matura (awarded by a Berufsbildende Höhere Schulen) may also be considered at the discretion of the academic school. Please get in touch via the contact details below if you would like further advice.
Please see the information included in the English Language Requirements section below.
UK foundation programme from QMUL or certain other approved institutions
Students whose grades do not meet our minimum requirements may be considered for entry onto our Foundation Programmes.
If you are currently studying another UK foundation programme elsewhere and would like to progress to one of our Bachelor degrees, please get in touch via the contact details at the bottom of the page.
Undergraduate Medicine and Dentistry admissions
For detailed Medicine and Dentistry entry requirements and instructions on how to apply, please refer to the School of Medicine and Dentistry website.
Please note, the Reifeprüfung/Matura is not accepted for admission to our MBBS or BDS programmes delivered in London (but it is accepted for all other undergraduate programmes).
However, the Reifeprüfung/Matura par vispārējo vidējo izglītību is accepted for our MBBS programme delivered in the Republic of Malta.
Postgraduate
Information on the comparability of international qualifications can be found on the Entry Requirements section under the listings for each programme in the course finder. Please note this information is only intended as a guide as the final decision on equivalency of overseas qualifications will be made by the Admissions Office at Queen Mary.
English language requirements
Please refer to the English language requirements webpage for more information regarding our English proficiency criteria.
Students that fall slightly below the published requirements may be offered a place on one of our pre-sessional English courses.
How to apply
For further information on how to apply, please refer to these links:
Foundation Programmes:
Student profiles and Alumni ambassadors
Jelena Marijan
LLM - Human Rights
"After studying an undergraduate law degree in Vienna I decided that I wanted to continue my studies and broaden my legal knowledge, especially in the area of common law. I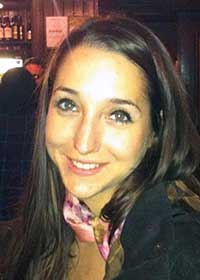 had also been keen to study abroad and had always loved visiting London. I began researching courses and was particularly impressed by the wide range of modules offered on Queen Mary's LLM program. I really liked that Queen Mary is located in a very young and trendy area which is inspiring and creative – I knew this was the place for me!
Queen Mary is home to many outstanding professors and lecturers and I have found the staff in the School of Law very supportive and happy to discuss any questions we have. The modules cover a broad variety of topics and I really enjoy having the opportunity to research in well equipped libraries such as Senate House library, which is part of the University of London.
The "Critical Thinking and Writing" course for law students is very helpful. We concentrate on how to manage our time and develop our thoughts, reading and writing, in order to submit a good dissertation at the end of the programme. Additionally, I attended a course called "English through Literature" which was extremely interesting and useful for developing my English language skills.
Queen Mary was very supportive during the enrolment process including helping me open a UK bank account. During the induction week we had several presentations from services such as Advice and Counselling and the Housing Office, which were very useful.
I found it very easy to make friends at Queen Mary as students tend to be open and friendly. During the induction week there were several social events organised which was a great opportunity to meet other students and get to know each other."
In country representatives
Country manager
Josh Ibrahim
Regional Manager - Europe
Marketing and Communications
Queen Mary University of London
Mile End Road
London E1 4NS
Email: europe@qmul.ac.uk
Tel: +44(0) 20 7882 6519