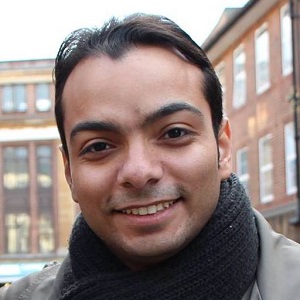 Email Amr Ali
My name is Amr Ismail and I'm from Alexandria, Egypt. I graduated from Queen Mary University of London in 2015 with MA in International Relations. Studying at Queen Mary was a turning point in my life.
I still remember the first day I arrived on campus. I was welcomed by student volunteers who helped me find my accommodation and facilitated the enrolling process in the first week. The accommodation on campus was great. My kitchen overlooked Regent's canal and Mile End park! The staff were friendly and there is a 24-hr office to help students with any queries. The campus itself has many different facilities, it is safe and reachable via all public transportation.
The enrollment week and the first month in the university were slightly confusing, with all the activities aimed to help students feel at home in their new environment. The university organized sessions for new students to help them understand the timetable, meet the lecturers, understand the role of the Careers office, find out about the history of the university and the library services etc. In addition to entertainment, we took bus trips to central London, explored East London and cruised along the river Thames on a boat.
Students' Union provided services for students with different societies and clubs. I joined MUN and Amnesty society through the societies' fair. There are societies for students who share same interests, hobbies, religions, ideologies, nationalities, human rights, sports, and food, even video games. There were also fairs to help students open bank accounts, which included various organizations that provide services to students such as UK HOST, an organization that offers foreign students an opportunity to spend holidays with British families. For a small fee, I spent the Easter weekend of 2014 with a nice family in Cornwall. Additionally, I could buy very cheap tickets for famous theatre shows such as the Lion King and Phantom of the opera.
My colleagues in the MA program and other programs came from different nationalities and backgrounds. I was able to establish great friendships due to the friendly environment provided by the university. When I was elected as the course representative for the MA program, this enabled me to collaborate with the academic staff to develop academic performance, discuss students' feedback and assist in raising student satisfaction. I remember our monthly meetings were so friendly and informal, with free food and drinks. I also took free in-sessional classes which helped me with English language, writing essays and MA dissertation.
In addition, the library provided all kinds of help, from studying spaces and extended hours during exams time, free courses and workshops, group studying rooms, prayer room for Muslims. The library turns into a second home for students during exams time and Queen Mary library was the perfect place to study for me.
QMUL career center provide all kinds of help for students to start their career. They helped me to re-write my CV, mock interviews, guide on places, websites and career fairs. They are working hard and they provide all kind of available assistance.
I used to swim in Mile End leisure center every day after finishing my studies. My favorite walk was along Regent's canal, south to Limehouse basin where I could find shortcut to Canary wharf or north to Victoria park where either you continue ahead or go right along the walk till you find yourself at the Olympic park! It's a very long walk, but the trees, the ducks, the boats and houses were all magnificent, especially when the weather is warm. I attended Victoria park festival in 2015 and it was FANTASTIC!
I highly recommend studying at Queen Mary for its excellent educational system and its rich and diverse environment.