Future Global Leaders Forum 2019
The Future Global Leaders Forum 2019 featured three project streams:
Stream 1: Campus Projects - Funds for students to implement projects that enhance campus or academic life. An open call inviting students to

step up

and propose the changes they want.
Stream 2: Community Leadership - A charity-based strand that engaged students with our surrounding multi-cultural community, teaming up on projects that empower local citizens/youth. Participants attended two days of training in leadership or mentoring and participated in work experience with the award-winning Leaders in Community organisation.
Stream 3: Students Partner Projects - Students applied to work on projects with a member of academic or professional services staff. Suggested project themes were further defined by the selected students in collaboration with their staff partner.
All participants in the Future Global Leaders Forum were invited to participate in the Global Leaders Summit, networking with influential leaders and receiving feedback on their project work. This took place on 25th March 2019.
Additional sessions on leadership and networking skills, and opportunities for networking, were also offered.
Information Sessions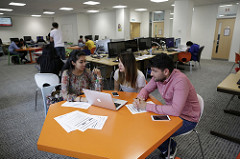 Information sessions were held to provide students interested in taking part with more information.
The slides from the last information session can be downloaded here FGLF Info Session Slides [PDF 1,908KB]