Joseph Priestley (1733-1804), scientist, philosopher, theologian
Saturday 5 March 2005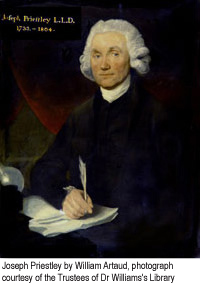 On Saturday 5 March 2005 the Centre's first one-day conference was held at Dr Williams's Library to celebrate the life and work of Joseph Priestley and to mark the Centre's official launch. Sixty academics, scholars, ministers and postgraduate students came to hear five stimulating and wide-ranging lectures:
'In praise of Priestley: Joseph Priestley, minister and scientist', by Dr David Wykes, Director, Dr Williams's Library
' "Progress… towards perfection": the political philosophy of Joseph Priestley', by Dr Martin Fitzpatrick, formerly Senior Lecturer, Department of History and Welsh History, University of Wales, Aberystwyth
'Historical perspectives in the mind of Joseph Priestley', by Alison Kennedy, Department of History, University of Stirling
'Priestley and the complexities of latitudinarianism in the 1770s, by Dr GM Ditchfield, Reader, School of History, University of Kent
'Priestley and America', by Dr Jenny Graham, Lucy Cavendish College, Cambridge
At the concluding reception the Principal of Queen Mary, Professor Adrian Smith FRS, officially launched the Centre for Dissenting Studies and spoke of its advantages for both the collaborating institutions, Queen Mary and Dr Williams's Library; he announced plans for an annual conference and for a seminar series with papers contributed by scholars working on the collections, and looked forward to many more students coming forward to use the Library's resources. Dr Wykes replied on behalf of Dr Williams's Trustees, and said how much they welcomed the new Centre and the collaboration with Queen Mary. The conference on Priestley had been an excellent example of this collaboration, drawing together scholars and interested people from a wide range of disciplines. The Trustees were grateful for the practical support given by the College to the new venture, and they believed that the Centre would prove invaluable in encouraging research on the Library's remarkable collections.
The following collection of essays arising from the conference was published in 2008:
Joseph Priestley, Scientist, Philosopher, and Theologian, ed. Isabel Rivers and David L. Wykes (Oxford University Press)