Jewish cemetery at Mile End listed by English Heritage
The striking 19th century Jewish cemetery at the centre of Queen Mary University of London's Mile End campus has been awarded a Grade II listing by English Heritage.
Published on:
With its distinctive flat gravestones representing the equality of all people in death, the Novo or Neuvo Beth Chaim Cemetery is one of only two exclusively Sephardic – Spanish and Portugese - cemeteries remaining in England.
On 11 April 2014 it was entered on to the Register of Historic Parks and Gardens by English Heritage as a site of important historic interest, under the Historic Buildings and Ancient Monuments Act 1953.
The cemetery provides a visible link to one of the oldest immigrant communities to settle in the Mile End area of east London. It opened in 1733 after the community of Sephardic Jews and their descendants grew too large for their original cemetery - the Velho, or Old Cemetery, now hidden behind the Albert Stern Hall of Residence.
Over the next 150 years almost all Sephardi burials in London took place at the site, including that of celebrated boxer and author Daniel Mendoza (1764-1836) and of merchant Benjamin D'Israeli (1730-1816), grandfather of Victorian prime minister Benjamin Disraeli.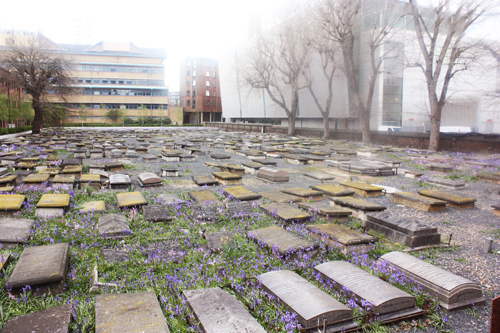 The current cemetery at Queen Mary is the remaining part of the site's 19th century extension. In 2012 it underwent a renovation in order to preserve the cemetery and significantly improve the appearance and use of the surrounding area.
The perimeters of the site were redefined with new plants and fencing, and a raised pathway was constructed at the cemetery's southern end, widening the path behind the Law and Arts Two buildings without impacting on any of the graves.
Near the middle of the cemetery a circular enclosure marks the landing spot of a World War II bomb. Paving within the circle forms a six-pointed Star of David, and a pedestal in the centre commemorates those whose memorials were destroyed by the blast.
For more information, visit the English Heritage website