News story
Honorary Fellowships for leaders in education, health and heritage
During Summer Graduation 2014, Queen Mary University of London (QMUL) awarded three Honorary Fellowships to leaders in the fields of education, culture and heritage, and health.
18 July 2014
David Beresford Mash (nominated by John Hall) has been named an Honorary Fellow, having dedicated his career to the education of young people.
During his chairmanship of the charitable Aldgate and Allhallows Foundation, David was instrumental in securing two practical ways of helping students at QMUL and across Tower Hamlets. Awarded since 2001, Aldgate and Allhallows Scholarships of £1,000 a year support students from the borough studying at QMUL. To date, about a quarter of a million pounds has been given.
David's second achievement has been in securing support for pioneering science-education hub, Centre of the Cell, at QMUL's medical school in Whitechapel. The Aldgate and Allhallows Foundation has made three grants to the Centre, supporting outreach work in schools across Tower Hamlets.
As a Justice of the Peace, David has helped troubled young people in Watford and, more recently, Somerset.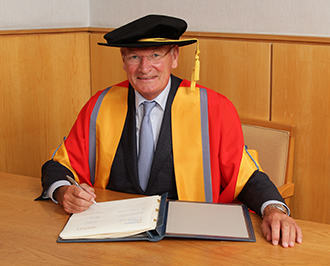 Honorary Fellow Sir William Castell (nominated by Professor Mark Caulfield, School of Medicine and Dentistry) is currently chairman of The Wellcome Trust, a global charitable foundation dedicated to extraordinary improvements in human and animal health.
Sir William worked with Nobel Laureate Professor Sir John Vane at the Wellcome Foundation during the 1980s. Sir John went on to found the William Harvey Research Institute, which became part of QMUL in 2000. In 2004 Sir William gave the inaugural John Vane Lecture, beginning an association with QMUL that has included advising on fundraising for the William Harvey Heart Centre, and teaching the next generation of higher education professionals on QMUL's High Performing Leaders Course.
David Dewing (nominated by Professor Alison Blunt and Dr Alastair Owens, School of Geography) has been awarded a Fellowship in recognition of his leadership of the Geffrye Museum and his role in formalising a partnership between the Museum and QMUL.

David began his career as a furniture designer before moving into the museum sector in 1979, first as curator of the Museum of London then, from 1991, as Director of the Geffrye Museum. While the Museum's main displays are a series of period rooms over the past 400 years, its research, exhibitions and learning programmes extend beyond, to include all aspects of the home across social groups and cultures.

The QMUL-Geffrye partnership – The Centre for Studies of Home – is an international hub of research, knowledge exchange and public engagement activities on the subject of the home. The Centre has attracted some £770,000 in external research funding since its founding in 2011 and currently supports seven PhD students and three postdoctoral research fellows.

For media information, contact:

Rupert Marquand
Public Relations Manager
Queen Mary University of London
email: r.marquand@qmul.ac.uk