Alumni celebrate 50 years of football and friendship
A group of Queen Mary University of London alumni, brought together in the 1960s by their love of football, have just celebrated their 50th "old boys" sports tour.
Published on:
Peter Howarth joined what was then Queen Mary College (QMC) in 1959 to study Mechanical Engineering. After graduating in 1962 he stayed on for a PhD, captaining the College's football team.
In 1965 he joined the College's staff and started organising a football tour in the Lake District – building on the popularity of the team's annual Students' Union-sponsored Easter football tours overseas. Peter recalls: "The total cost of the first tour was £85. We had a Union grant of £75 and the lads coughed up the princely sum of £1 each."
Peter left Queen Mary in 1969 to join British Rail's Research Department in Derby. He has remained in the railway industry ever since, working in a number of countries around the world.
The tours continued with great success, and as students graduated they were invited back on subsequent trips. Over the years, alumni were the predominant members of the tour and were later joined by their families - including Barbara Scott (Mathematics, 1970) and Carole Russell (Biochemistry, 1970), who met their husbands at Queen Mary.
A new tradition in "lads and dads" games was born. "The team has also been boosted by some 'outsiders' from Manchester, who strengthened the side as age became a factor," explains alumnus Les Andrews.
In the early days, the team played against the best sides in Westmorland and Cumberland. Cricket was introduced in 1981, as well as other activities include walking, squash, tennis, golf, water-sports, horse riding, theatre visits and many nights in the pub.
This year's event in Glaramara in the Borrowdale valley included two football matches, two games of cricket and a special anniversary dinner on the last evening. Speeches were made and awards given to Peter Howarth, John Anderson and Robin Bourn - the main drivers behind the tour.
Tour administrator John Anderson (Civil Engineering 1966 – 69) was captain of the College football team who won the ULU Cup in 1968. He recalls: "I look back with fondness to my three years at QMC. There were good lecturers, I made many friends, met my wife Barbara, enjoyed College life to the full, and even got a degree!
"Fun over, I worked on construction sites throughout Britain, mainly tunnelling contracts for several years before joining local government and working on civil engineering municipal projects."
Jon Comyn-Platt's first tour was in 1968, just as Hey Jude was topping the charts. Since then he has missed only one tour through ill health, and his children have attended every tour since they were born. Jon studied Law at Queen Mary and was president of the Students Union, 1969-70. He qualified as a solicitor in 1973 and was then a family legal aid practitioner in Oldham and Manchester.
Robin Bourn (Geography, 1967) took a flight to the US after graduation, spending all his savings covering 8,000 miles by Greyhound Coach.
Les Andrews (Chemistry, 1970), who met his wife Carole at Queen Mary, notes: "Robin is the fixtures secretary for the tours and once arranged eight games in seven days including matches against both the Westmorland League Champions and Cup holders on the Sunday of the tour – the results of these games appear to be missing from our records!"
Lucy Owen, the daughter of graduate Robin Bourn, says: "I'm classed as one of the 'youngsters' even though I am in my 30s! I've ended up very good friends with the sons and daughters of the others and we meet regularly.
"The tour obviously has something special about it to hold these friends together over all this time – they're true friends for life brought together by their time and experience at Queen Mary. They live up and down the UK and every year, wherever they are in the world, they come back to take part in the tour.
"Some of them also meet up every month or so in London – they say it's to organise the next tour but everyone knows it's just to watch football and have a few drinks."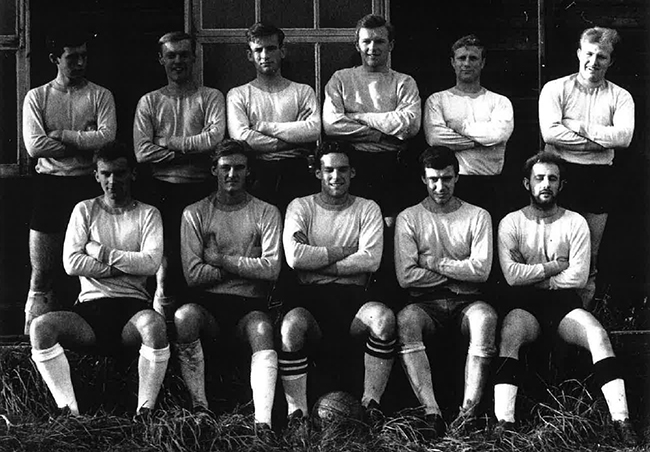 Team photo from the first Lake District tour (1965)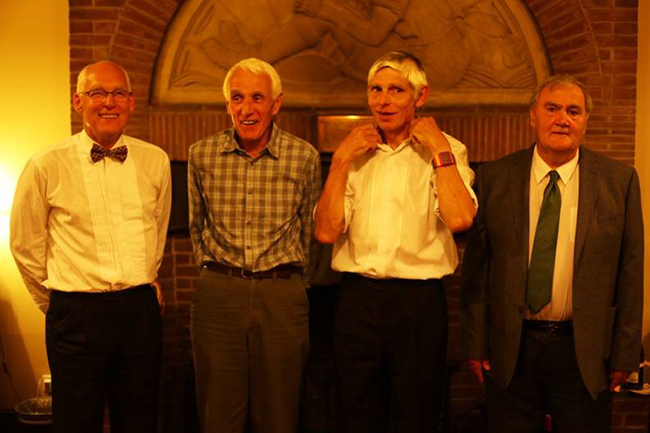 Peter Howarth, John Anderson, Jon Comyn-Platt, Robin Bourn at the 50th anniversary tour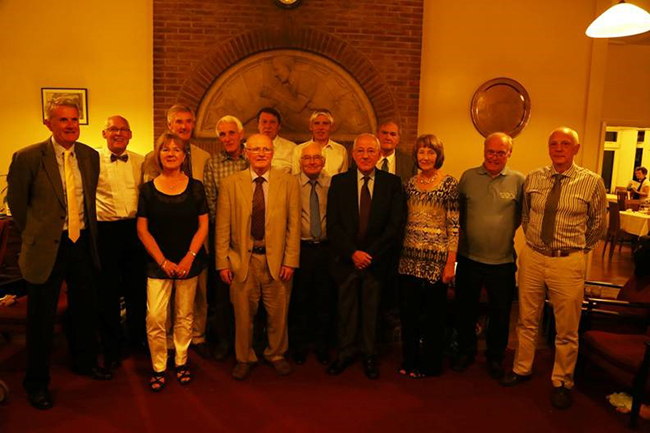 Alumni on the last night of the 50th anniversary tour (left to right: Les Andrews, Peter Howarth, Carole Andrews, Peter Horrocks, John Anderson, Eric Green, Dave Yaw, Barry Brooks, Jon Comyn-Platt, Manuel Puerta, Robin Bourn, Barbara Anderson, Derek Banks, Graham Agnew)
Keep in touch with the Queen Mary Alumni Network - a vibrant global community of almost 100,000 former students, in over 150 countries around the world - via www.qmul.ac.uk/alumni.