Queen Mary representatives report from the Nobel Peace Prize ceremony
Queen Mary University of London sponsored two of its Global Health alumni to travel and attend this year's Nobel Peace Prize celebrations in Oslo, Norway.
Published on:
They accompanied Professor David McCoy, who leads Queen Mary's Global Public Health Unit and was involved in the coalition that won this year's Prize.
Professor McCoy, and his two former students, Krishen Samuel and Miranda Liang, have each been reflecting on their experiences during the celebrations, and writing blogs for the Queen Mary website to capture different angles of the event and its impact on global health.
The energy, inspiration and brains behind a treaty to prohibit nuclear weapons
This year, the Nobel Peace Prize went to the International Campaign to Abolish Nuclear Weapons (ICAN) for its ground-breaking efforts to achieve a treaty-based prohibition of nuclear weapons.
Summarising the significance of ICAN's contribution, Professor McCoy writes: "ICAN was the energy, inspiration and brains behind the United Nation's adoption of a Treaty to Prohibit Nuclear Weapons... Because of ICAN, working in partnership with the International Red Cross and a growing coalition of international diplomats and politicians, we now have a Treaty that prohibits nuclear weapons just as we have banned chemical weapons, biological weapons, cluster munitions and landmines."
A key moment of the weekend of celebrations was the moving moment two people accepted the Nobel Peace prize on behalf of ICAN and gave their speeches: Beatrice Finh, the Director of the international secretariat in Geneva; and Setsuko Thurlow, a 13 year old survivor of Hiroshima.
The gendered aspect of nuclear war
Former Queen Mary MSc student in Global Public Health and Policy, Krishen Samuel, says one comment made by Beatrice Fihn particularly stuck with him:
"Man—not woman—made nuclear weapons to control others, but instead we are controlled by them." - Beatrice Fihn, Nobel Peace Lecture, 10 December 2017
In his blog post, Krishen discusses the gendered component of nuclear weapons, war and control, and writes: "Thinking that the best defence is a good offense, developing lethal nuclear weapons to 'protect' a nation, and threatening to use those weapons when negotiations get heated are all typically toxic masculine modes of relating.
"This is not to insinuate that it is only men who are capable of violence... Instead, it is an acknowledgement that much of the violence perpetrated in the world has at its foundation qualities that we associate with masculinity: aggression, bullying, dominance over others, the use of war as a means of settling disputes..."
Krishen argues that everyone should now detach from the toxic notion that it is only through violence and aggression that anything meaningful can be achieved.
A seven decade wait for hope since Hiroshima
Following on from Beatrice Finh's acceptance speech, Setsuko Thurlow spoke on behalf of the 'Hibakusha'- those who survived the atomic bombing of Hiroshima and Nagasaki. This particularly affected Miranda Liang, former Global Health, Law and Governance MSc student at Queen Mary.
Miranda writes in her blog post: "For the Hibakusha, the Nobel Peace Prize Award marked a milestone of human beings taking a big step forward in making a peaceful world… The Hibakusha have been spending their whole life proving how nuclear weapons can destroy human beings, and their struggles of living and rebuilding their beloved homeland from nothing, as well as their hopes.
"The recovery process is time-consuming and the health hazards (such as cancer) stay with the residents and survivors throughout their lives. They have been waiting for seven decades to finally see hope that the nuclear tragedy may end someday."
Looking to the future, Miranda says she was inspired by student representatives who attended from Germany, Kenya, India, Nepal and America: "They showed us that we are all ready to continue the mission of changing the world… This also inspires me, as although my own influence may be small and there are many obstacles ahead, I am not alone and there will always be partners in different parts of the world who are working for the same thing."
"Being aware of and alerted to global issues, such as these efforts to prohibit nuclear weapons, will help me become a better global actor, and carry this message to other people. It means I can continue working on becoming an advocate for human rights and always keep my faith in improving health conditions."
A push in the back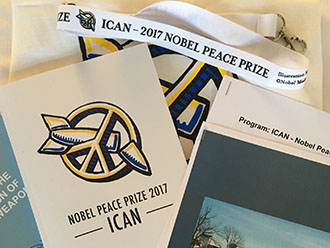 Meanwhile, Professor McCoy cautiously highlights the significant amount of work ahead in moving on from this year's celebrations, and ensuring that politicians and academics work to finally eliminate nuclear weapons.
He writes: "The Nobel Committee's decision to honour ICAN with the Peace Prize was not so much a pat on the back, as it was a push in the back – telling ICAN to keep moving forward. And in doing so, telling the world that we must now translate the Prohibition Treaty into the actual dismantling and elimination of nuclear weapons.
"This will require changing the minds of the many politicians and ordinary people in the world's nine Nuclear Weapon states and many more nuclear umbrella states (including Japan, Australia and much of Europe) who continue to believe that nuclear weapons and the doctrine of nuclear deterrence help keep us safe."
More information
For media information, contact: