News story
QMUL cancer research exhibit at Royal Society's Summer Science Exhibition
An exhibit about cancer research by Queen Mary University of London (QMUL) is on display at the Royal Society's Summer Science Exhibition from now until Sunday 10th July.
5 July 2016
The exhibit, developed by QMUL's Barts Cancer Institute, Blizard Institute, School of Engineering and Materials Science and Centre of the Cell, highlights the CANBUILD research project looking at deconstructing cancer.
In the project, cancer researchers, bioengineers and tissue engineers have meticulously studied ovarian cancer tissues so that they can authentically reconstruct tumours in the lab. This will allow them to test new treatments that target the microenvironment of cancer.
At the CANBUILD exhibit, visitors are able to:
Assemble a virtual tumour microenvironment, and then attempt to destroy it with immunotherapies, in Centre of the Cell's new Tumour Takedown app.
Use a video-microscope to view a live 3D culture of cells that make up a cancer.
Use harmless chemicals to make the 'gels' (3D structural support) in which the research team grows cells.
Professor Fran Balkwill from QMUL's Barts Cancer Institute and Director of Centre of the Cell, said: "Even after only the first day, it's clear that the exhibit has been very successful and great fun. The school visits during the day are quite different from adult visits in the evening – but both are stimulating and enjoyable.
"We found that the secondary school children were interested, inquisitive and listened to our explanations. They all seemed very engaged with science. The adults often came with queries having first looked at the stand or read our leaflet, and we had some fascinating questions."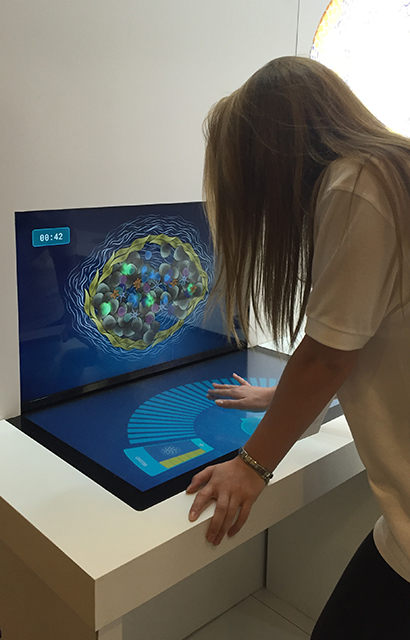 "This exciting multidisciplinary project uses tissue engineering techniques to grow a human tumor microenvironment in the lab," says Professor Martin Knight, a member of the CANBUILD team and a bioengineer from QMUL's School of Engineering and Materials Science. "By doing this we hope to better understand and treat this devastating disease."

"My own particular involvement concerns the biomechanics of the tumour microenvironment and how this affects the way the tumour grows and spreads."

The Summer Science Exhibition is an annual display of the most cutting-edge science and technology in the UK. The free, week-long festival features 22 exhibits and a series of inspiring talks and activities for all ages. The exhibition is suitable for all ages, entry is free and no advance registration required. More information can be found here.

The design of the CANBUILD exhibit was a large team effort from Barts Cancer Insitute, Centre of the Cell and Cancer Research UK staff with support from QMUL's Centre for Public Engagement and pro-bono project management from Shirley Walker from Land Design Studio. Many volunteers have also contributed to the stand and are providing assistance during the exhibition.

For media information, contact:

Joel Winston
Public Relations Manager
Queen Mary University of London
email: j.winston@qmul.ac.uk