'Sweeney Todd' and actress Amanda Redman support public blood pressure checks at Queen Mary
Actors Amanda Redman MBE and Alun Armstrong made a guest appearance at Queen Mary University of London on Friday 20 September, as part of an awareness raising campaign to encourage people to check their blood pressure – one of the early warning signs of a potential stroke or heart attack.
Published on:
Armstrong – who won an Olivier Award the blood-spattered title role in 1994's Sweeney Todd – has spent the last decade playing eccentric ex-detective Brian Lane in BBC One's New Tricks, alongside BAFTA Award winner Redman. Redman made her screen exit from New Tricks (BBC1) earlier this week with the triumphant conviction of a serial killer.
The actors visited the William Harvey Heart Centre, Charterhouse Square, to support Know Your Numbers!, speak to staff and visitors, and have their own blood pressure checked.
The nationwide Know Your Numbers! campaign, organised by the charity Blood Pressure UK, takes place from 16-22 September, with some 1,200 blood pressure testing stations set up across the UK's hospitals, universities, clinics, pharmacies and fitness centres.
Blood Pressure UK is based at the Wolfson Institute - part of Barts and The London School of Medicine and Dentistry - at Queen Mary's Charterhouse Square campus, and has been running an event annually for 12 years to encourage the public to have their blood pressure checked.
If it is slightly raised, or much too high, visitors are advised on the immediate actions they can take to lower it and reduce their risk of heart attack or stroke. They may also be offered a range of clinical trials run at the William Harvey Research Institute by researchers, industry or charities.
Armstrong commented: "The fact that 16 million people in the UK suffer from high blood pressure yet only a third are aware of it, highlights the importance of Know Your Numbers! week. I am pleased to be a part of such a crucial campaign that encourages adults to know their blood pressure numbers and take the necessary action to reach and maintain a healthy blood pressure."
Professor Mark Caulfield, Director of the William Harvey Research Institute explains: "High blood pressure is the most common risk factor for stroke and heart attack but it can be readily treated, therefore everyone should know their blood pressure numbers."
"High blood pressure is a silent killer and one of the biggest causes of death in the UK," adds Amanda Redman. "Blood Pressure UK is doing a great job in raising awareness for such an important cause."
Staff at the William Harvey Heart Centre have been checking the public's blood pressure across the week, and raising funds for Blood Pressure UK. Research conducted at the Centre, which was opened in 2011, has helped change guidance in the UK and around the world on how to treat high blood pressure.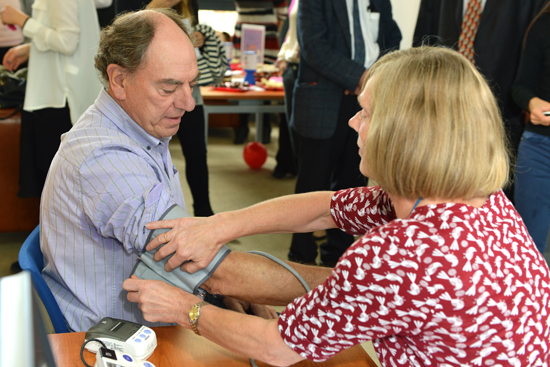 For media information, contact: