Pioneering Queen Mary dental course celebrates 30 years of excellence
An innovative dental hygiene and therapy course at Queen Mary University of London, which changed the shape of training across the UK, celebrates its 30th anniversary this month.
Published on:
Dental hygienists and dental therapists had previously trained separately to undergraduates studying to become dentists. In 1983 Queen Mary's medical school, Barts and The London School of Medicine and Dentistry (then the London Hospital Medical College) introduced an integrated programme which brought the two branches together.
Undergraduate dental students and dental hygiene / therapy students began to study and work alongside each other, fostering teamwork and an understanding of each other's roles, for the benefit of patients.
The 28-month Diploma in Dental Hygiene and Therapy at the Institute of Dentistry results in a qualification that offers registration with the General Dental Council as both a dental hygienist and dental therapist, and enables graduates to work in primary dental care as dental hygienists. Previously, dental therapists were restricted to working in secondary dental care, such as hospital and community dental services.
Other dental schools have since followed Queen Mary's integrated teaching model.
Professor Mike Curtis, Dean for Dentistry and Director of the Institute of Dentistry comments: "On behalf of all my colleagues in the Institute of Dentistry, I would like to offer many congratulations to the staff and students on the Dental Hygiene and Therapy programmes on the 30th anniversary of this important component of dental team training. The staff at this Centre have always maintained their position at the forefront of new developments in this discipline and this is evidenced by the longevity of these programmes."
With teaching excellence leading to a pass rate of almost 100 per cent each year, in excess of 260 students have graduated from the course to date. Alumni work in both the UK and overseas as hygienists, therapists and teachers in dental education, while others continue their studies to train as dentists.
Over 30 years, there have been significant changes in dentistry, with the role of the dental hygienist / therapist increasing to provide the public greater opportunities to receive oral care.
Staff within the Centre for Dental Care Professionals at the Institute of Dentistry have been instrumental in facilitating these changes through their work with the General Dental Council and Department of Health.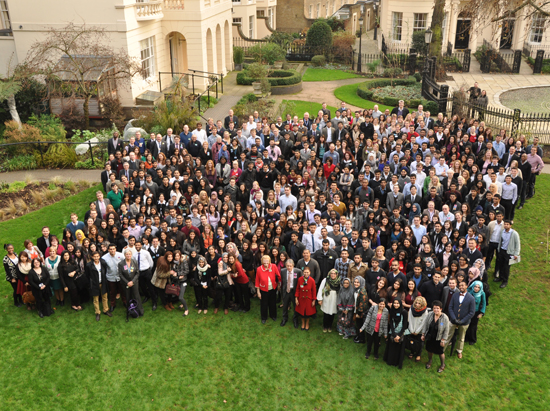 Institute of Dentistry staff and students
For media information, contact: