Centre of the Cell launches 'Sponsor a Neuron' campaign
Queen Mary, University of London has launched a public appeal to expand its award-winning science education centre at Whitechapel.
Published on:
Since Centre of the Cell opened in 2009, around 60,000 visitors have taken part in ground-breaking educational programmes, designed to both inspire pupils to pursue a career in the sciences and to deliver important public health messages.
Due to huge visitor demand plans have been developed to create a second building. The striking 'Neuron Pod' will resemble a giant nerve cell and be a free-standing structure next to the Centre of the Cell's current space on Newark Street.
The new Pod would provide extra space for live science shows, hands-on workshops, debates, films and exhibitions. This multi-purpose, state-of-the-art, facility will also provide space for collaborations, both in science and the arts, which communicate the latest advances in medical research and maximise the number of young people engaged with the subject.
Centre of the Cell's Director, Professor Fran Balkwill, says: "This expansion will help Centre of the Cell adapt to different audiences and encourage even more people to visit and get engaged with science, medicine and technology. We'll be able to better provide for visitors with special needs, and improve public education in major health issues, from diabetes and obesity to heart disease, neurological illnesses, HIV/Aids and cancer."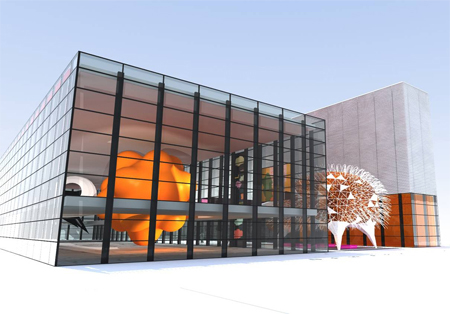 The Centre now needs public support to reach its fundraising target of £2.3m. Donors can sponsor some of the 500 branches, or 'dendrites', which will protrude from the Pod's exterior and dramatically light up the building.
More than £1.4m has been raised toward the project already, with contributions from trusts and foundations including the Wellcome Trust, the Wolfson Foundation and the Garfield Weston Foundation.
All Neuron Pod sponsors will be invited to the building launch and will have their name featured on the Donor Recognition Board at the Pod's entrance. Smaller sums are also very welcome, and can be donated through the website Just Giving. Click here for more information about donating.
Designed by leading architect Will Alsop, creator of the existing Pod and surrounding Blizard Building, the Neuron Pod will enrich the Centre of the Cell experience, allowing for the expansion of a programme that includes a highly successful mentoring and revision programmes for school pupils.
For more information about how you or your organisation can contribute toward Centre of the Cell, please contact Director Professor Fran Balkwill : f.balkwill@qmul.ac.uk / 020 7882 3587
Visit www.centreofthecell.org/neuron to sponsor a dendrite and help create the Neuron Pod.
For media information, contact: