Former British Prime Minister makes rare UK appearance to mark 100th meeting of Mile End Group
Speaking to the Mile End Group at Queen Mary University of London this morning (Monday 28 October), former Prime Minister Tony Blair spoke of the need for governments to modernise and adapt to a rapidly changing world.
Published on:
Blair addressed an audience of academics, students, politicians, civil servants, journalists and businesspeople on 'How Government Really Works'.
In a session chaired by John Rentoul of the Independent on Sunday, Mr Blair spoke of the need for governments to modernise and adapt to a rapidly changing world. Blair claimed that today's more "assertive electorate" view the political system as old-fashioned, and that more politicians needed to have experience of the wider world before going into politics.
Answering questions from the audience, including two former Cabinet Secretaries, the former Prime Minister admitted that he had moved towards a more conventional style of cabinet government later in his tenure, when he felt he had more reforming staff around him, and admitted, in a reference to Yes, Prime Minister, that the Freedom of Information Act left him pondering, 'Where was Sir Humphrey when you needed him?'
Speaking on today's coalition government, Mr Blair said, "If it's a coalition of conviction I'm for it (…) If it's a coalition of convenience, it can blunt the impact of government change". The former Prime Minister accepted that there were coalition-like elements to his own government; "If you don't have a coalition between parties you tend to get one within the party".
When asked about international intervention, he said, "I think you intervene when the consequences of non-intervention are worse. It's very difficult." Mr Blair also pondered that, 'You take power at your most popular and least capable. You leave it at your most capable and least popular".
The Mile End Group (MEG), QM's forum for government and politics, was created in 2003 by doctoral students of Queen Mary's Professor Peter Hennessy, foremost historian of British government.
The MEG's research focuses on the worlds of Westminster and Whitehall, exploring the inner workings of government at the highest level. Over the years its research talks have evolved into a seminar series attracting high profile speakers such as Sir John Major, Baroness (Shirley) Williams, Lord Heseltine, Lord Healey and Baroness Manningham-Buller, as well as current politicians such as Ed Balls, Lord Adonis and David Willetts.
Dr Jon Davis, a founder-member and now Director of the MEG, said: "We are extremely grateful that Tony Blair agreed to address the 100th meeting of the Mile End Group, in our tenth anniversary year. This pro bono appearance is evidence of Queen Mary's burgeoning reputation and, in particular, the MEG's pioneering approach to the fast changing world of academia. This event marks the beginning of another year which will see the Mile End Group continue to build on and expand its ground-breaking relationships with government and business, its hugely successful apprenticeship programme and its highest profile events series. Here's to MEG200!"
Dr Jon Davis was shortlisted in 2010 for the Times Higher Education Supplement's 'Most Innovative Teacher' award in recognition of his 'The Blair Government' course. In 2012, the course was promoted to MA level, extended to include Gordon Brown's subsequent premiership, and renamed 'New Labour in Government'.
Simon Gaskell, Principal of Queen Mary, said: "I'm delighted that the Mile End Group is celebrating its 100th meeting. This is a significant achievement and MEG's success and longevity is testament to the excellent and innovative work carried out by Dr Jon Davis and the team of postgraduate students over the last 10 years, as well as to the knowledge and support provided by a number of very prominent individuals from the worlds of politics and business.
"Engaging the public in our academic work is a central and defining feature of Queen Mary and MEG has been a cornerstone of this activity. It has led the way in promoting an understanding of how government works, to the great benefit of our students, staff and the wider public."
BA History students Kamile Stankute and Brandon Walsh-Alexander were among students who attended the event. They commented that Mr Blair was a great speaker, "who knew how to answers questions well". They noted his belief that there are too many people who work in politics who have not experienced other careers. "It's a massive weakness that people get into politics at 21 and they're there until they retire. You need life experience first," said Brandon.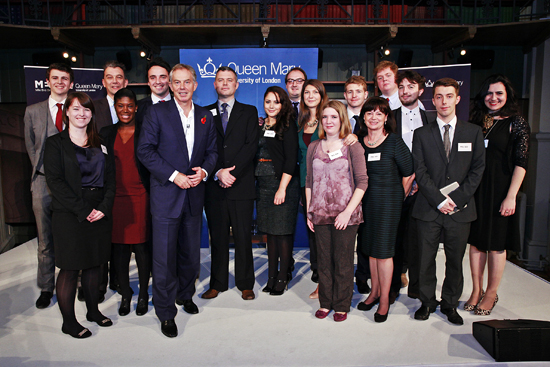 Most recently, the Mile End Group has been working closely with Number 10 Downing Street on projects ranging from re-writing the biographies of past Prime Ministers for its website to producing exclusive, unprecedented video interviews with the surviving Cabinet Secretaries.
The MEG has also been collaborating with HM Treasury on a biannual seminar series along with training Treasury officials in 'Learning the lessons of past spending reviews' just before June 2013's government-wide spending review.
The MEG is sponsored by Hewlett Packard and the City of London Corporation.