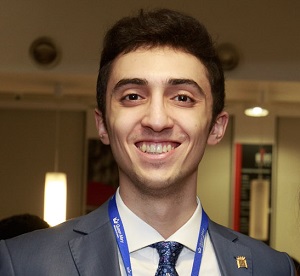 Email Turan
Hi, my name is Turan Gafarli and I studied BA History and Politics at Queen Mary University of London (2014-2017) thanks to the scholarship of the Ministry of Education of Azerbaijan. I always wanted to study in the UK, especially in London, and I am very grateful that I my dream came true at Queen Mary University.
I took modules from both School of History and School of Politics and International Relations, which made my vision broader and more sophisticated. I tried to maintain a balance between two different disciplines since they offered different types of study. Studying history helped me to see politics from an academic perspective, while studying politics kept me within the daily political agenda. It was the product of our contentious debates during the seminars. I am thankful to QMUL teaching staff for their passion which made our classes unforgettable and academically beneficial for all. I made excellent progress in my studies and became ready for the work environment thanks to the internationally acclaimed staff of both schools.
The open and diverse environment of the QMUL enlightened my vision and showed me different perspectives in the way of thinking about various political, social and daily problems. Taking part in debates made me more confident.
Queen Mary University of London also offered me a chance to socialise with other students via student communities and societies. I was a proud member of the United Nations Society during my undergraduate studies and became a Vice-President in my last year. I participated in reforms going on in the university and the Students' Union and also became a Course Rep, representing my fellow students and their problems. The university offers different engagement in your spare your time, besides academic progress. It was also a pleasant to experience to help the university as a Student Ambassador and represent my institution which I proudly did for three years.
Azerbaijani students need to know that the UK system is different from home. Compared to Azerbaijan, here you need to focus on your studies more, while spending fewer hours in the university lectures. So, in QMUL your study will be more independent, requiring more self-discipline and you can get limitless help from the academic staff. I never failed in my search of help in the QMUL and I am very thankful for that. Students coming from Azerbaijan need to know that everything will be easier if you will follow the instructions and regulations which you can easily find everywhere. If you considering to come to the QMUL, do not hesitate. You will spend best of your time living and working among the diverse and helpful community while enjoying the benefits of one of the best cities in the world, London.