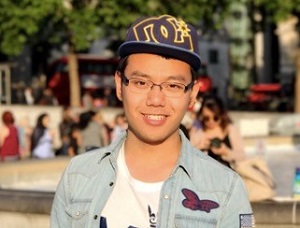 Email Nile
Coming to Queen Mary University of London for my one-year Masters was a truly remarkable experience for me. I longed to come and study in the UK ever since I was an undergraduate student, not only to broaden my horizons, but also to enhance my career prospects. I have chosen Queen Mary among many prestigious universities in the UK for her distinguished academic reputation, rich teaching resources and favourable location.

Queen Mary has provided me with convenient access to prospective employers. Our Mile End main campus is located between Canary Wharf and the City of London, the business and financial centres of London. The university has partnered with local corporations and financial institutions, which gave me ample opportunities to establish links with them. Through QMUL online platform (QMPlus), I gained the opportunity to participate in an open day event with Thomson Reuters, which helped me immensely in job hunting. Networking with their employees gave me a thorough understanding of their business operations as well as providing tips and suggestions for applying to their company. I also joined the mock interviews held by Credit Suisse who was also a partner of QMUL. Not only did I have the opportunity to converse with their senior manager directly, I also received professional guidance and interview feedback from their Human Resources team. These practical experiences were extremely helpful for me as I seek a career in a multinational corporation.

In terms of professional training, QMUL focuses not only on the academic study, but also provides a variety of after-class resources in order to maximise our practical skills. For example, School of Economics and Finance has two student-based groups (qNomics and QUMMIF), enabling us to accumulate practical professional experience on campus. The former provides professional business consulting and advisory services, while the latter is an investment fund managed by students. Besides these executive skill practices, Queen Mary-based University of London career service also assists me with job hunting. It offers a wide range of free services including one-to-one career consulting, CV tailoring, cover letter polishing, online test discussion and so on. Queen Mary is the only campus university in central London, with teaching facilities and residence halls all within the same site, saving us time and money since there is no need to commute.

During this year, Queen Mary provided me with invaluable resources and experience which I believe have changed my life. If you too have a dream of studying in the magical city of London then Queen Mary will surely be an irresistible choice for you.