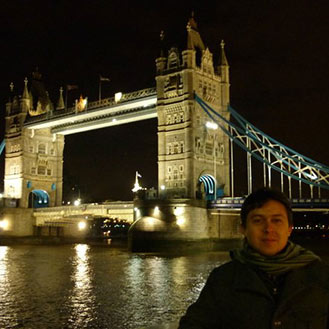 Email Germán
My name is Germán Darío Florez and I am a Colombian lawyer from the Colombian National University. I did my Intellectual Property Masters LLm in QM between 2009 and 2010. In Addition I have studies in Information Technology Law and E-Commerce from Universidad Complutense de Madrid (2008) and Pech University in Hungary. I have no doubt about how important was for me to study at Queen Mary University of London. I received an education in a truly high quality level. All the subjects I took were taught for excellent academics that showed me a wide range of issues regarding Intellectual Property nowadays and how different policies deal with it. I also built a priceless networking as I exchanged rewarding experiences with other LLm students from all over the world. This extensive experience I have gained doing my masters at QM has helped me in my current job positions.
At the moment I am a lecturer of Intellectual Property and Information Technology Law at the Colombian National University and Catholic Colombian University. I also have an offer to teach next semester in the new masters degree on IP law offered at Sergio Arboleda University. At the same time I am an external lawyer at the Colombian Trademark Office (Superintendencia de Industria y Comercio, Delegatura de Signos Distintivos). in the last couple of years I have been the coach of the International Arbitration Law teams at National and Catholic Universities obtaining 3 rewards in the Washington Competition last year. Therefore the skills I obtained at QM have been very useful for working both in the academic and in the professional field.
In the near future I want to be an academic in international institutions and also I want to still helping public bodies in Colombia with the development of intellectual property policies.