Richard Treves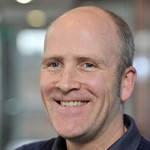 E-Learning Technologist, Centre for Psychiatry
Email: r.treves@qmul.ac.ukTelephone: Tel: +44 (0) 20 7882 2016Room Number: 2.06, Yvonne Carter Building
Profile
Richard is an E-Learning Technologist in the Centre for Psychiatry. Working together with Michael Parkes, he is responsible for providing support in the effective use of learning technologies for the Centre's postgraduate Mental Healthcare programmes.
Richard is an Educational Technologist and Learning Designer from a 'Geo' background (maps, geography and geology)
He is educated as an earth scientist. On returning to the UK, he has been involved in TEL (Technology Enhanced Learning) and teaching at Universities including USGS Hawaiian Volcanoes Observatory, and a Learning Developer at School of Geography at Southampton University UK 2004-15.
Research