Professor Ranjit Manchanda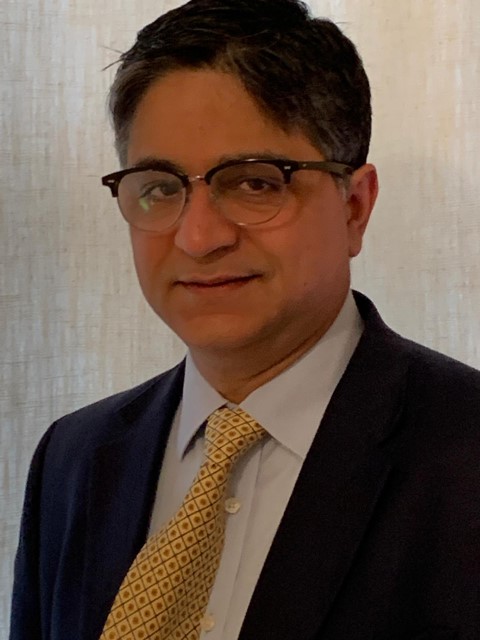 Professor of Gynaecological Oncology & Consultant Gynaecological Oncologist; Co-Lead, Cancer Prevention Unit
Email: r.manchanda@qmul.ac.ukRoom Number: Room 131, Wolfson Institute
Profile
I was appointed as Professor of Gynaecological Oncology at Wolfson Institute of Population Health, QMUL in Sep 2019. I worked at Barts Cancer Institute, QMUL as a Clinical Senior Lecturer from June 2015. I have worked as a consultant Gynaecological Oncologist at Barts Health NHS Trust from June 2015. From 2014- 2015 I worked as a Locum Consultant Gynaecological Oncologist at Barts Health and Honorary Senior Lecturer at University College London, UK. I completed a PhD in gynaecological oncology at UCL, followed by a NIHR ACL Fellowship and subspecialty training in gynaecological oncology from UCLH and Bart's Hospital.
Research:
My research is focused on Targeted Precision Prevention. This includes population-based genetic testing, mainstreaming genetic testing and precision medicine approaches for risk prediction, population stratification, targeted screening, cancer prevention (including surgical) and management of familial gynaecological cancer. I have a keen research interest in health economic issues related to these areas.
I am Chief Investigator (CI) on PROTECT (PROTECT: Population based Germline testing for Early detection and Cancer Prevention); PROTECTOR (Preventing Ovarian Cancer through early Excision of Tubes and late Ovarian Removal) trial; DETECT-2 (Direct to Patient testing at Cancer diagnosis for Precision Prevention) study; PROMISE Feasibility study (pilot general population testing and personalised ovarian cancer risk prediction study); SIGNPOST (SystematIc GeNetic testing for Personalised Ovarian cancer Therapy) study and RRESDO (study evaluating attitudes towards early salpingectomy) studies; Co-PI of GCaPPS trial (population based BRCA testing RCT in the Jewish population); Co-Lead for UKCOGS (UK COVID and Gynaecological Cancer Study); Co-lead for SURAKSHA- South Asian Breast Cancer Risk Prediction, Genetic testing & Health Management programme. I have worked on ovarian cancer screening trials (UKCTOCS, UKFOCSS and ALDO).
Research
Publications
Barrett JE, Jones A, Evans I et al.

(2022)

,

The DNA methylome of cervical cells can predict the presence of ovarian cancer

$nameOfConference

Gaba F, Oxley S, Liu X et al.

(publicationYear)

,

Unselected Population Genetic Testing for Personalised Ovarian Cancer Risk Prediction: A Qualitative Study Using Semi-Structured Interviews

$nameOfConference

Sun L, Cui B, Wei X et al.

(2022)

,

Cost-Effectiveness of Genetic Testing for All Women Diagnosed with Breast Cancer in China

$nameOfConference

Taylor A, Sundar SS, Bowen R et al.

(2022)

,

British Gynaecological Cancer Society Recommendations for Women With Gynecological Cancer Who Received Non-standard Care During the COVID-19 Pandemic

$nameOfConference

Cibula D, Dostálek L, Jarkovsky J et al.

(2022)

,

Post-recurrence survival in patients with cervical cancer

$nameOfConference

Gaba F, Goyal S, Marks D et al.

(2022)

,

Surgical decision making in premenopausal BRCA carriers considering risk-reducing early salpingectomy or salpingo-oophorectomy: A qualitative study

$nameOfConference

Manchanda R

(2022)

,

Gynaecological Cancers Risk: Breast Cancer, Ovarian Cancer and Endometrial Cancer

$nameOfConference

Taylor JA, Burnell M, Ryan A et al.

(2022)

,

Association of hysterectomy and invasive epithelial ovarian and tubal cancer: a cohort study within UKCTOCS

$nameOfConference

Taylor A, Sundar SS, Bowen R et al.

(2022)

,

British Gynaecological Cancer Society recommendations for women with gynecological cancer who received non-standard care during the COVID-19 pandemic

$nameOfConference

Kriplani D, Olivar AA, Tchrakian N et al.

(2022)

,

Concise Reporting of Benign Endometrial Biopsies is an Acceptable Alternative to Descriptive Reporting.

$nameOfConference

Manchanda R, Gaba F, Talaulikar V et al.

(2022)

,

Risk-Reducing Salpingo-Oophorectomy and the Use of Hormone Replacement Therapy Below the Age of Natural Menopause: Scientific Impact Paper No. 66

$nameOfConference

Manchanda R

(2022)

,

Special Issue "Gynaecological Cancers Risk: Breast Cancer, Ovarian Cancer and Endometrial Cancer"

$nameOfConference

Lee A, Yang X, Tyrer J et al.

(2021)

,

Comprehensive epithelial tubo-ovarian cancer risk prediction model incorporating genetic and epidemiological risk factors.

$nameOfConference

Oonk MHM, Slomovitz B, Baldwin PJW et al.

(2021)

,

Radiotherapy Versus Inguinofemoral Lymphadenectomy as Treatment for Vulvar Cancer Patients With Micrometastases in the Sentinel Node: Results of GROINSS-V II

$nameOfConference

Philpott S, Raikou M, Manchanda R et al.

(2021)

,

423 Results of the avoiding late diagnosis of ovarian cancer (ALDO) project; a pilot national surveillance program for BRCA mutation-carriers

$nameOfConference

Manchanda R, Oxley S, Ghaem-Maghami S et al.

(2021)

,

COVID-19 and the impact on gynecologic cancer care

$nameOfConference

Cibula D, Dostálek L, Jarkovsky J et al.

(2021)

,

The annual recurrence risk model for tailored surveillance strategy in patients with cervical cancer

$nameOfConference

Sundar S, Cummins C, Balega J et al.

(2021)

,

718 Investigating impact of ultra-radical surgery in advanced ovarian cancer using population level data linked to the SOCQER 2 multicentre study

Ovarian cancer

Reisel D, Burnell M, Side L et al.

(2021)

,

874 Uptake of population based BRCA-testing across Jewish denominations and affect of cultural and religious factors: a cohort study

Prevention of gynaecologic cancer

Van Lonkhuijzen L, Dostalek L, Jarkovsky J et al.

(2021)

,

942 Survival after recurrence in early-stage cervical cancer patients

Cervical cancer

Cibula D, Jarkovsky J, Van Lonkhuijzen L et al.

(2021)

,

960 The annual recurrence risk model for tailored surveillance strategy in cervical cancer patients

Cervical cancer

Gaba F, Blyuss O, Rodriguez I et al.

(2021)

,

984 Impact of SARS-CoV-2 on training and mental wellbeing of surgical gynaecological oncology trainees

Miscellaneous

Rockall AG, Barwick TD, Wilson W et al.

(publicationYear)

,

DIAGNOSTIC ACCURACY OF FEC-PET/CT, FDG-PET/CT AND DIFFUSION-WEIGHTED MRI IN DETECTION OF NODAL METASTASES IN SURGICALLY TREATED ENDOMETRIAL AND CERVICAL CARCINOMA

$nameOfConference

Gaba F, Blyuss O, Rodriguez I et al.

(2021)

,

Impact of SARS-CoV-2 on training and mental well-being of surgical gynecological oncology trainees.

$nameOfConference

Chandrasekaran D, Sobocan M, Blyuss O et al.

(2021)

,

Implementation of multigene germline and parallel somatic genetic testing in epithelial ovarian cancer: Signpost study

$nameOfConference

Menon U, Gentry-Maharaj A, Burnell M et al.

(2021)

,

Ovarian cancer population screening and mortality after long-term follow-up in the UK collaborative trial of ovarian cancer screening (UKCTOCS): A randomised controlled trial

$nameOfConference

Reisel D, Baran C, Manchanda R

(publicationYear)

,

Preventive population genomics- the model of BRCA related cancers

$nameOfConference

Mariño IP, Vázquez MA, Blyuss O et al.

(2021)

,

Computational learning methods for early detection of ovarian cancer

Emerging Topics in Artificial Intelligence (ETAI) 2021

Menon U, Gentry-Maharaj A, Burnell M et al.

(2021)

,

Ovarian cancer population screening and mortality after long-term follow-up in the UK Collaborative Trial of Ovarian Cancer Screening (UKCTOCS): a randomised controlled trial

$nameOfConference

Phadnis S, Selek S, Farrag A et al.

(2021)

,

Cytoreduction surgery for recurrent ovarian cancer: cohort study from UK tertiary centre

$nameOfConference

Cohen PA, Powell A, Böhm S et al.

(2021)

,

Corrigendum to "Pathological chemotherapy response score is prognostic in tubo-ovarian high-grade serous carcinoma: A systematic review and meta-analysis of individual patient data" Gynecol. Oncol. 154 (2019) 441–448 (Gynecologic Oncology (2019) 154(2) (441–448), (S0090825819311813), (10.1016/j.ygyno.2019.04.679))

$nameOfConference

Gaba F, Blyuss O, Chandrasekaran D et al.

(2021)

,

Attitudes towards risk-reducing early salpingectomy with delayed oophorectomy for ovarian cancer prevention: a cohort study

$nameOfConference

Sundar S, Manchanda R, Gourley C et al.

(2021)

,

British Gynaecological Cancer Society/British Association of Gynaecological Pathology consensus for germline and tumor testing for BRCA1/2 variants in ovarian cancer in the United Kingdom.

$nameOfConference

Gaba F, Robbani S, Singh N et al.

(2021)

,

Preventing Ovarian Cancer through early Excision of Tubes and late Ovarian Removal (PROTECTOR): Protocol for a prospective non-randomised multi-center trial

$nameOfConference

Reisel D, Burnell M, Side L et al.

(2021)

,

Jewish cultural and religious factors and uptake of population-based BRCA testing across denominations: a cohort study

$nameOfConference

Sundar S, Cummins C, Kumar S et al.

(2021)

,

Quality of life from cytoreductive surgery in advanced ovarian cancer: Investigating the association between disease burden and surgical complexity in the international, prospective, SOCQER-2 cohort study

$nameOfConference

Gaba F, Blyuss O, Sanderson S et al.

(2020)

,

401 Population testing and personalised ovarian cancer risk prediction for risk adapted targeted prevention

Prevention of gynaecologic cancer

Gaba F, Blyuss O, Legood R et al.

(2020)

,

505 Attitudes towards risk reducing early salpingectomy with delayed oophorectomy for ovarian cancer prevention: a cohort study

Prevention of gynaecologic cancer

Gaba F, Marks D, Saridogan E et al.

(2020)

,

507 Surgical decision making in premenopausal brca carriers considering risk reducing early-salpingectomy or salpingo-oophorectomy: a qualitative study

Prevention of gynaecologic cancer

Gallagher A, Waller J, Manchanda R et al.

(2020)

,

Women's intentions to engage in risk-reducing behaviours after receiving personal ovarian cancer risk information: An experimental survey study

$nameOfConference

Krämer P, Talhouk A, Brett MA et al.

(2020)

,

Endometrial cancer molecular risk stratification is equally prognostic for endometrioid ovarian carcinoma

$nameOfConference

Manchanda R, Lieberman S, Gaba F et al.

(2020)

,

Population Screening for Inherited Predisposition to Breast and Ovarian Cancer

$nameOfConference

Evans O, Manchanda R

(2020)

,

Population-based genetic testing for precision prevention

$nameOfConference

Manchanda R, Sun L, Patel S et al.

(2020)

,

Economic evaluation of population-based brca1/brca2 mutation testing across multiple countries and health systems

$nameOfConference

Gentry-Maharaj A, Blyuss O, Ryan A et al.

(2020)

,

Multi-marker longitudinal algorithms incorporating HE4 and CA125 in ovarian cancer screening of postmenopausal women

$nameOfConference

Gaba F, Blyuss O, Liu X et al.

(2020)

,

Population study of ovarian cancer risk prediction for targeted screening and prevention

$nameOfConference

Cohen PA, Powell A, Böhm S et al.

(2020)

,

Corrigendum to "Pathological chemotherapy response score is prognostic in tubo-ovarian high-grade serous carcinoma: A systematic review and meta-analysis of individual patient data" [Gynecol. Oncol. 154 (2019) 441–448] (Gynecologic Oncology (2019) 154(2) (441–448), (S0090825819311813), (10.1016/j.ygyno.2019.04.679))

$nameOfConference

Manchanda R, Buist DSM, Evans DGR

(2020)

,

Future Research Suggestions for Multigene Testing in Unselected Populations-Reply

$nameOfConference

Evans O, Gaba F, Manchanda R

(2020)

,

Population-based genetic testing for Women's cancer prevention

$nameOfConference

Manchanda R

(2020)

,

Advances in the screening and prevention of Women's cancers

$nameOfConference

Casey L, Powell A, Bohm S et al.

(2020)

,

Role of Ki67 Proliferation Index and CD8 Tumour-Infitrating Lymphocyte Counts in Predicting Outcome in High-Grade Serous Tubo-Ovarian Carcinoma (HGSC) Showing No/Partial Response to Neoadjuvant Chemotherapy

$nameOfConference

Gaba F, Manchanda R

(2020)

,

Systematic review of acceptability, cardiovascular, neurological, bone health and HRT outcomes following risk reducing surgery in BRCA carriers

$nameOfConference

Manchanda R, Burnell M, Gaba F et al.

(2020)

,

Randomised trial of population-based BRCA testing in Ashkenazi Jews: long-term outcomes

$nameOfConference

Ryan N, Wall J, Crosbie EJ et al.

(2019)

,

Lynch syndrome screening in gynaecological cancers: results of an international survey with recommendations for uniform reporting terminology for mismatch repair immunohistochemistry results

$nameOfConference

Gaba F, Chandrasekaran D, Menon U et al.

(2019)

,

EP1229 Preventing ovarian cancer through early excision of tubes and late ovarian removal (PROTECTOR) study

ePoster Talks: Ovarian + Endometria

Gaba F, Liu X, Chandrasekaran D et al.

(2019)

,

EP1231 Impact of population genetic testing and ovarian cancer risk stratification on the emotional well-being and health of unselected women in a general population

ePoster Talks: Ovarian + Endometria

Sundar S, Cummins C, Kumar S et al.

(2019)

,

EP1269 Quality of life after surgery of varying surgical complexity in advanced ovarian cancer: results from the international, prospective, multicenter cohort SOCQER2 study

ePoster

Daia M, Chandrasekaran D, Lawrence A et al.

(2019)

,

EP1332 Follow the yellow brick road – Supra-renal para-aortic lymphadenectomy for metastatic ovarian cancer

Cinema Viewing

Gaba F, Farrag A, Lawrence A et al.

(2019)

,

EP1342 Ovarian cancer with metastatic inguinal lymphadenopathy: an abdominal approach to inguinal nodes dissection

Cinema Viewing

Dokmeci A, Abdurrayman M, Drymiotou S et al.

(2019)

,

EP507 Has the robot been beneficial to endometrial cancer patients? A prospective quality improvement project at a london gynae-oncology tertiary centre

ePoster

Drymiotou S, Dokmeci A, Chandrasekaran D et al.

(2019)

,

EP510 Robotic surgery: does high body mass index (BMI) matter?

ePoster

Manchanda R, Burnell M, Gaba F et al.

(2019)

,

Randomised trial of unselected BRCA testing in ashkenazi jews: long term outcomes and factors affecting uptake of testing

Best Oral/Late-Breaking Abstracts 4 – Miscellaneous

Sun L, Brentnall A, Patel S et al.

(2019)

,

Should we offer multi-gene testing to all patients with breast cancer: a cost-effectiveness analysis

Oral Communication 4 – Gynaecological Cancer

Sun L, Brentnall A, Patel S et al.

(publicationYear)

,

A Cost-effectiveness Analysis of Multigene Testing for All Patients with Breast Cancer

$nameOfConference

Manchanda R, Sun L, Patel S et al.

(2019)

,

10 Global economic evaluation of population-based BRCA1/BRCA2 mutation testing

Plenary sessions

Sun L, Brentnall A, Patel S et al.

(2019)

,

66 Should we offer multi-gene testing to all patients with breast cancer: a cost-effectiveness analysis

$nameOfConference

Manchanda R, Burnell M, Gaba F et al.

(2019)

,

81 Attitude towards and factors affecting uptake of population based BRCA testing in ashkenazi jews: a cohort study

E-Poster discussions

Tan A, Rivas C, Yorke S et al.

(2019)

,

Variation in the outcome reported by studies of interventions for atypical endometrial hyperplasia: a systematic review (the first step in the development of CRUK-funded Core Outcome Sets)

RCOG World Congress 2019

Tan A, Rivas C, Yorke S et al.

(2019)

,

Key patient outcomes on studies managing atypical endometrial hyperplasia and endometrial cancer: two sets of patient workshops and semi-structured interviews (the second step in the development of CRUK-funded Core Outcome Sets)

$nameOfConference

Tan A, Rivas C, Yorke S et al.

(2019)

,

Variation in the outcome reported by studies of fertility-sparing interventions for atypical endometrial hyperplasia and early endometrial cancer: a systematic review (the first step in the development of CRUK-funded Core Outcome Sets)

$nameOfConference

Tan A, Rivas C, Yorke S et al.

(2019)

,

Variation in the outcome reported by studies of interventions for endometrial cancer: a systematic review (the first step in the development of CRUK-funded Core Outcome Sets)

$nameOfConference

Cohen PA, Powell A, Böhm S et al.

(2019)

,

Pathological chemotherapy response score is prognostic in tubo-ovarian high-grade serous carcinoma: A systematic review and meta-analysis of individual patient data

$nameOfConference

Cohen P, Powell A, Böhm S et al.

(2019)

,

Pathological Chemotherapy Response Score Predicts Survival in Patients with Advanced Ovarian Cancer Receiving Neoadjuvant Chemotherapy: Systematic Review and Meta-Analysis of Individual Patient Data

$nameOfConference

Crosbie E, MANCHANDA R, Manchester International Consensus Group

(2019)

,

The Manchester International Consensus Group recommendations for the management of gynecological cancers in Lynch syndrome

$nameOfConference

GABA F, Piek J, Menon U et al.

(2019)

,

Risk reducing early salpingectomy and delayed oophorectomy as a two staged alternative for primary prevention of ovarian cancer in increased risk women: a commentary

$nameOfConference

MANCHANDA R, GABA F

(2019)

,

A commentary on population genetic testing for primary prevention: changing landscape and the need to change paradigm

$nameOfConference

Koutoukidis D, Beeken R, MANCHANDA R et al.

(2019)

,

Diet, physical activity, and health-related outcomes of endometrial cancer survivors in a behavioural lifestyle programme: the Diet and Exercise in Uterine Cancer Survivors (DEUS) parallel randomised controlled pilot trial

$nameOfConference

MANCHANDA R, Matthew B, GABA F et al.

(2019)

,

Attitude towards and factors affecting uptake of population based BRCA testing in the Ashkenazi Jewish population: a cohort study

$nameOfConference

Osman M, Chandrasekaran D, Musa E et al.

(2018)

,

Evaluation of the diagnostic hysteroscopy service in gynaecology oncology

National Trainees Conference 2018

MANCHANDA R, GABA F

(2018)

,

Population Based Testing for Primary Prevention: A Systematic Review

$nameOfConference

Puntambekar S, MANCHANDA R

(2018)

,

Surgical pelvic anatomy in gynecologic oncology.

$nameOfConference

Manchanda R, Gaba F

(2018)

,

Population Based Testing for Primary Prevention: A Systematic Review

$nameOfConference

MANCHANDA R, Legood R

(publicationYear)

,

Population based germline testing for primary cancer prevention

$nameOfConference

Jiang J, Phadnis S, Miller R et al.

(2018)

,

DISTANT RECURRENCES ARE COMMON FOLLOWING PELVIC EXENTERATION FOR MALIGNANCY OF NON-CERVICAL ORIGIN

$nameOfConference

Jiang J, Phadnis S, Miller R et al.

(2018)

,

OUTCOMES OF BOWEL RESECTIONS DURING SURGICAL CYTOREDUCTION OF ADVANCED STAGE OVARIAN CANCER: SHOULD WE BE WORKING TOWARDS REDUCING STOMA RATES?

$nameOfConference

Singh N, Piskorz A, Bosse T et al.

(2018)

,

P53 IMMUNOHISTOCHEMISTRY AS A SURROGATE FOR TP53 MUTATIONAL ANALYSIS IN ENDOMETRIAL CANCER BIOPSIES

$nameOfConference

Sundar S, Kumar S, Long J et al.

(2018)

,

PATIENT REPORTED OUTCOMES (PRO) AFTER SURGERY IN ADVANCED OVARIAN CANCER - INITIAL RESULTS FROM THE INTERNATIONAL, PROSPECTIVE, MULTICENTER SOCQER 2 STUDY

$nameOfConference

Farrag A, Light M, Sahdev A et al.

(2018)

,

SOLITARY RECURRENCE OF SQUAMOUS CELL CARCINOMA OF THE CERVIX IN THE OMENTUM - MANAGEMENT OF AN UNUSUAL PRESENTATION

$nameOfConference

Manchanda R, Blyuss O, Gaba F et al.

(2018)

,

Current detection rates and time-to-detection of all identifiable BRCA carriers in the Greater London population

$nameOfConference

Yang X, Leslie G, Gentry-Maharaj A et al.

(2018)

,

Evaluation of polygenic risk scores for ovarian cancer risk prediction in a prospective cohort study

$nameOfConference

Vazquez MA, Marino IP, BLYUSS O et al.

(2018)

,

A quantitative performance study of two automatic methods for the diagnosis of ovarian cancer

$nameOfConference

BLYUSS O, Burnell M, Ryan A et al.

(2018)

,

Comparison of longitudinal CA125 algorithms as a first line screen for ovarian cancer in the general population

$nameOfConference

Manchanda R, Patel S, Gordeev VS et al.

(2018)

,

Cost-effectiveness of population-based BRCA1, BRCA2, RAD51C, RAD51D, BRIP1, PALB2 mutation testing in unselected general population women

$nameOfConference

Chuang L, Berek J, Randall T et al.

(2018)

,

Collaborations in gynecologic oncology education and research in low- and middle- income countries: Current status, barriers and opportunities

$nameOfConference

Mariño IP, Vázquez MA, Blyuss O et al.

(2018)

,

Diagnosis of ovarian cancer based on longitudinal measurements of multiple biomarkers

$nameOfConference

Crusz SM, Chandrasekaran D, Phadnis S et al.

(2018)

,

Outcome of patients undergoing delayed debulking surgery (DDS) in advanced ovarian cancer (OC).

$nameOfConference

Chandrasekaran D, Manchanda R

(2018)

,

Germline & somatic genetic testing in ovarian cancer patients.

$nameOfConference

Patel S, Legood R, Evans DG et al.

(2018)

,

Cost effectiveness of population based BRCA1 founder mutation testing in Sephardi Jewish women

$nameOfConference

MANCHANDA R, Menon U

(2018)

,

Setting the threshold for surgical prevention in women at increased risk of ovarian cancer

$nameOfConference

Meisel SF, Freeman M, Waller J et al.

(2017)

,

Impact of a decision aid about stratified ovarian cancer risk-management on women's knowledge and intentions: a randomised online experimental survey study

$nameOfConference

Manchanda R, Patel S, Antoniou AC et al.

(2017)

,

Cost-effectiveness of population based BRCA testing with varying Ashkenazi Jewish ancestry

$nameOfConference

Manchanda R, Gaba F, Bottla K et al.

(2017)

,

PREDICTING RISK OF OVARIAN MALIGNANCY IMPROVED SCREENING AND EARLY DETECTION FEASIBILITY STUDY (PROMISE-FS)

$nameOfConference

Koutoukidis DA, Beeken RJ, Manchanda R et al.

(2017)

,

Recruitment, adherence, and retention of endometrial cancer survivors in a behavioural lifestyle programme: The Diet and Exercise in Uterine Cancer Survivors (DEUS) parallel randomised pilot trial

$nameOfConference

Gan C, Chenoy R, Chandrasekaran D et al.

(2017)

,

Persistence of fimbrial tissue on the ovarian surface after salpingectomy

$nameOfConference

Rosenthal AN, Fraser LSM, Philpott S et al.

(2017)

,

Evidence of Stage Shift in Women Diagnosed with Ovarian Cancer during Phase II of the United Kingdom Familial Ovarian Cancer Screening Study

$nameOfConference

Bansal JK, Goldrick IG, Manchanda R et al.

(2017)

,

Rapid-access gynecological oncology clinic outcomes in North London, UK

$nameOfConference

MANCHANDA R, Legood R, Antoniou AC et al.

(2017)

,

Changing the Risk Threshold for Surgical Prevention of Ovarian Cancer

$nameOfConference

Rosenthal AN, Fraser LSM, Philpott S et al.

(2017)

,

Evidence of Stage Shift in Women Diagnosed With Ovarian Cancer During Phase II of the United Kingdom Familial Ovarian Cancer Screening Study.

$nameOfConference

Johnston C, Ng JS, Manchanda R et al.

(2017)

,

Variations in gynecologic oncology training in low (LIC) and middle income (MIC) countries (LMICs): Common efforts and challenges

$nameOfConference

Manchanda R

(2017)

,

Opportunistic salpingectomy for prevention of ovarian cancer

$nameOfConference

Gan C, Bossart M, Piek J et al.

(2017)

,

Robotic and Advanced Laparoscopic Surgical Training in European Gynecological Oncology Trainees.

$nameOfConference

Koutoukidis DA, Beeken RJ, Manchanda R et al.

(2017)

,

Erratum: Diet and exercise in uterine cancer survivors (DEUS pilot) - piloting a healthy eating and physical activity program: Study protocol for a randomized controlled trial. [Trials. (2016), 17, (130)], DOI: 10.1186/s13063-016-1260-1

$nameOfConference

Gaba FM, Manchanda R, Gaba FM et al.

(2017)

,

Genetic testing for gynaecological cancer

$nameOfConference

Burnell M, Iyer R, Gentry-Maharaj A et al.

(2016)

,

Benchmarking of surgical complications in gynaecological oncology: Prospective multicentre study

$nameOfConference

Pennington M, Gentry-Maharaj A, Karpinskyj C et al.

(2016)

,

Long-Term Secondary Care Costs of Endometrial Cancer: A Prospective Cohort Study Nested within the United Kingdom Collaborative Trial of Ovarian Cancer Screening (UKCTOCS).

$nameOfConference

La Russa M, Biliatis I, Brockbank E et al.

(2016)

,

CONSERVATIVE TREATMENT FOR FERTILITY SPARING IN YOUNG WOMEN WITH ENDOMETRIAL CANCER AND ATYPICAL HYPERPLASIA. RESULTS FROM A ON GOING PROSPECTIVE SINGLE CENTRE STUDY

16th biennial International Gynecologic Cancer Society (IGCS) meeting

Manchanda R, Gordeev V, Antoniou A et al.

(2016)

,

Cost-effectiveness of systematic population based screening for BRCA1, BRCA2, RAD51C, RAD51D and BRIP1 gene mutations in unselected general population women

16th Biennial Meeting of the International Gynecologic Cancer Society (IGCS 2016)

Phadnis S, Vali S, Oram D et al.

(2016)

,

Enhanced recovery after major gynaecological oncology surgery: Are we meeting the standards?

$nameOfConference

Phadnis S, Lawrence A, Oram D et al.

(2016)

,

Morbidity and mortality following major surgery for gynaecological malignancy: A prospective observational study from a cancer centre in London

$nameOfConference

Kumar S, Long J, Rudge G et al.

(2016)

,

SOCQER-2 Study: Preliminary analysis of multicentre recruitment after surgery in advanced ovarian cancer

16th biennial International Gynecologic Cancer Society (IGCS) meeting, Lisbon, Portugal

Phadnis S, Korompelis P, Iamprou C et al.

(2016)

,

Surgical and oncological outcome of morbidly obese (BMI > 40) women having laparoscopic surgery for early stage endometrial cancer

$nameOfConference

Manchanda R, Legood R, Antoniou AC et al.

(2016)

,

Specifying the ovarian cancer risk threshold of 'premenopausal risk-reducing salpingooophorectomy' for ovarian cancer prevention: A cost-effectiveness analysis

$nameOfConference

Manchanda R, Burnell M, Loggenberg K et al.

(2016)

,

Cluster-randomised non-inferiority trial comparing DVD-assisted and traditional genetic counselling in systematic population testing for BRCA1/2 mutations

$nameOfConference

Chuang LT, Randall TC, Denny L et al.

(2016)

,

Sister Society Meeting on Global Education Development and Collaboration: Meeting Report

$nameOfConference

Manchanda R, Cibula D

(2016)

,

Ovarian Cancer Screening There May Be Light at the End of the Tunnel?

$nameOfConference

Koutoukidis DA, Beeken RJ, Manchanda R et al.

(2016)

,

Diet and exercise in uterine cancer survivors (DEUS pilot) - piloting a healthy eating and physical activity program: Study protocol for a randomized controlled trial

$nameOfConference

MANCHANDA R, Menon U

(2016)

,

Opportunistic bilateral salpingectomy (OBS) for the prevention of ovarian cancer should be offered in the context of a clinical trial FOR: There is lack of clarity on a number of key issues

$nameOfConference

Manchanda R, Jacobs I

(2016)

,

Genetic screening for gynecological cancer: Where are we heading?

$nameOfConference

Manchanda R, Chandrasekaran D, Saridogan E et al.

(2016)

,

Should Opportunistic Bilateral Salpingectomy (OBS) for Prevention of Ovarian Cancer Be Incorporated into Routine Care or Offered in the Context of a Clinical Trial?

$nameOfConference

Blyuss KB, MANCHANDA R, Kurths J et al.

(2016)

,

Systems Medicine of Cancer: Bringing Together Clinical Data and Nonlinear Dynamics of Genetic Networks

$nameOfConference

Dilley J, Manchanda R, Johnson M et al.

(2016)

,

Importance of serial CA125 measurements over an absolute cut-off value for the detection of asymptomatic ovarian cancer in high-risk patients

$nameOfConference

Manchanda R, Legood R, Pearce L et al.

(2015)

,

Defining the risk threshold for risk reducing salpingo-oophorectomy for ovarian cancer prevention in low risk postmenopausal women

$nameOfConference

Manchanda R, Loggenberg K, Burnell M et al.

(2015)

,

A NON-INFERIORITY CLUSTER RANDOMISED TRIAL COMPARING TRADITIONAL FACE-TO-FACE AND DVD-BASED GENETIC COUNSELLING IN SYSTEMATIC POPULATION BASED BRCA1/2 TESTING

$nameOfConference

Chandrasekaran D, Menon U, Evans G et al.

(2015)

,

Risk Reducing Salpingectomy and Delayed Oophorectomy in high risk women: views of cancer geneticists, genetic counsellors and gynaecological oncologists in the UK

$nameOfConference

Chandrasekaran D, Menon U, Evans G et al.

(2015)

,

Risk reducing salpingectomy and delayed oophorectomy in high risk women: views of cancer geneticists, genetic counsellors and gynaecological oncologists in the UK

$nameOfConference

Iyer R, Gentry-Maharaj A, Nordin A et al.

(2015)

,

Predictors of complications in gynaecological oncological surgery: A prospective multicentre study (UKGOSOC - UK gynaecological oncology surgical outcomes and complications)

$nameOfConference

Jervis S, Song H, Lee A et al.

(2015)

,

A risk prediction algorithm for ovarian cancer incorporating BRCA1, BRCA2, common alleles and other familial effects

$nameOfConference

Manchanda R, Legood R, Burnell M et al.

(2015)

,

Cost-effectiveness of population screening for BRCA mutations in Ashkenazi Jewish women compared with family history-based testing

$nameOfConference

Manchanda R, Loggenberg K, Sanderson S et al.

(2015)

,

Population testing for cancer predisposing BRCA1/BRCA2 mutations in the ashkenazi-jewish community: A randomized controlled trial

$nameOfConference

Piek J, Bossart M, Boor K et al.

(2015)

,

The work place educational climate in gynecological oncology fellowships across Europe the impact of accreditation

$nameOfConference

Manchanda R, Legood R, Burnell M et al.

(2014)

,

POPULATION-BASED TESTING FOR BRCA MUTATIONS (COMPARED TO FAMILY-HISTORY BASED TESTING) MAY BE COST SAVING IN ASHKENAZI-JEWS: A HEALTH-ECONOMICS DECISION ANALYTICAL MODEL

$nameOfConference

Philpott S, Rizzuto I, Fraser L et al.

(2013)

,

DETECTION OF NON-OVARIAN CANCERS ON PHASE 2 OF THE UK FAMILIAL OVARIAN CANCER SCREENING STUDY (UKFOCSS)

$nameOfConference

Rosenthal AN, Fraser L, Philpott S et al.

(2013)

,

RESULTS OF INTENSIVE ALGORITHM-BASED SCREENING IN THE UK FAMILIAL OVARIAN CANCER SCREENING STUDY (UK FOCSS PHASE 2)

$nameOfConference

Manchanda R, Halaska MJ, Piek JM et al.

(2013)

,

The need for more workshops in laparoscopic surgery and surgical anatomy for european gynaecological oncology trainees: A survey by the european network of young gynaecological oncologists

$nameOfConference

Rosenthal AN, Fraser L, Philpott S et al.

(2013)

,

Final results of 4-monthly screening in the UK Familial Ovarian Cancer Screening Study (UKFOCSS Phase 2)

$nameOfConference

Rosenthal AN, Fraser L, Philpott S et al.

(2013)

,

Final results of 4-monthly screening in the UK Familial Ovarian Cancer Screening Study (UKFOCSS Phase 2).

$nameOfConference

Kalsi JK, Manchanda R, Menon U

(2013)

,

Screening for gynecological cancers

$nameOfConference

Rosenthal AN, Fraser L, Manchanda R et al.

(2013)

,

Results of annual screening in phase I of the United Kingdom familial ovarian cancer screening study highlight the need for strict adherence to screening schedule

$nameOfConference

Manchanda R, Godfrey M, Wong-Taylor LA et al.

(2013)

,

The need for accredited training in gynaecological oncology: A report from the european network of young gynaecological oncologists (ENYGO)

$nameOfConference

Manchanda R, Drapkin R, Menon U

(2013)

,

There is a need for routine peritoneal cytology at RRSO

$nameOfConference

Manchanda R, Saridogan E, Abdelraheim A et al.

(2012)

,

Annual outpatient hysteroscopy and endometrial sampling (OHES) in HNPCC/Lynch syndrome (LS)

$nameOfConference

Fourkala EO, Gentry-Maharaj A, Burnell M et al.

(2012)

,

Histological confirmation of breast cancer registration and self-reporting in England and Wales: A cohort study within the UK Collaborative Trial of Ovarian Cancer Screening

$nameOfConference

Manchanda R, Silvanto A, Abdelraheim A et al.

(2012)

,

Diathermy-induced injury may affect detection of occult tubal lesions at risk-reducing salpingo-oophorectomy

$nameOfConference

Menon U, Kalsi J, Jacobs I et al.

(2012)

,

International conference on ovarian cancer screening 29th-30th November 2011, Royal College of Physicians, London

$nameOfConference

Manchanda R, Burnell M, Abdelraheim A et al.

(2012)

,

Factors influencing uptake and timing of risk reducing salpingo- oophorectomy in women at risk of familial ovarian cancer: A competing risk time to event analysis

$nameOfConference

Gentry-Maharaj A, Kalsi J, Burnell M et al.

(2012)

,

Screening of symptomatic women for ovarian cancer

$nameOfConference

Vaes E, Manchanda R, Autier P et al.

(2012)

,

Differential diagnosis of adnexal masses: Sequential use of the risk of malignancy index and HistoScanning, a novel computer-aided diagnostic tool

$nameOfConference

Brantnerova R, Manchanda R, Colombo N

(2012)

,

The European society of gynaecological oncology: update on objectives and educational and research activities.

$nameOfConference

Manchanda R, Drapkin R, Jacobs I et al.

(2012)

,

The role of peritoneal cytology at risk-reducing salpingo-oophorectomy (RRSO) in women at increased risk of familial ovarian/tubal cancer

$nameOfConference

Gultekin M, Dursun P, Vranes B et al.

(2011)

,

Gynecologic oncology training systems in Europe: A report from the European network of young gynaecological oncologists

$nameOfConference

Manchanda R, Abdelraheim A, Johnson M et al.

(2011)

,

Outcome of risk-reducing salpingo-oophorectomy in BRCA carriers and women of unknown mutation status

$nameOfConference

(2011)

,

Cross-sectional imaging

$nameOfConference

Vaes E, Manchanda R, Nir R et al.

(2011)

,

Mathematical models to discriminate between benign and malignant adnexal masses: Potential diagnostic improvement using ovarian histoscanning

$nameOfConference

Jacobs I, Gentry-Maharaj A, Burnell M et al.

(2011)

,

Sensitivity of transvaginal ultrasound screening for endometrial cancer in postmenopausal women: A case-control study within the UKCTOCS cohort

$nameOfConference

Pichert G, Jacobs C, Jacobs I et al.

(2010)

,

Novel one-stop multidisciplinary follow-up clinic significantly improves cancer risk management in BRCA1/2 carriers

$nameOfConference

Vaes E, Manchanda R, Nir R et al.

(2009)

,

1329 A sequential use of the Risk of Malignancy Index and Ovarian HistoScanning for the differential diagnosis of adnexal masses

$nameOfConference

Manchanda R, Rosenthal A, Burnell M et al.

(2009)

,

Change in stage distribution observed with annual screening for ovarian cancer in BRCA carriers

$nameOfConference

Manchanda R, Menon U, Michaelson-Cohen R et al.

(2009)

,

Hereditary non-polyposis colorectal cancer or Lynch syndrome: The gynaecological perspective

$nameOfConference

Manchanda R, Baldwin P, Crawford R et al.

(2009)

,

Is close follow up feasible for high-risk cervical premalignant lesion in developing countries? Author's reply

$nameOfConference

Manchanda R, Baldwin P, Crawford R et al.

(2008)

,

Effect of margin status on cervical intraepithelial neoplasia recurrence following LLETZ in women over 50 years

$nameOfConference

Manchanda R, Palep-Singh M, Prentice A

(2008)

,

Can uterine artery embolisation affect endometrial perfusion and function

$nameOfConference

Manchanda R, Kriplani A

(2005)

,

Giant malignant ovarian tumor: A case report

$nameOfConference

Manchanda R, Sriemevan A

(2005)

,

Anaphylactoid syndrome caused by amniotic fluid embolism following manual removal of placenta

$nameOfConference

Manchanda R, Refaie A

(2005)

,

Acute pneumoperitoneum following coitus.

$nameOfConference

Manchanda R, Varma R, Anya I et al.

(2004)

,

Representation of authors and editors from poor countries [1] (multiple letters)

$nameOfConference

Manchanda R, Varma R

(2004)

,

Representation of authors and editors from poor countries: observed publication bias may reflect who is funding research.

$nameOfConference

Kriplani A, Agarwal N, Parul et al.

(2003)

,

Bilateral seminomas in a 45X/46XY mosaic with Turner's phenotype: An unusual case of mixed gonadal dysgenesis

$nameOfConference

Kriplani A, Manchanda R, Nath J et al.

(2002)

,

A randomized trial of danazol pretreatment prior to endometrial resection

$nameOfConference

Kriplani A, Manchanda R, Monga D et al.

(2001)

,

Depot medroxy progesterone acetate: A poor preparatory agent for endometrial resection

$nameOfConference

Kriplani A, Agarwal N, Roy KK et al.

(2001)

,

Laparoscopic management of Sertoli-Leydig cell tumors of the ovary: A report of two cases

$nameOfConference

Kriplani A, Manchanda R, Agarwal N et al.

(2001)

,

Laparoscopic ovarian drilling in clomiphene citrate-resistant women with polycystic ovary syndrome

$nameOfConference
Supervision
Xia Wei: Decision Analysis and Economic Modelling for Ovarian Cancer Prevention. Funding: Rosetrees Trust and China Medical Board
Samuel Oxley: Prevention of Endometrial Cancer. Funding: Rosetrees Trust
Jyotsna Pundir: Role of Myo-inositol in Poly Cystic Ovary Syndrome. Funding: Self funded
Dhivya Chandrasekaran: Implementation of unselected germline and somatic genetic testing in epithelial ovarian cancer delivered through a cancer-multidisciplinary pathway. Funding: Barts Charity
Faiza Gaba: Targeted Prevention of Ovarian Cancer. Funding: Rosetrees Trust and Barts Charity