Professor Fiona Walter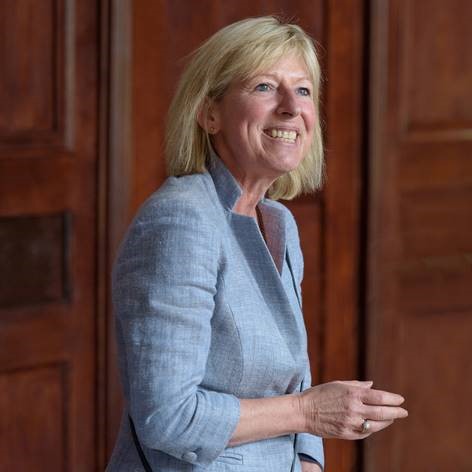 Director of the Wolfson Institute of Population Health, and Professor of Primary Care Cancer Research
Email: fiona.walter@qmul.ac.uk Telephone: +44 (0)207 882 2515
Profile
As Director of the Wolfson Institute of Population Health, I am responsible for the strategic leadership of the Institute's research and education.
I also co-lead the WIPH's Cancer Detection and Diagnosis Unit with Professor Stephen Duffy. Our objective is to deliver world-class research focusing on the cancer pathway, from prevention, screening, early detection and diagnostics to pre-treatment care; we also focus on translating genetics advances into primary care. I have won research grants totalling more than £35 million in the UK and AU$8 million in Australia, and published over 220 peer-reviewed articles. I co-lead the CanTest Collaborative, Cancer Research UK's first Catalyst award, aiming to accelerate progress towards improving cancer outcomes by focussing on the transformative implementation in primary care of tests to support early detection of cancer. I am also co-investigator on the £5m NIHR Policy Research Unit in Cancer Awareness, Screening and Early Diagnosis, led by Professor Stephen Duffy.
Current UK research leadership roles include membership of Cancer Research UK's Early Detection and Diagnosis and Clinical Academic Committees. I have an honorary post at the University of Cambridge's Primary Care Unit in the Department of Public Health and Primary Care and continue to supervise students and completing studies. My international work is marked by an honorary academic role at the University of Melbourne, Australia, where I contribute to parallel programmes of work on improving outcomes for cancer patients. I also co-lead research in South Africa and Zimbabwe with a NIHR Global Research Group 'Advancing Early Diagnosis of Cancer across Southern Africa, and contribute to research in Europe and the US. My educational and capacity building work is marked by the setting up and delivery of the CanTest International School in Cancer Detection Research in Primary Care.
PA to the directors office: Vesna Florijancic
Research
Research Interests:
My research expertise lies across the primary care research spectrum and includes randomised controlled trials, cohort studies and systematic reviews; I have a particular interest in patient experiences and qualitative and mixed methods approaches.
Publications
Please click through to see a complete list of Fiona's publications
Outstanding publications
Funston G, Hamilton W, Abel GAA, Crosbie EJ, Rous B, Walter FM. The diagnostic performance of CA125 for the detection of ovarian and non-ovarian cancer in primary care: A population-based cohort study. PLoS Med 2020; 17(10):e1003295.

Fitzgerald RC, Di Pietro M, O'Donovan M, Maroni R, Muldrew B, Debiram-Beecham, Gehrung M, Offman J, Tripathi M, Smith S, Aigret B, Walter FM, Rubin G, on behalf of the BEST3 Trial team, Sasieni P. Cytosponge-trefoil factor 3 versus usual care to identify Barrett's oesophagus in a primary care setting: a multicentre, pragmatic, randomised controlled trial. Lancet 2020.
Freeman K, Dinnes J, Chuchu N, Takwoingi Y, Bayliss SE, Matin RN, Jain A, Walter FM, Williams HC, Deeks, JJ. Algorithm based smartphone apps to assess risk of skin cancer in adults: systematic review of diagnostic accuracy studies. Brit Med J, 2020 Feb 10;368:m127.
Walter FM, Thompson MJ, Wellwood I, Abel GA, Hamilton W, Johnson M, Lyratzopoulos G, Messenger M, Neal R, Rubin G, Singh H, Spencer A, Sutton S, Vedsted P, Emery JD. Evaluating diagnostic strategies for early detection of cancer in primary care: the CanTest framework. BMC Cancer, 2019;19:586.
Lee A, Mavaddat N, Wilcox AN, Cunningham A, Carver T, Hartley S, Babb de Villiers C, Izquierdo A, Simard J, Schmidt MK, Walter FM, Garcia-Closas M, Tischkowitz M, Pharoah P, Easton DF, Antoniou AC. BOADICEA: a comprehensive breast cancer risk prediction model incorporating genetic and non-genetic risk factors. Genet Med, 2019 Aug;21(8):1708-1718. Published online 2019 Feb 18.
Walter FM, Emery JD, Mendonca S, Hall N, Morris HC, Mills K, Dobson C, Bankhead C, Johnson M, Abel G, Rutter M, Hamilton W, Rubin GP. Symptoms and patient factors associated with longer time to diagnosis for colorectal cancer: results from a prospective cohort study. Brit J Cancer, 2016;115(5):533-541.
Rubin G, Berendsen A, Crawford SM, Dommett R, Earle C, Emery J, Fahey T, Grassi L, Grunfeld E, Gupta S, Hamilton W, Hiom S, Hunter D, Lyratzopoulos G, Macleod U, Mason R, Mitchell G, Neal RD, Peake M, Roland M, Seifert B, Sisler J, Sussman J, Taplin S, Vedsted P, Voruganti T, Walter FM, Wardle J, Watson E, Weller D, Wender R, Whelan J, Whitlock J, Wilkinson C, de Wit N, Zimmermann C. The expanding role of primary care in cancer control. Lancet Oncol, 2015 Sep;16(12):1231-1272.
Walter FM, Rubin G, Bankhead C, Morris HC, Hall N, Mills K, Dobson C, Rintoul R, Hamilton W, Emery J. First symptoms and other factors associated with time to presentation and diagnosis and stage at diagnosis of lung cancer: a prospective cohort study. Brit J Cancer, 2015 Mar 31;112:S6-S13.
Walter FM, Morris HC, Humphrys E, Hall PN, Kinmonth A, Prevost A, Wilson EC, Burrows N, Norris P, Johnson M, Emery J. Effect of adding a diagnostic aid to best practice to manage suspicious pigmented lesions in primary care: randomised controlled trial. Brit Med J, 2012;345:e4110.
Weller D, Vedsted P, Rubin G, Walter FM, Emery J, Scott S, Campbell C, Andersen RS, Hamilton W, Olesen F, Rose P, Nafees S, van Rijswijk E, Hiom S, Muth C, Beyer M, Neal RD. The Aarhus statement: improving design and reporting of studies on early cancer diagnosis. Br J Cancer, 2012;106(7):1262-126.
Supervision
Dr Owain Jones, Cancer Research UK. 'Understanding and implementing technology, artificial intelligence and deep learning to improve melanoma assessment in primary care settings.'
Victoria Hardy, CanTest- Cancer Research UK. 'Understanding cancer diagnostic pathways for people presenting in primary care with abdominal pain.'
Dr Sam Merriel, CanTest- Cancer Research UK. 'Understanding whether mpMRI can be utilised in primary care to improve prostate cancer diagnosis.'
Dr Yin Zhou, Welcome GP DTF. 'Improving the diagnostic process for patients with bladder and kidney cancer.'