Professor Christopher Griffiths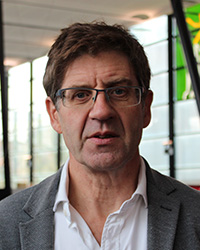 Professor of Primary Care
Email: c.j.griffiths@qmul.ac.ukTelephone: +44 (0)20 7882 2501
Profile
Chris Griffiths is Professor of Primary Care at Barts and The London School of Medicine and Dentistry at Queen Mary University of London, Co-Director of the Asthma UK Centre for Applied Research, Visiting Professor at the University of Edinburgh, Principal Investigator at the MRC-Asthma UK Centre for Allergic Mechanisms in Asthma, Population Health Theme Lead for the NIHR Applied Research Collaboration North Thames, Fellow of the Royal College of Physicians, Fellow of the Royal College of General Practitioners, and Fellow of the Academy of Medical Sciences.
He read Physiological Sciences at Keble College, Oxford, and completed a D.Phil on the endocrine control of gut function at Green Templeton College, Oxford. He qualified at King's School of Medicine and Dentistry, Kings College London. He has been a general practitioner since 1992. Outside work he enjoys alpine mountaineering, triathlons and beekeeping.
Research
Research Interests:
Chris Griffiths leads research programmes addressing air pollution and health effects, asthma and respiratory disease, infectious disease including tuberculosis, HIV and hepatitis, vitamin D biology and domestic violence. He has a published over 35 trials and meta-analyses of trials. He leads the NIHR-funded evaluation of the London Ultra Low Emission Zone.
Research Groups: Translational Research
Publications
Selected recent publications:
Mudway IS, Dundas I, Wood HE, et al. Impact of London's low emission zone on air quality and children's respiratory health: a sequential annual cross-sectional study. Lancet Public Health 2019;4(1):e28-e40. doi: 10.1016/S2468-2667(18)30202-0 [published Online First: 2018/11/19]
Flanagan S, Kunkel J, Appleby V, et al. Case finding and therapy for chronic viral hepatitis in primary care (HepFREE): a cluster-randomised controlled trial. Lancet Gastroenterol Hepatol 2019;4(1):32-44. doi: 10.1016/S2468-1253(18)30318-2 [published Online First: 2018/11/28]
Jolliffe DA, Greenberg L, Hooper RL, et al. Vitamin D to prevent exacerbations of COPD: systematic review and meta-analysis of individual participant data from randomised controlled trials. Thorax 2019;74(4):337-45. doi: 10.1136/thoraxjnl-2018-212092 [published Online First: 2019/01/12]
Griffiths CJ, Mudway IS. Air pollution and cognition. BMJ 2018;363:k4904. doi: 10.1136/bmj.k4904 [published Online First: 2018/11/30]
Abubakar I, Drobniewski F, Southern J, et al. Prognostic value of interferon-gamma release assays and tuberculin skin test in predicting the development of active tuberculosis (UK PREDICT TB): a prospective cohort study. Lancet Infect Dis 2018;18(10):1077-87. doi: 10.1016/S1473-3099(18)30355-4 [published Online First: 2018/09/04]
Joglekar S, Sastry N, Coulson NS, et al. How Online Communities of People With Long-Term Conditions Function and Evolve: Network Analysis of the Structure and Dynamics of the Asthma UK and British Lung Foundation Online Communities. J Med Internet Res 2018;20(7):e238. doi: 10.2196/jmir.9952 [published Online First: 2018/07/13]
Martineau AR, Jolliffe DA, Hooper RL, et al. Vitamin D supplementation to prevent acute respiratory tract infections: systematic review and meta-analysis of individual participant data. BMJ 2017;356:i6583. doi: 10.1136/bmj.i6583 [published Online First: 2017/02/17]
Jolliffe DA, Greenberg L, Hooper RL, et al. Vitamin D supplementation to prevent asthma exacerbations: a systematic review and meta-analysis of individual participant data. Lancet Respir Med 2017;5(11):881-90. doi: 10.1016/S2213-2600(17)30306-5 [published Online First: 2017/10/08]
Pinnock H, Barwick M, Carpenter CR, et al. Standards for Reporting Implementation Studies (StaRI) Statement. BMJ 2017;356:i6795. doi: 10.1136/bmj.i6795 [published Online First: 2017/03/08]
Narasimhan VM, Hunt KA, Mason D, et al. Health and population effects of rare gene knockouts in adult humans with related parents. Science 2016;352(6284):474-7. doi: 10.1126/science.aac8624 [published Online First: 2016/03/05]
Baggaley RF, Irvine MA, Leber W, et al. Cost-effectiveness of screening for HIV in primary care: a health economics modelling analysis. Lancet HIV 2017;4(10):e465-e74. doi: 10.1016/S2352-3018(17)30123-6 [published Online First: 2017/08/05]
Leber W, McMullen H, Anderson J, et al. Promotion of rapid testing for HIV in primary care (RHIVA2): a cluster-randomised controlled trial. Lancet HIV 2015;2(6):e229-35. doi: 10.1016/S2352-3018(15)00059-4 [published Online First: 2015/10/02]
Martineau AR, James WY, Hooper RL, et al. Vitamin D3 supplementation in patients with chronic obstructive pulmonary disease (ViDiCO): a multicentre, double-blind, randomised controlled trial. Lancet Respir Med 2015;3(2):120-30. doi: 10.1016/S2213-2600(14)70255-3 [published Online First: 2014/12/06]
Nwokoro C, Pandya H, Turner S, et al. Intermittent montelukast in children aged 10 months to 5 years with wheeze (WAIT trial): a multicentre, randomised, placebo-controlled trial. The Lancet Respiratory Medicine 2014;2(10):796-803. doi: 10.1016/S2213-2600(14)70186-9
Martineau AR, Timms PM, Bothamley GH, et al. High-dose vitamin D(3) during intensive-phase antimicrobial treatment of pulmonary tuberculosis: a double-blind randomised controlled trial. Lancet 2011;377(9761):242-50. doi: 10.1016/S0140-6736(10)61889-2 [published Online First: 2011/01/11]
Feder G, Davies RA, Baird K, et al. Identification and Referral to Improve Safety (IRIS) of women experiencing domestic violence with a primary care training and support programme: a cluster randomised controlled trial. Lancet 2011;378(9805):1788-95. doi: 10.1016/S0140-6736(11)61179-3 [published Online First: 2011/10/18]
Griffiths C, Sturdy P, Brewin P, et al. Educational outreach to promote screening for tuberculosis in primary care: a cluster randomised controlled trial. Lancet 2007;369(9572):1528-34. doi: 10.1016/S0140-6736(07)60707-7 [published Online First: 2007/05/08]
---
View all Christopher Griffiths's Research Publications at: www.researchpublications.qmul.ac.uk