Thank you for considering an application
To apply you'll need to:
Make note of the Queen Mary institution code: Q50
Make note of your chosen course UCAS code:

Physics

F300 — BSc (Hons)
FFX0 — BSc (Hons) with Foundation
F306 — BSc (Hons) with Professional Experience
F302 — BSc (Hons) with Year Abroad
F303 — MSci (Hons)
F307 — MSci (Hons) with Professional Experience
F301 — MSci (Hons) with Year Abroad

Click on the link below:
7 study options
Overview
Physics is the study of the universe - exploring the basic rules that dictate the behaviour of matter and energy, from subatomic particles to the evolution of galaxies.
In the first year you'll build a solid foundation in both theoretical and experimental physics. Over subsequent years you'll have access to the School's full range of expertise in physics and astronomy, choosing from specialised modules including quantum mechanics, nuclear physics and astrophysics, spacetime and gravity, and statistical physics.
You'll be taught by active researchers and subject specialists in these fields, giving you unique insights into higher-level topics. You can tailor your degree with our flexible programme, either taking a broad overview of the whole discipline or focusing on a specialist area.
You'll develop practical skills in lab work and programming that can be applied in commerce, industry or research.
In your final year, you'll further develop your own interests through your independent research project, supervised by one of the School's academic specialists.
Professional recognition
This programme is accredited by the Institute of Physics.
Structure
You can complete your Physics degree in three, four or five years. If you are a BSc student and choose to study abroad, your time abroad will be during Year 3 and Year 3 modules will instead be studied in Year 4. If you are an MSci student and choose to study abroad, this will take place in Year 4 and Year 4 modules will be studied in Year 5.
Year 0
Foundation
One Year-long double module allocated based on previous maths qualifications:
Mathematics A or
Mathematics B
Semester 1
Compulsory
Physics - Mechanics and Materials
Essential Foundation Mathematics
Communication in Science and Technology
Semester 2
Compulsory
Physics - Fields and Waves
Physics - Electricity and Atomic Physics
Discrete Mathematics
Please note that all modules are subject to change.
Year 1
Compulsory
Classical Physics
Electric and Magnetic Fields
Mathematical Techniques 1
Mathematical Techniques 2
Modern Physics
Professional Skills for Scientists (including introduction to programming)
Scientific Measurement
Option
Our Universe
Introduction to Data Science
Please note that all modules are subject to change.
Year 2
Compulsory
Condensed Matter A
Electromagnetic Waves and Optics
Physics Laboratory
Quantum Mechanics A
Thermodynamics
Choose three from
Introduction to Scientific Computing
Mathematical Techniques 3
Nuclear Physics and Astrophysics
Physical Dynamics
Physics of Energy and the Environment
Stars
Please note that all modules are subject to change.
Year 3
Compulsory
Extended Independent Project (BSc)
Quantum Mechanics and Symmetry (MSci)
Quantum Mechanics B (MSci)
Physics review project (MSci)
Statistical Physics
Choose five (BSc) or four (MSci) from
Elementary Particle Physics
Fluid Dynamics
Group Projects for Physicists
Mathematical Techniques 4
Physical Cosmology
Quantum Mechanics and Symmetry
Quantum Mechanics B
Radiation Sensors
Spacetime and Gravity
Statistical Data Analysis
The Physics of Galaxies
Please note that all modules are subject to change.
Year 4
MSci only
Choose from
Physics Research Project (30 credit module)
Choose five from
Modules offered at Queen Mary
Advanced Cosmology
Advanced Quantum Field Theory
Astrophysical Plasmas
Differential Geometry in Theoretical Physics
Electromagnetic Radiation in Astrophysics
Extrasolar Planets and Astrophysical Disks
Functional Methods in Quantum Field Theory
Practical Machine Learning
Relativistic Waves and Quantum Fields
Relativity and Gravitation
Solar System
Stellar Structure and Evolution
Supersymmetric Methods in Theoretical Physics
The Galaxy
Modules currently offered at other University of London institutions are subject to change at short notice.
Modules offered at King's College London
Advanced Photonics
Molecular Biophysics
Dark Matter and Dark Energy
Dynamical Analysis of Complex Systems
Elements of Statistical Learning
Environmental Remote Sensing
Equilibrium Analysis of Complex Systems
Lie Groups and Algebras
Mathematical Biology
Mathematical Methods for Theoretical Physics
Modelling Quantum Many Body-Systems
Standard Model Physics and Beyond
String Theory and Branes
Supersymmetry
Theoretical Treatment of Nano-Systems
Theory of Complex Networks
Modules offered at Royal Holloway
Computer Simulation in Condensed Matter
Nuclear Magnetic Resonance
Particle Accelerator Physics
Physics at the Nanoscale
Quantum Electronics of Nanostructures
Statistical Data Analysis
Statistical Mechanics
Superfluids, Condensates and Superconductors
Modules offered at University College London
Advanced Physical Cosmology
Advanced Quantum Theory
Advanced Topics in Statistical Mechanics
Atom and Photon Physics
Galaxy Dynamics, Formation and Evolution
Molecular Biophysics
Molecular Physics
Order and Excitations in Condensed Matter
Particle Physics
Planetary Atmospheres
Quantum Computation and Communication
Solar Physics
Space Plasma and Magnetospheric Physics
Please note that all modules are subject to change.
Study options
Apply for this degree with any of the following options. Take care to use the correct UCAS code - it may not be possible to change your selection later.
Integrated foundation year
Students who do not have the required high school qualifications for admission to this degree, and students who do not meet their UCAS Conditional offer may be considered for the 4 year degree (foundation year plus the 3 year degree).
International students with Year 12 or a completed international high school certificate qualify for the one year foundation programme commonly known as the ISEFP.
The foundation programme offers a range of transferable skills and an opportunity to improve on your knowledge content in relevant Maths and Science subjects.
You will enrol on a Physics BSc with Foundation which will offer progression to a range of degrees in the School of Physics and Astronomy including BSc Physics. At the end of the foundation programme, students will be required to meet the progression requirements for admission to BSc Physics.
MSci
Specialise further by applying for our intercollegiate Physics MSci, which shares fourth-year modules with other prestigious University of London institutions, including King's College, University College London and Royal Holloway.
Professional Placement
Students studying BSc or MSci Physics with Professional Experience have the option to include a one-year paid Professional Experience internship within their degree programme.
The Professional Experience degree programmes are identical to the BSc and MSci Physics routes except for the addition of the internship year.
You will complete your paid internship during the third year of your degree programme (or fourth for MSci), returning to Queen Mary for your final year of study.
Year abroad
If you choose to undertake a Year Abroad, this will take place in your third or fourth year of study. You'll then return to Queen Mary for your final year or years of study.
We have partner institutions in Australia, Canada, Malayisa, Singapore, New Zealand, Hong Kong, South Korea, Taiwan, Japan and the USA. For more detail on where you can study on your Year Abroad and things to consider before applying, visit our Study Abroad pages.
Additional Costs
If you choose to take intercollegiate 4th year modules at other London institutions, you'll need to fund your travel expenses to attend classes.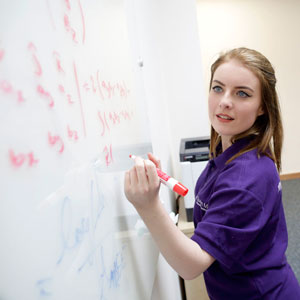 The School has a really friendly and supportive atmosphere. We have a student support officer and each student also has an Academic Adviser. There are also lots of opportunities to work together with other students or discuss work informally with lecturers.
Teaching
Teaching and learning
You'll learn through a combination of lectures, laboratory sessions and tutorial classes. Your total teaching time will be around 20 hours per week, but you are expected to spend time on independent study and coursework or lab reports. Overall, you should be spending around 40 hours on your studies each week.
Assessment
You will be assessed by various methods depending on the nature of the work being carried out. For example, if the module involves practical work only, the assessment will be based on laboratory reports. For non-practical modules you will be assessed by weekly coursework, termly assignments and an end-of-year examination.
Resources and facilities
The School offers excellent on-campus resources to aid your studies, including:
teaching laboratories
a rooftop observatory
a dedicated study space for physics students
professional research facilities for use in final-year projects.
Entry requirements
Non-UK students
We accept a wide range of European and international qualifications in addition to A-levels, the International Baccalaureate and BTEC qualifications. Please visit International Admissions for full details.
English language
Find out more about our English language entry requirements, including the types of test we accept and the scores needed for entry to the programme.
You may also be able to meet the English language requirement for your programme by joining a summer pre-sessional programme before starting your degree.
Further information
Funding
Loans and grants
UK students accepted onto this course are eligible to apply for tuition fee and maintenance loans from Student Finance England or other government bodies.
Scholarships and bursaries
Queen Mary offers a generous package of scholarships and bursaries, which currently benefits around 50 per cent of our undergraduates.
Scholarships are available for home, EU and international students. Specific funding is also available for students from the local area. International students may be eligible for a fee reduction. We offer means-tested funding, as well as subject-specific funding for many degrees.
Find out what scholarships and bursaries are available to you.
Support from Queen Mary
We offer specialist support on all financial and welfare issues through our Advice and Counselling Service, which you can access as soon as you have applied for a place at Queen Mary.
Take a look at our Student Advice Guides which cover ways to finance your degree, including:
additional sources of funding
planning your budget and cutting costs
part-time and vacation work
money for lone parents.
Careers
Many graduates continue their studies with a PhD or MSc, often as a precursor to a career in research. The flexibility of the programme can prepare you for careers in specialist areas of physics and science more widely, if you have a particular area of interest.
Skills developed through studying physics – such as numeracy, data analysis, coding and problem solving – are also highly transferable into other sectors, including energy, business, marketing, engineering, technology, IT and finance.
Recent graduates of the school of Physics and Astronomy have been hired by:
UK Space Agency
JP Morgan Chase & Co. (financial services)
European Astronaut Centre
Airbus (aeronautical)
KPMG (financial services)
CGI (IT consultancy)
Toad A.I.
Goldman Sachs (investment banking)
IBM (technology)
Bank of England (banking)
Baclays Corporate (banking)
UK Government Department for Business Energy and Industrial Strategy
Tata Consultancy Services
Fidessa (financial services)
Jacobs (engineering and construction)
Kubick (data consultancy)
MediaCom (marketing)
Yobota (banking software)
Career support
The School organises specialist industrial placements for physics and astronomy students. Typically around 20 School of Physics and Astronomy students take advantage of the exclusive work placements. These placements are coordinated by a placement coordinator, who also provides support to students in applying.
Participating companies include small-medium enterprises operating in industries such as technology, energy and defence. Larger companies operating in industries such as aerospace, engineering and research also offer internships as part of the scheme.
We run dedicated weekly advice sessions and events such as software bootcamps and careers focus sessions.
The Queen Mary careers team can also offer:
specialist advice on choosing a career path
support with finding work experience, internships and graduate jobs
feedback on

CVs, cover letters and application forms
interview coaching.
Unistats data for these courses
Physics - BSc (Hons)
Physics with Foundation - BSc (Hons)
Physics with Professional Experience - BSc (Hons)
Physics with Year Abroad - BSc (Hons)
Physics - MSci (Hons)
Physics with Professional Experience - MSci (Hons)
Physics with Year Abroad - MSci (Hons)
About the School
The School of Physics and Astronomy combines the academic rigour of a Russell Group institution with a friendly and supportive atmosphere. We are highly rated in the National Student Survey (NSS), coming top in London for overall student satisfaction for the past four years.
We run a busy schedule of research seminars, and a successful peer mentoring scheme. The PsiStar physics society is extremely active and has around 200 members.
You'll be taught by academics who work on high-profile international collaborations, including experiments at CERN and the recently completed NASA and European Space Agency Cassini mission to Saturn.
We're proud to have played a role in some of the most exciting discoveries of the past 100 years, including Rutherford's discovery of the atomic nucleus, discovery of the W, Z and Higgs bosons and the first 'superstring revolution'. Most recently, Queen Mary astronomer Dr Guillem Anglada-Escudé led a team of scientists to discover the closest exoplanet to Earth, Proxima b.