Thank you for considering an application
To apply you'll need to:
Make note of the Queen Mary institution code: Q50
Make note of your chosen course UCAS code:

English and History

QV31 — BA (Hons)
QV3Y — BA (Hons) with Year Abroad

Click on the link below:
English and History
Entry Year: 2022
2 study options
English and History
BA (Hons)
Key information
Degree

BA (Hons)

Duration

3 years

Start

September 2022

UCAS code

QV31

Institution code

Q50

Entry Requirements

UK fees

£9,250*

International fees

Fees for 2022 entry will appear here shortly
*These fees are for the 2021-22 academic year and are provided as a guideline. Fees for 2022-23 have not yet been set.
English and History with Year Abroad
BA (Hons)
Key information
Degree

BA (Hons)

Duration

4 years

Start

September 2022

UCAS code

QV3Y

Institution code

Q50

Entry Requirements

UK fees

£9,250*

International fees

Fees for 2022 entry will appear here shortly
*These fees are for the 2021-22 academic year and are provided as a guideline. Fees for 2022-23 have not yet been set.
Overview
Combine your love of English literature with learning about the sociopolitical history behind it.
What's the relationship between a piece of writing and the context in which it was written? How are writers affected by their circumstances? What influence do literary texts have on social, cultural and political life?
This popular joint degree links the social and political history of a period with its literary texts, giving you the chance to reflect on these questions and consider how the two disciplines relate to and inform one another.
You'll examine the interaction between writing and society, studying core history and English modules, and gain increasing freedom to study the topics and historical periods that interest you most - whether that's discovering the impact of the French Revolution on English art or walking through the London of Defoe, Dickens, Virginia Woolf or Monica Ali.
Structure
You can complete your English and History degree in three or four years. If you choose to do a year abroad this will take place in Year 3 and Year 3 modules will instead be studied in Year 4.
Year 1
Students take 60 credits English modules:
English: Poetry (15 credits: Semester 1)
English: London Global (30 credits: Year Long)
English: Literatures in Time Epic and Romance in the Middle Ages - 2020/21 (15 credits: Semester 2)
And
60 credits o

f HST modules: including HST4621A

History in Practice (compulsory) 15 credits; And 45 credits from other HST level 4 modules.
Please note that all modules are subject to change.
Year 2
Students take a total of 120 credits. Minimum 90 credits at level 5, maximum 30 credits at level 6, normally 60 credits in each semester.
In English, students choose modules from four Lists.
• List 1: a list of modules in the Medieval and Early Modern Subject Area;
• List 2: a list of modules in the Eighteenth Century, Romantic, and Nineteenth Century Subject Area;
• List 3: a list of modules in the Modern, Contemporary and Postcolonial Studies Subject
• List 4 Special Options: this list includes all level 5 modules not already included in Lists 1 to 3 above. List 4 provision is amended and expanded as modules are proposed, amended, withdrawn and approved through the Queen Mary Quality Assurance processes.

In English, students choose 60 credits from at least two different lists, and including at least 30 credits from List 1 or List 2. You may take up to 30 credits of ESH modules at level 6 with your adviser's agreement.

In History, students choose 60 credits Level 5 HST modules, which must include the compulsory module HST5901 History Research Project (15 credits).
English modules may include
Art Histories: an Introduction to the Visual Arts in London
Black and Asian Writing in Britain
Chaucer: Telling Medieval Tales
James Baldwin and American Civil Rights
Satire, Scandal and Society
The Crisis of Culture: Literature and Politics 1918–1948
Women and their Writing in the Romantic Period
Writing Now
History modules may include:
A Century of Extremes: Germany 1890–1990

Angels, Spinsters and Whores: British Women and Gender from Victoria to the Vote

Chartists, Rebels and Suffragettes: Democracy in Britain, 1830–1928

London on Film: Representing the City in British and American Cinema
Race in the United States: Plantation Slavery to #

BlackLivesMatter

The Buildings of London I: From the Ashes of Fire to the Capital of Empire

Violence and Modernity in Twentieth-Century India

Women and Gender in Medieval Islam
You choose further modules from a wide range of options that changes each year.
Please note that all modules are subject to change.
Year 3
Choose from
English Research Dissertation
History Special Subject
You choose the rest of your final year modules from a wide range of options that changes each year.
Elective modules may include
British Fictions of the 1960s
Ghosts and Laughing Gas: Literature in the 1790s
Guillotines
James Joyce's Ulysses
Reading William Blake
Shakespeare: the Play, the Word and the Book
The Modern Caribbean: Migration, Radicalism and Revolt
Writing Muslims

American Horror Stories: The Fiction and Film Worlds of Stephen King from Carrie to It

Empire and Political Thought

Islam in Africa and the Indian Subcontinent: Conquest, Islamisation and Co-existence

Searching For Sisterhood: Feminist Activism in Britain 1968-1988

Witches, Demons and Magic in Late Medieval and Early Modern Europe
This is a sample of modules from our full module directory.
Please note that all modules are subject to change.
Study options
Apply for this degree with any of the following options. Take care to use the correct UCAS code - it may not be possible to change your selection later.
Year abroad
Go global and study abroad as part of your degree – apply for our English and History BA with a Year Abroad. Queen Mary has links with universities in Europe, North America, Asia and Australia (partnerships vary for each degree programme).
Find out more about study abroad opportunities at Queen Mary and what the progression requirements are.
Additional Costs
A few modules may require you to buy tickets to shows or exhibitions (often at a discounted rate) as well as pay for travel within London.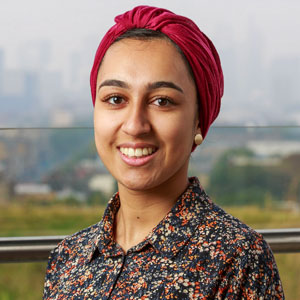 Studying history has given me the chance to explore civilisations I never even knew existed. From medieval monks to modern day Britain, my eyes have been opened to a vast array of cultures.
Teaching
Teaching and learning
You'll receive approximately 10 hours of weekly contact time, comprising lectures, smaller seminar groups, field trips, tutorials and workshops.
For every hour spent in class, you'll complete a further four to six hours of independent study.
Assessment
Assessment typically includes a combination of coursework (essays, projects, presentations, log books and portfolios) and exams.
Resources and facilities
The Schools offer excellent on-campus and London-based resources to support your studies, including:
access to Senate House Library and the British Library – the most important intellectual resources in London
opportunities to meet visiting publishers, curators, archivists, poets, novelists, activists and filmmakers
proximity to specialist archives and collections such as the BFI National Archive, Poetry Library, Women's Library, National Art Library and the Warburg Institute
opportunities to write, edit and publish for student newspapers and magazines.
Entry requirements
Non-UK students
We accept a wide range of European and international qualifications in addition to A-levels, the International Baccalaureate and BTEC qualifications. Please visit International Admissions for full details.
If your qualifications are not accepted for direct entry onto this degree, consider applying for a foundation programme.
English language
Find out more about our English language entry requirements, including the types of test we accept and the scores needed for entry to the programme.
You may also be able to meet the English language requirement for your programme by joining a summer pre-sessional programme before starting your degree.
Further information
Funding
Loans and grants
UK students accepted onto this course are eligible to apply for tuition fee and maintenance loans from Student Finance England or other government bodies.
Scholarships and bursaries
Queen Mary offers a generous package of scholarships and bursaries, which currently benefits around 50 per cent of our undergraduates.
Scholarships are available for home, EU and international students. Specific funding is also available for students from the local area. International students may be eligible for a fee reduction. We offer means-tested funding, as well as subject-specific funding for many degrees.
Find out what scholarships and bursaries are available to you.
Support from Queen Mary
We offer specialist support on all financial and welfare issues through our Advice and Counselling Service, which you can access as soon as you have applied for a place at Queen Mary.
Take a look at our Student Advice Guides which cover ways to finance your degree, including:
additional sources of funding
planning your budget and cutting costs
part-time and vacation work
money for lone parents.
Careers
Our English and History graduates go on to work in a variety of roles in many different sectors, including teaching, publishing, media and communications, and arts and heritage.

Recent graduates from our English and History degree have gone on to work for:
Curzon PR
Harper Collins
Historic Royal Palaces
The Independent
Penguin Random House
Shakespeare's Globe.
Career support
You'll have access to bespoke careers support during every step of your degree, including personal academic support from experts in both history and English literature. A practical third-year module will prepare you for the transition from university to working life by researching career, entrepreneurial and postgraduate study prospects.
Our careers team can also offer:
specialist advice on choosing a career path
support with finding work experience, internships and graduate jobs
feedback on CVs, cover letters and application forms
interview coaching.
Learn more about career support and development at Queen Mary.
Unistats data for these courses
English and History - BA (Hons)
English and History with Year Abroad - BA (Hons)
About the Schools
School of English and Drama - Department of English
We provide a first-class learning environment - the Departments of Drama and English are in the top 35 in the world (QS World Rankings by Subject 2018). And you'll learn from leading experts: Drama is ranked first and English fifth in the UK for research quality (Research Excellence Framework 2014).
Our degrees make full use of the literary and cultural riches of London, with trips to venues such as Shakespeare's Globe, the Victoria & Albert Museum and the British Library.
School of History
The School of History is ranked 11th in the UK by the QS World University Rankings by Subject 2018.
Our staff are world-leading scholars engaged in innovative teaching and bringing history to the wider public on TV and radio: you will learn from academics at the forefront of research in their respective fields. Our London location offers students unrivalled access to museums, archives and libraries.