Thank you for considering an application
To apply you'll need to:
Make note of the Queen Mary institution code: Q50
Make note of your chosen course UCAS code:

Biochemistry

C700 — BSc (Hons)
CCX2 — BSc (Hons) Biological Sciences with Foundation
3W45 — BSc (Hons) with Year in Industry/Research
C70Y — BSc (Hons) with Year Abroad
C701 — MSci (Hons)
C71Y — MSci (Hons) with Year Abroad

Click on the link below:
Biochemistry
Entry Year: 2022
6 study options
Overview
Biochemistry – applying molecular concepts to complex biological systems – is the cutting edge of science in the 21st century.
At Queen Mary, you'll be taught by world-leading researchers in both biology and chemistry, from two separate schools. You'll develop advanced scientific understanding of both disciplines, and improve your practical skills with high-level lab work.
You'll learn about key biochemical processes and the chemistry that underpins them, as well as studying real-world applications in biotechnology and medicine. Optional modules in the second and third years let you direct your studies to the areas that interest you most.
Choose your own pathway through this degree - you can add a year in industry or studying abroad, or carry out an additional year of advanced study to graduate with an MSci.
Structure
You can complete your Biochemistry degree in three, four or five years. If you are a BSc student and choose to do a year in industry or study abroad, this will take place in Year 3, and the Year 3 modules will instead be studied in Year 4. If you are an MSci student and choose to study abroad, this will take place in Year 4, and the Year 4 modules will be studied in Year 5.
Year 0
Foundation
One Year-long double module allocated based on previous maths qualifications:
Mathematics A or
Mathematics B
Semester 1
Compulsory
Communication in Science & Technology
Form and Function in Biology
Introductory Chemistry
Semester 2
Compulsory
A Closer Look at Chemistry
Diversity and Ecology
Molecules to Cells
Please note that all modules are subject to change.
Year 1
Basic Biochemistry
Cell Biology
Essential Skills for Biochemists
Fundamentals of Organic Chemistry I
Fundamentals of Organic Chemistry II
Molecular Genetics
Physiology
Practical Biochemistry
Practical Molecular and Cellular Biology
Please note that all modules are subject to change.
Year 2
Compulsory
Biochemistry Communication
Genes and Bioinformatics
Metabolic pathways
Membrane and Cellular Biochemistry
Techniques for Biological and Chemical Science
Choose three from
One of these electives should be a CHE module from Semester A (marked with a *)
Cell biology and developmental genetics
Cellular & Molecular Neuroscience
Comparative & Integrative Physiology
Microbial physiology & growth
Pharmaceutical Chemistry I*
Pharmaceutical Chemistry II
Structure & Reactivity in Organic Chemistry I*
Please note that all modules are subject to change.
Year 3
Compulsory
Biochemistry Communication
Enzyme Catalysis
Membrane Proteins
Molecular Basis of Disease
Protein structure, folding and assemblies
Choose one from
Biological Sciences Research Project
Engaging the Public with Science
Project Skills in the Life Sciences
Choose one from
Advanced Pharmaceutical Chemistry
Bioorganic Chemistry
Endocrine Physiology and Biochemistry
Functional genomics and epigenetics
Neuroscience: from molecules to behaviour
Topics in Biological Chemistry
Please note that all modules are subject to change.
Year 4
MSci students only
Advanced Biochemical Research methods
Biochemical Research Project
Please note that all modules are subject to change.
Study options
Apply for this degree with any of the following options. Take care to use the correct UCAS code - it may not be possible to change your selection later.
Year in industry
Want to pick up some solid work experience while practising your skills in a real-world laboratory? Apply for our Biochemistry BSc with a Year in Industry/Research. Some of our students have been awarded highly prestigious work placements with UK and international pharmaceutical companies. During your second year you will identify and apply for a placement opportunity, with one on one support provided by your adviser. If successful, you'll spend your third year working in the pharmaceutical industry or carrying out an extended research project.
Please note that placements are highly competitive and awarded based on your application, academic track record and performance at interview. Should you not succeed in securing a placement, you'll transfer onto our BSc programme and complete your third year at Queen Mary.
MSci
Apply for our Biochemistry MSci to spend an extra year undertaking an extended research project and studying advanced modules. Consider this option if you're interested in a career in academic or industrial research.
Year abroad
Go global and study abroad as part of your degree - apply for our Biochemistry BSc or MSci with a Year Abroad. Queen Mary has links with universities in Europe, North America, Asia and Australia (partnerships vary for each degree programme).
Find out more about study abroad opportunities at Queen Mary and what the progression requirements are. Learn more about financing your year abroad here.
You can do either a year in industry or a year abroad - you cannot combine these options.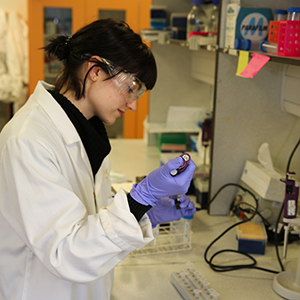 I enjoy the wide range of topics my degree covers: teaching on biology, chemistry and physics is really integrated. This approach helps to develop my scientific understanding of real-life situations. There are lots of opportunities to get hands-on lab experience through both organised module-based labs or independent research projects.
Teaching
Teaching and learning
We use a mixture of teaching styles - lectures, tutorials, classroom activities and laboratory work.
Outside of classes, you'll need to spend 20 to 25 hours per week preparing, writing up and reading.
Assessment
Each module is assessed by written examinations and coursework (practical reports, field course reports, essays, problem sheets, online exercises and tests).
Final-year students undertake a research or investigative project, assessed with a detailed written report, poster and interview.
Resources and facilities
The School offers excellent on-campus resources to aid your studies, including:
newly refurbished lecture theatres
up-to-date IT facilities
modern, well-equipped labs.
Entry requirements
Non-UK students
We accept a wide range of European and international qualifications in addition to A-levels, the International Baccalaureate and BTEC qualifications. Please visit International Admissions for full details.
English language
Find out more about our English language entry requirements, including the types of test we accept and the scores needed for entry to the programme.
You may also be able to meet the English language requirement for your programme by joining a summer pre-sessional programme before starting your degree.
Further information
Funding
Loans and grants
UK students accepted onto this course are eligible to apply for tuition fee and maintenance loans from Student Finance England or other government bodies.
Scholarships and bursaries
Queen Mary offers a generous package of scholarships and bursaries, which currently benefits around 50 per cent of our undergraduates.
Scholarships are available for home, EU and international students. Specific funding is also available for students from the local area. International students may be eligible for a fee reduction. We offer means-tested funding, as well as subject-specific funding for many degrees.
Find out what scholarships and bursaries are available to you.
Support from Queen Mary
We offer specialist support on all financial and welfare issues through our Advice and Counselling Service, which you can access as soon as you have applied for a place at Queen Mary.
Take a look at our Student Advice Guides which cover ways to finance your degree, including:
additional sources of funding
planning your budget and cutting costs
part-time and vacation work
money for lone parents.
Careers
Biochemistry graduates are in demand in the pharmaceutical, diagnostic and biotechnology industries. Many of our students go on to scientific careers, including clinical and laboratory work, postgraduate research or science education. Others transfer their skills into sectors such as marketing and finance.
93 per cent of our graduates are in work or further study within six months of graduation (HESA GOS 2017/18).
Recent Biochemistry graduates have been hired by:
Barts Health NHS Trust
Genomics England
GlaxoSmithKline
Merck Sharp and Dohme.
Career support
The School of Biological and Behavioural Sciences has a careers consultant, who can offer specialist advice and organise subject-specific events. We also have a dedicated internships coordinator.
The Queen Mary careers team can also offer:
specialist advice on choosing a career path
support with finding work experience, internships and graduate jobs
feedback on CVs, cover letters and application forms
interview coaching.
Learn more about career support and development at Queen Mary.
Unistats data for these courses
Biochemistry - BSc (Hons)
Biological Sciences with Foundation - BSc (Hons)
Biochemistry with Year in Industry/Research - BSc (Hons)
Biochemistry with Year Abroad - BSc (Hons)
Biochemistry - MSci (Hons)
Biochemistry with Year Abroad - MSci (Hons)
About the School
The School of Biological and Behavioural Sciences is a large and dynamic school with strong links to industry. We offer a stimulating and supportive learning experience.
You'll experience inspirational teaching from high-calibre staff who are leaders in their field. According to the Research Excellence Framework 2021, 91 per cent of our Biological Sciences research is either world-leading or internationally excellent. You'll stay up to date with weekly departmental seminars on new research findings.
Thanks to our close teaching and research links, students have special opportunities for original investigative work with the Natural History Museum, ZSL London Zoo, Forest Enterprise, and University of London's Marine Biological Station at Millport in Scotland.
Contact us
Tel: +44 (0)20 7882 3321/3364