Thank you for considering an application
To apply you'll need to:
Make note of the Queen Mary institution code: Q50
Make note of your chosen course UCAS code:

Aerospace Engineering

H421 — BEng (Hons)
HHX3 — BEng (Hons) Engineering with Foundation
H401 — BEng (Hons) with Industrial Experience
H42Y — BEng (Hons) with Year Abroad
H400 — MEng (Hons)
HK00 — MEng (Hons) with Industrial Experience
H40Y — MEng (Hons) with Year Abroad

Click on the link below:
Aerospace Engineering
Entry Year: 2022
7 study options
Overview
Interested in the design, construction and operation of aircraft, spacecraft, drones, launching systems, green air transport, green energy, sport vehicles or sustainable earth bounded vehicles? Our programme in Aerospace Engineering could be for you.
Aerospace engineering is a rapidly changing and challenging discipline in which areas such as aerodynamics, flight mechanics and performance, wind energy, propulsion, aerospace structure and materials and space engineering and robotics are being studied and researched. Addressing the future sustainability of air transport, earth bounded transport systems and indeed performance of sport vehicles such as Formula 1 cars depends on the innovations in which aerodynamics, flight performance, propulsion, and materials play an essential role.
In Year 1 you'll build a strong foundation in fundamental engineering concepts such as fluid mechanics, design, materials and mathematical modelling, whilst being introduced to Aerospace engineering through our 'Explore Aerospace Engineering' module. Modules in design and experimental practice, will help you to develop the practical workshop and laboratory-based skills necessary for all engineers, and put core programme material into perspective and to practical use.
During Years 2 and 3, you'll develop your understanding of this rapidly changing and challenging discipline studying areas including flight mechanics and performance, and aircraft and spacecraft design. We'll also explore innovation in aerodynamics, flight performance, propulsion and materials and how these fields can be used to address the future sustainability of both air and space transport, as well as earth-bounded vehicles and energy technologies such as cars and wind turbines.
Students who choose to take the MEng degree will learn advanced modules and carry out an industry or research-linked project that focuses on solving real engineering research and design problems. Recent projects have included designing and constructing a rocket capable of breaking the UK altitude record and designing a solar-powered racing car.
We place strong emphasis not only on the technical content of our modules, such as mechanics, thermodynamics and design, but also on the cross discipline skills vital for an engineer to function in the work place. We have mapped the modules in our programmes to a range of attributes that we would like our students to attain, within the areas of creativity, resilience, communication and professional practice in order to produce well-rounded, interested and highly employable graduates. This mapping ensures these skills are embedded in the technical modules on the programmes. This not only ensures that the students develop technical knowledge and understanding as they progress through their degree, but it also gives us the confidence that students will graduate with skills they can apply to a range of future careers or higher-level study.
We've recently undertaken a review of our programmes to ensure that they will prepare you for life beyond 2030 and ensure they reflect the global challenges facing both our society and your future as engineers. We have developed the modules we offer in consultation with our students, staff and industry to enhance your student experience and graduate employability.
Structure
You can complete your Aerospace Engineering degree in three, four or five years. A typical BEng programme will comprise 3 years of study, whilst a typical MEng programme will comprise 4 years of study. Study abroad can be taken in Year 3 and Year 3 modules will instead be taken in Year 4. Industrial Experience can be taken in Year 3 or 4 of a BEng programme or Year 3, 4 or 5 of an MEng programme. Please note that students cannot do both study abroad and a year in industry.
Year 0
Foundation
Semester 1
Compulsory
Physics - Mechanics and Materials
Essential Foundation Mathematics
Communication in Science & Technology
Mathematics B (double module across Semester 1 and 2)
Semester 2
Compulsory
Physics- Fields and Waves
Physics - Electricity and Atomic Physics
Introduction to Engineering
Mathematics B (double module across Semester 1 and 2)
Please note that all modules are subject to change.
Year 1
Please note that all modules are subject to change.
Year 2
Applied Solid Mechanics
Instrumentation and Measurements
Aerothermodynamics of Flows
Introduction to Spacecraft Dynamics
Designing for sustainable manufacture
Numerical methods and data science in engineering
Control System Analysis and Design
Subsonic Aerodynamics and Wings
Please note that all modules are subject to change.
Year 3
Compulsory
Design Project (30 credits)
Simulation tools in Engineering Analysis and Design
Conceptual design of aircraft
Flight dynamics and stability of aircraft


Optional modules include:
Aircraft structures
Spacecraft design
Aircraft propulsion systems
Materials for aerospace applications
Aerodynamics of high speed flows
Please note that all modules are subject to change.
Year 4
MEng only
Compulsory
Industry Research Project
Optional modules include:
Advanced Aircraft Design
Advanced Flight Control and Simulation of Aerospace Vehicles
Advanced Spacecraft Design: Manoeuvring and Orbital Mechanics
Computational Engineering
Introduction to Law for Science and Engineering
Advanced High Speed Aerodynamics
Aeroelasticity
Numerical Optimisation in Engineering Design
Please note that all modules are subject to change.
Study options
Apply for this degree with any of the following options. Take care to use the correct UCAS code - it may not be possible to change your selection later.
Integrated foundation year
Students who do not have the required high school qualifications for admission to this degree, and students who do not meet their UCAS Conditional offer may be considered for the 4 year degree (foundation year plus the 3 year degree).
International students with Year 12 or a completed international high school certificate qualify for the one year foundation programme commonly known as the ISEFP.
The foundation programme offers a range of transferable skills and an opportunity to improve on your knowledge content for relevant Maths and Science subjects.
You will enrol on an Engineering BEng with Foundation which will offer progression to a range of degrees in the School of Engineering and Material Sciences including BEng or MEng Aerospace Engineering. At the end of the foundation programme, students will be required to meet the progression requirements for admission to BEng or MEng Aerospace Engineering.
Year in industry
Apply for our Aerospace Engineering BEng or MEng with Industrial Experience to spend a year on placement in the aerospace engineering sector, gaining practical experience and building professional contacts.
The year in industry counts toward the requirements of applying to be a chartered engineer.
Master of Engineering (MEng)
Take an extra year to gain specialised knowledge through a high-level group project and your choice of advanced modules. Apply for our Aerospace Engineering MEng, ideal if you want to go into research and development, or to give you an edge in the job market.
Year abroad
Go global and study abroad as part of your degree – apply for our Aerospace Engineering BEng or MEng with a Year Abroad. Queen Mary has links with universities in Europe, North America, Asia and Australia (partnerships vary for each degree programme).
Find out more about study abroad opportunities at Queen Mary and what the progression requirements are.
You can do either a year in industry or a year abroad - you cannot combine these options.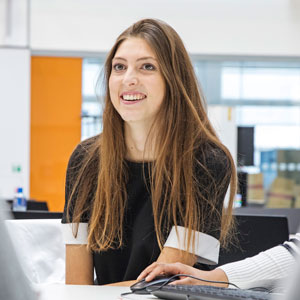 Last year I had the opportunity to do a 12 month placement at Airbus UK. I realised that what I was learning at university was not just to do an exam, I used at least something I had learnt at Queen Mary every day at work. I can confidently say that a Queen Mary degree in Aerospace Engineering prepares you well for a career in industry.
Teaching
Teaching and learning
You'll learn through a combination of lectures, laboratory practicals and problem-based learning.
You should plan for 14 to 17 hours of formal teaching each week, plus time spent on group projects. For every hour spent in class, you'll complete a further one to two hours of independent study.
Assessment
Assessment typically includes a combination of coursework, written reports, projects, presentations, group work and exams in the summer.
Resources and facilities
The School offers excellent on-campus resources to aid your studies, including:
a state-of-the-art flight simulator
mechanical testing facilities
teaching laboratories
the Whitehead Aeronautical Laboratory containing low- and high-speed wind tunnels
an acoustics research rig
a purpose-built, fully equipped teaching workshop.
Entry requirements
Non-UK students
We accept a wide range of European and international qualifications in addition to A-levels, the International Baccalaureate and BTEC qualifications. Please visit International Admissions for full details.
English language
Find out more about our English language entry requirements, including the types of test we accept and the scores needed for entry to the programme.
You may also be able to meet the English language requirement for your programme by joining a summer pre-sessional programme before starting your degree.
Further information
Funding
Loans and grants
UK students accepted onto this course are eligible to apply for tuition fee and maintenance loans from Student Finance England or other government bodies.
Scholarships and bursaries
Queen Mary offers a generous package of scholarships and bursaries, which currently benefits around 50 per cent of our undergraduates.
Scholarships are available for home, EU and international students. Specific funding is also available for students from the local area. International students may be eligible for a fee reduction. We offer means-tested funding, as well as subject-specific funding for many degrees.
Find out what scholarships and bursaries are available to you.
Support from Queen Mary
We offer specialist support on all financial and welfare issues through our Advice and Counselling Service, which you can access as soon as you have applied for a place at Queen Mary.
Take a look at our Student Advice Guides which cover ways to finance your degree, including:
additional sources of funding
planning your budget and cutting costs
part-time and vacation work
money for lone parents.
Careers
The skills you develop on this programme could be applied to next-generation spacecraft and high-performance aeroplanes and helicopters, or to the future of ground transport, such as high-speed trains. The programme is also relevant to green energy technologies, like wind turbines.
Some of our graduates transfer their skills into areas such as consultancy, IT or finance.
Recent Aerospace Engineering graduates have been hired by:
Abelio Greater Anglia
Air Mauritius
An F1 team
HM Treasury
Jaguar Land Rover
Schlumberger.
Career support
The School of Engineering and Materials Science holds a weekly careers session where employers provide information, advice and skills training. We also run networking events for students to meet employers and alumni.
The Queen Mary careers team can also offer:
specialist advice on choosing a career path
support with finding work experience, internships and graduate jobs
feedback on CVs, cover letters and application forms
interview coaching.
Learn more about career support and development at Queen Mary.
Unistats data for these courses
Aerospace Engineering - BEng (Hons)
Engineering with Foundation - BEng (Hons)
Aerospace Engineering with Industrial Experience - BEng (Hons)
Aerospace Engineering with Year Abroad - BEng (Hons)
Aerospace Engineering - MEng (Hons)
Aerospace Engineering with Industrial Experience - MEng (Hons)
Aerospace Engineering with Year Abroad - MEng (Hons)
About the School
The School of Engineering and Materials Science attracts some of the brightest minds from across the country, and the world. The most recent national assessment of the quality of university research (REF 2021) placed us seventh for our engineering research (Times Higher Education) and second for the quality of our research outputs.
Our academic staff have extensive contacts with major industrial companies in engineering and materials science, and there is constant interaction between industry, research and our teaching.
Our students benefit from personal contact with approachable teaching staff in small-group settings, where discussion and feedback is actively encouraged.