Thank you for considering an application
To apply you'll need to:
Make note of the Queen Mary institution code: Q50
Make note of your chosen course UCAS code:

Pharmacology and Innovative Therapeutics

B211 — BSc (Hons)
CCX2 — BSc (Hons) Biological Sciences with Foundation
B21Y — BSc (Hons) with Year Abroad
B2Y1 — BSc (Hons) with Year in Industry

Click on the link below:
Pharmacology and Innovative Therapeutics
Entry Year: 2021
4 study options
Overview
The pharmaceutical and biotechnology industries have identified pharmacology - the study of medicines - as a major skills gap.
By taking our Pharmacology and Innovative Therapeutics BSc, you'll be well placed to meet the shortfall.
Led by Barts and the London School of Medicine and Dentistry and co-taught by the School of Biological and Chemical Sciences, this programme brings together the core strengths of both schools.
The programme will give you a strong foundation in biomedical science and molecular and clinical pharmacology. Practical sessions in our modern labs will give you hands-on experience of using scientific instruments.
You'll understand the drug development cycle, from initial idea to the patient's bedside, through studying drug regulation, safety, bioethics, clinical trials, risk/benefit assessments and personalised medicine. You'll also look at the practical aspects of managing a pharmacology business, including research and development costs, pricing, marketing and licensing.
Structure
You can complete your Pharmacology and Innovative Therapeutics degree in three or four years. If you choose to study abroad, this will take place in Year 3, and the Year 3 modules will instead be studied in Year 4.
Year 0
Foundation
One Year-long double module allocated based on previous maths qualifications:
Mathematics A or
Mathematics B
Semester 1
Compulsory
Communication in Science & Technology
Introductory Chemistry
Form and Function in Biology
Semester 2
Compulsory
Molecules to Cells
Diversity and Ecology
A Closer Look at Chemistry
Please note that all modules are subject to change.
Year 1
Molecular Genetics
Cells
Tissue Biology
Biomolecules of Life
Biomedical Physiology I - Exchange, Movement and Integration
Human Anatomy
Research Skills for Pharmacologists
Introduction to Pharmacology
Please note that all modules are subject to change.
Year 2
Compulsory
Human Molecular Biology
Basic Immunology
Biomedical Physiology II - Cardiovascular and Respiratory
Clinical Pharmacology and the Assessment of Drug Safety
Drug Target and Identification
The Business of Pharmacology
Choose two from
Membrane and Cellular Biochemistry
Human Genetic Disorders
Essential Biochemistry for Human Life
Cellular and Molecular Neuroscience
Please note that all modules are subject to change.
Year 3
Compulsory
Drug Design
Classic Papers and Current Topics in Pharmacology
Clinical Trials and Regulatory Affairs
Translational Pharmacology and Innovative Therapeutics
Choose from
Project Skills in the Life Sciences
Research Project in Pharmacology
Project: Engaging the Public with Science
Choose two from
Advanced Human Genetic Disorders
Molecular Basis of Personalised Medicine
Cancer Biology
Advanced Immunology
Biomarkers in Neuroscience
Stem Cells and Regenerative Medicine
Please note that all modules are subject to change.
Study options
Apply for this degree with any of the following options. Take care to use the correct UCAS code - it may not be possible to change your selection later.
Year in industry
To successfully secure a placement before the start of the 3rd year students need to meet the progression hurdle of achieving a Year 2 average module mark of at least 60% with no failed modules across Years 1 and 2.
Students will be responsible for seeking industrial placements with the support of an industrial placement co-ordinator. However, it is highly competitive and placements are not guaranteed.
Successful students will study 120 credits made up of BMD5555. The year in industry is pass/fail and students who don't pass their year will be transferred onto the standard 3 year programme.
Students will apply for industrial placements during their second year. If you do not secure an industrial placement, choose not to undertake a year in industry, or do not pass the year, you will be transferred to the standard three-year BSc degree.
Year abroad
Go global and study abroad as part of your degree – apply for our Pharmacology and Innovative Therapeutics BSc with a Year Abroad. Queen Mary has links with universities in Europe, North America, Asia and Australia (partnerships vary for each degree programme).
Find out more about study abroad opportunities at Queen Mary and what the progression requirements are.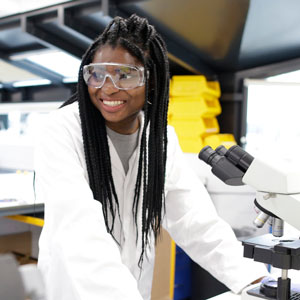 What I enjoy most about my degree is being taught by lecturers who are actively involved in innovative, life-changing research. Plus, all the facilities are so modern and comfortable.
Teaching
Teaching and learning
We use a mixture of teaching styles - lectures, tutorials, classroom activities and laboratory work.
Outside of classes, you'll need to spend 20 to 25 hours per week preparing, writing up and reading.
Assessment
Each module is assessed by written examinations and coursework (practical reports, field course reports, essays, problem sheets, online exercises and tests).
Final-year students undertake a research or investigative project, assessed with a detailed written report, poster and interview.
Resources and facilities
The School offers excellent on-campus resources to aid your studies, including:
newly refurbished lecture theatres
up-to-date IT facilities
modern, well-equipped labs.
You'll also benefit from the expertise of the William Harvey Research Institute, a world-leading pharmacology centre based within Barts and the London School of Medicine and Dentistry.
Entry requirements
Non-UK students
We accept a wide range of European and international qualifications in addition to A-levels, the International Baccalaureate and BTEC qualifications. Please visit International Admissions for full details.
English language
Find out more about our English language entry requirements, including the types of test we accept and the scores needed for entry to the programme.
You may also be able to meet the English language requirement for your programme by joining a summer pre-sessional programme before starting your degree.
Further information
Funding
Loans and grants
UK students accepted onto this course are eligible to apply for tuition fee and maintenance loans from Student Finance England or other government bodies.
Scholarships and bursaries
Queen Mary offers a generous package of scholarships and bursaries, which currently benefits around 50 per cent of our undergraduates.
Scholarships are available for home, EU and international students. Specific funding is also available for students from the local area. International students may be eligible for a fee reduction. We offer means-tested funding, as well as subject-specific funding for many degrees.
Find out what scholarships and bursaries are available to you.
Support from Queen Mary
We offer specialist support on all financial and welfare issues through our Advice and Counselling Service, which you can access as soon as you have applied for a place at Queen Mary.
Take a look at our Student Advice Guides which cover ways to finance your degree, including:
additional sources of funding
planning your budget and cutting costs
part-time and vacation work
money for lone parents.
Careers
Medicine or dentistry
The Pharmacology and Innovative Therapeutics programme provides a strong background for medicine or dentistry, as you will have studied a wide range of biomedical subjects and developed an in-depth knowledge of medicines.
The 19 highest-ranked students from our Biomedical Sciences, Neuroscience, and Pharmacology and Innovative Therapeutics programmes are guaranteed an interview for the five-year A100 Medicine MBBS degree (Barts and The London). Students are selected at the end of the second year on the basis of an aggregate of academic ranking (50%) and UCAT score (50%).
Of these students, the top five will also be considered for the four-year A101 MBBS Graduate Entry Programme.
Other careers
93 per cent of our graduates are in work or further study within six months of graduation (HESA GOS 2017/18).
Some graduates pursue a career in the pharmaceutical and biotechnology industry, within a regulatory agency or in a wider biomedical area.
Some opt for postgraduate study. Top graduates will be eligible for fully-funded PhD training within Queen Mary's William Harvey Research Institute.
Others transfer their skills to careers in diverse fields, including media, technology and management.
Examples of careers recent Pharmacology and Innovative Therapeutics graduates have gone on to do include:
Analytical R&D Scientist at Lonza
Healthcare Scientist at Public Health England
Trainee Healthcare Partner at McKesson
IPU Senior Classifier at Medicines and Healthcare products Regulatory Agency
Clinical Research - Data Manager at Guy's and St Thomas' NHS Foundation Trust
PhD student at the William Harvey Institute
Career support
The School of Biological and Chemical Sciences has a careers consultant, who can offer specialist advice and organise subject-specific events. We also have a dedicated internships coordinator.
The Queen Mary careers team can also offer:
specialist advice on choosing a career path
support with finding work experience, internships and graduate jobs
feedback on CVs, cover letters and application forms
interview coaching.
Learn more about career support and development at Queen Mary.
Unistats data for these courses
Pharmacology and Innovative Therapeutics - BSc (Hons)
Biological Sciences with Foundation - BSc (Hons)
Pharmacology and Innovative Therapeutics with Year Abroad - BSc (Hons)
Pharmacology and Innovative Therapeutics with Year in Industry - BSc (Hons)