Thank you for considering an application
To apply you'll need to:
Make note of the Queen Mary institution code: Q50
Make note of your chosen course UCAS code:

Materials Science and Engineering

J511 — BEng (Hons)
JJX3 — BEng (Hons) Materials Science with Foundation
JM11 — BEng (Hons) with Industrial Experience
J51Y — BEng (Hons) with Year Abroad
J512 — MEng (Hons)
JM10 — MEng (Hons) with Industrial Experience
J52Y — MEng (Hons) with Year Abroad

Click on the link below:
Materials Science and Engineering
Entry Year: 2020
7 study options
Overview
Have you ever wondered how a Formula One car can weigh so little, how the touchscreen on your mobile works or what an artificial heart valve is made of?
The Materials Science and Engineering programme will give you a thorough grounding in the physical and chemical structure, properties, manufacturing and design of materials.
Academically, the programme bridges the pure and applied sciences. Vocationally, it teaches skills across a range of disciplines, so graduates are in demand throughout industry and business.
We cover all materials: metals, ceramics, polymers and composites. Knowledge of these materials is essential if you wish to work in sectors, such as automotive or aerospace manufacture, where material selection is critical.
If you choose the MEng degree, you'll take part in a high-level group project, often sponsored by industry. The experience provides a valuable insight into real-life engineering design and project management.
Professional recognition
This programme is accredited by the Institute of Materials, Minerals and Mining (IOM3).
Programme changes for 2020
At Queen Mary, we have been adapting to the challenges of Covid-19 so we are ready for the new academic year, with all the academic, pastoral and community support you need to settle in and thrive. For your chosen programme of study, the result is an innovative blended learning offering, giving you access to a world-class education whether or not you can join us on campus from September. For more information, please visit our dedicated FAQ pages.
In addition, at a programme level, we are no longer offering the following modules:
Advanced Structure-Property Relationships in Materials- level 7
Chemical and Biological Sensors- level 7
Advanced Materials Characterization Techniques- level 7
Structure
You can complete your Materials Science and Engineering degree in three, four or five years. If you are a BEng student and choose to do a year in industry or study abroad, this will take place in Year 3 and Year 3 modules will instead be studied in Year 4. If you are an MEng student and choose to do a year in industry or study abroad, this will take place in Year 4 and Year 4 modules will be studied in Year 5.
Year 0
Foundation
One Year-long double module allocated based on previous maths qualifications:
Mathematics A or
Mathematics B
Semester 1
Compulsory
Communication in Science & Technology
Introductory Chemistry
Physics - Mechanics and Materials
Semester 2
Compulsory
A Closer Look at Chemistry
Physics - Fields and Waves
Physics - Electricity and Atomic Physics
Please note that all modules are subject to change.
Year 1
You'll study a range of core principles including:
Student Centred Learning 1
Mathematics and Computing for Engineers I
Materials Science I (Properties of Matter)
Engineering Mechanics - Statics
Materials Science 2 (Processing and Applications)
Engineering Design Methods
Engineering Chemistry
Please note that all modules are subject to change.
Year 2
You'll cover the following specialist topics:
Student Centred Learning 2 (for Mat Sci)
Chemistry for Materials
Polymers
Surfaces and Interfaces in Materials
Metals
Structural Characterisation
Composites for Aerospace Applications
Please note that all modules are subject to change.
Year 3
Research project
In the third year, students undertake an individual research project alongside six taught modules. This provides an opportunity for students to get involved with the exciting research taking place in the School. The project allows students to apply the skills and techniques learnt from previous years' studies and to focus on an area that particularly interests them.
Modules cover topics including:
Third Year Project
Ceramics
Materials Selection in Design
Environmental Properties of Materials
Failure of Solids
Manufacturing Processes
Renewable Energy Materials
Please note that all modules are subject to change.
Year 4
MEng only
Students choosing the MEng option spend an additional year studying advanced specialised modules and working on a group project. Recent projects include:
Design and Fabrication of a Futuristic Concept Bike
Smart cord-rubber composites with integrated sensing
Compulsory Modules:
Research and Design Team Project
Nanotechnology and Nanomedicine
Renewable Energy Sources
Advanced Polymer Synthesis
Choose from:
Vehicular Crashworthiness
Economics and Management of Sustainable Energy
Please note that all modules are subject to change.
Study options
Apply for this degree with any of the following options. Take care to use the correct UCAS code - it may not be possible to change your selection later.
Integrated foundation year
Students who do not have the required high school qualifications for admission to this degree, and students who do not meet their UCAS Conditional offer may be considered for the 4 year degree (foundation year plus the 3 year degree).
International students with Year 12 or a completed international high school certificate qualify for the one year foundation programme commonly known as the ISEFP.
The foundation programme offers a range of transferable skills and an opportunity to improve on your knowledge content for relevant Maths and Science subjects.
You will enrol on a Materials Science MEng, BEng/BSc with Foundation which will offer progression to a range of degrees in the School of Engineering and Material Sciences including BEng or MEng Materials Science and Engineering. At the end of the foundation programme, students will be required to meet the progression requirements for admission to BEng or MEng Materials Science and Engineering.
Year in industry
Apply for our Materials Science and Engineering BEng or MEng with Industrial Experience to spend a year in industry. You'll have the opportunity to put your understanding of materials science and engineering into practice in a real-world environment, gaining invaluable experience for your future career.
Master of Engineering (MEng)
Take an extra year to gain specialised knowledge through a high-level group project and your choice of advanced modules. Apply for our Materials Science and Engineering MEng, ideal if you want to go into research and development, or to give you an edge in the job market.
Year abroad
Go global and study abroad as part of your degree – apply for our Materials Science and Engineering BEng or MEng with a Year Abroad. Queen Mary has links with universities in Europe, North America, Asia and Australia (partnerships vary for each degree programme).
Find out more about study abroad opportunities at Queen Mary and what the progression requirements are.
You can do either a year in industry or a year abroad - you cannot combine these options.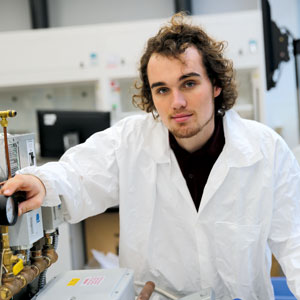 I really enjoyed the student-centred learning module. The thought process involved in solving the tasks they set you is really engaging and extremely varied. One week I would be looking at characterisation techniques and the next I would be building a boat. I had a lot of fun with this module and developed a lot of other skills while doing it.
Teaching
Teaching and learning
You will be taught through a mix of traditional lectures and student-centred approaches, such as problem-solving classes, laboratory practicals and coursework.
You should plan for 14-17 hours of formal teaching each week, plus time spent on group projects. For every hour spent in class, you'll complete a further one to two hours of independent study.
Assessment
Assessment typically includes a combination of coursework, written reports, projects, presentations, group work and exams in the summer.
Resources and facilities
The School offers excellent on-campus resources to aid your studies, including:
materials characterisation laboratory, including spectroscopy and thermal analysis
mechanical testing laboratory
NanoVision Centre
wet chemistry laboratory
maker space
computer modelling facilities.
Studying Materials Science
Our undergraduate students talk about their experience of studying a Materials Science subject.
Entry requirements
Non-UK students
We accept a wide range of European and international qualifications in addition to A-levels, the International Baccalaureate and BTEC qualifications. Please visit International Admissions for full details.
English language
Find out more about our English language entry requirements, including the types of test we accept and the scores needed for entry to the programme.
You may also be able to meet the English language requirement for your programme by joining a summer pre-sessional programme before starting your degree.
Further information
Funding
Loans and grants
UK students accepted onto this course are eligible to apply for tuition fee and maintenance loans from Student Finance England or other government bodies.
Scholarships and bursaries
Queen Mary offers a generous package of scholarships and bursaries, which currently benefits around 50 per cent of our undergraduates.
Scholarships are available for home, EU and international students. Specific funding is also available for students from the local area. International students may be eligible for a fee reduction. We offer means-tested funding, as well as subject-specific funding for many degrees.
Find out what scholarships and bursaries are available to you.
Support from Queen Mary
We offer specialist support on all financial and welfare issues through our Advice and Counselling Service, which you can access as soon as you have applied for a place at Queen Mary.
Take a look at our Student Advice Guides which cover ways to finance your degree, including:
additional sources of funding
planning your budget and cutting costs
part-time and vacation work
money for lone parents.
Careers
The materials industry is one of the world's biggest industrial sectors, and is growing every year.
Graduates can work directly with materials, for example as a materials engineer, identifying the best materials at all stages of the manufacturing process. Other potential careers include working as a metallurgist, research scientist, technical engineer, biomedical engineer, manufacturing systems engineer or patent examiner.
Recent Materials Science and Engineering graduates have been hired by:
Aflex Hose Ltd
Alcoa
Arup Group
Jaguar Land Rover
National Nuclear Laboratory
Stone Foundries.
Career support
The School of Engineering and Materials Science holds a weekly careers session where employers provide information, advice and skills training. We also run networking events for students to meet employers and alumni.
The Queen Mary careers team can also offer:
specialist advice on choosing a career path
support with finding work experience, internships and graduate jobs
feedback on CVs, cover letters and application forms
interview coaching.
Learn more about career support and development at Queen Mary.
Unistats data for these courses
Materials Science and Engineering - BEng (Hons)
Materials Science and Engineering with Industrial Experience - BEng (Hons)
Materials Science and Engineering with Year Abroad - BEng (Hons)
Materials Science and Engineering - MEng (Hons)
Materials Science and Engineering with Industrial Experience - MEng (Hons)
Materials Science and Engineering with Year Abroad - MEng (Hons)
About the School
The School of Engineering and Materials Science attracts some of the brightest minds from across the country, and the world. The most recent national assessment of the quality of university research (REF 2014) placed us seventh for our general engineering research (Times Higher Education).
Our academic staff have extensive contacts with major industrial companies in engineering and materials science, and there is constant interaction between industry, research and our teaching.
Our students benefit from personal contact with approachable teaching staff in small-group settings, where discussion and feedback is actively encouraged.